22 November, 2003 remains a vivid memory for many sports fans whose interest in rugby union is only of a passing interest.
Only seconds of extra-time were left when Wilkinson supplied one of rugby's iconic images, his weaker right foot striking the decisive drop-goal that finally exhausted Australia's defiance.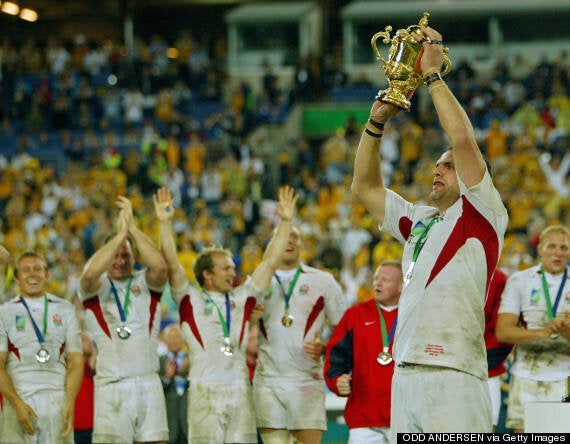 Martin Johnson hoists the Webb Ellis trophy in Sydney
By their own admission England, at the time the world's strongest team and favourites to topple the Wallabies, should already have been parading the Webb Ellis Trophy around the Telstra Stadium in triumph.
Instead, a nerve-shredding climax to the Sydney final concluded with Wilkinson attempting the most pressurised of kicks that even he viewed as the final throw of the dice.
"I'd had a couple of goes before which were very much pot shots, having a dig almost," Wilkinson said this week. "But for this one I was thinking that because of where the guys had put me, I can't miss....this must go over. I almost remember feeling like 'the others drifted wide but this one will go over'.
"I knew I'd hit it in such a way that it wasn't going to be the most powerful kick, but it was going to be accurate. I knew from fairly early on it was going over.
"What surprised me was I actually got lost in that moment, I didn't know where I was. I remember half celebrating, but not really celebrating.
"It felt like a surreal, dream-like situation. I had to ask 'is this really happening?' and that was my facial expression.
"Then there was the realisation that there was still time left and I really wasn't up for a third game-tying penalty from them before the end.
World Cup heroes Johnson and Wilkinson savour the peak of their careers
"There was the panic to get back and the urgency to get the ball off the field and finish the damn thing."
It began with Lewis Moody receiving the ball at the back of a line-out and Mike Catt charging at Australia's defence.
Matt Dawson gained a precious 15 yards by darting through a gap in the wall of gold shirts but became trapped at the bottom of a ruck, so Martin Johnson carried to enable his scrum-half to take up position.
Using skill and composure England had constructed the perfect platform for Wilkinson and when their fly-half received the ball from Dawson, a faultless passage of play reached its dramatic conclusion.
Related