The bellicose Muslim extremist Anjem Choudary, whose outrageous demonstrations and pronouncements often earn him more than his due in the media, is not a "clown-like' figure, but a real threat, anti-extremists have warned.
Anti-fascist campaigners Hope Not Hate allege in a new report 'Gateway To Terror', that Choudary and his al-Muhajiroun network is most definitely linked to terrorism. Choudary claims in his defence that although many may have come into contact with his group, they were not an influencing factor.
It is alleged that Choudary's group now leads a network of hardline Islamist organisations across Europe from Belgium and the Netherlands, to France, Denmark and Italy to Germany, Norway and Finland, the largest extreme Islamist network in Europe.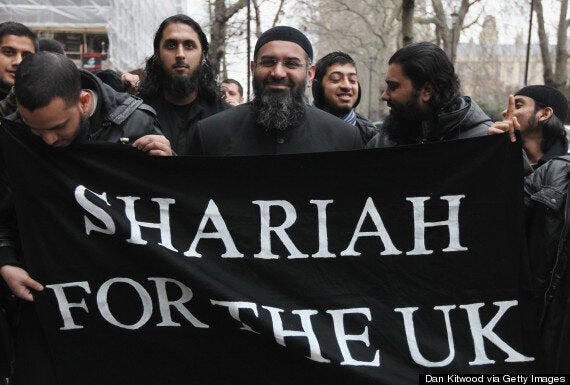 Anjem Choudary, centre, at a protest in London
Choudary's network of influencers has sent hundreds of British Muslim citizens to fight in war zones, including at least 50 to Syria, and several hundred to Afghanistan and Pakistan, the report claims.
Since 2008, Somalia and Yemen have also been a destination for British would-be jihadis. Hope Not Hate say several British supporters of Choudary are now in "leading positions in the Somali terror group al-Shabaab and al-Qaeda in the Arabian Peninsula".
The Hope not Hate report pinpoints a video from al-Shabaab, the terror group behind the Kenyan mall atrocity, was narrated by Londoner Mohammed Hasnath. Hope Not Hate alleges that Hasnath has links to al-Muhajiroun.
Hasnath, who had been arrested for spray-painting burkas on adverts featuring women and for posting 'gay free zone' signs in multicultural parts of east London, was jailed for 14 months last year for possessing terrorist documents.
The report's authors claim to have traced 70 people convicted of terrorism or terrorist-related offences in the UK, or who have died abroad over the past 14 years, who have been linked to al-Muhajiroun.
The group controversially called for the creation of independent Muslim emirates within the UK cities where Sharia Law could be imposed. The three proposed locations were Bradford and Dewsbury in Yorkshire and Tower Hamlets in East London. His group has appeared in many guises, with most incarnations banned by the Home Secretary, including Islam4UK and Muslims Against Crusades.
"While painted by some in the media as a figure of fun, an extremist crackpot whose often-outlandish media stunts are rightly ridiculed, Anjem Choudary has become a serious player on the international Islamist scene," the report warned.
"Perhaps it is time to stop laughing at his ridiculous stunts and to start concentrating on his role as a facilitator of terror."
Nick Lowles, author of 'Gateway To Terror' and director of HOPE not hate said: "Too many people dismiss Anjem Choudary as a clown but this report reveals the true extent of his group's links to terrorism at home and abroad.
"While Choudary might not have been directly involved in these terror plots, he helped shape the mindset of those behind them, indoctrinated them and through his networks linked them up to terror groups across the world.
"This report nails the misguided view that we should tolerate Choudary's clownish antics because behind his media-grabbing and provocative stunts lies a group that is a gateway to terrorism, at home and abroad.
"Choudary's views are not only repugnant and offensive: they give all Muslims a bad name and we should not forget that they are the primary victims of his extremism.
"He is the smiling face of Islamist extremism. Just as we oppose the EDL, one hate group, so we should oppose al-Muhajiroun, another. They are two sides of the same coin of hate – and we say 'a plague on both their houses.'"
Choudary said in a statement, when faced with the allegations in the report: "Hope not Hate is trying to say that we are behind every terrorist operation since 7/7. If that was the case surely the police would have come and arrested us?
"There are a lot of fanciful ideas.
"A lot of people have come across us. The July 7 and the July 21 bombers probably came across us at one point but that doesn't mean that they were members of our organisation. If they were the police would have come to talk to us about it."
"We've been saying the same thing since the 1980s and no one was going out and carrying out military operations. The only thing that has changed is the British government's policies."
Lowles said in a blog for HuffPost UK: "Choudary will, on other occasions, say that people have left the group some time before their arrests so he cannot be blamed for their actions – but this conveniently ignores the fact that he and his network have played a crucial role in their radicalisation."