Concerns over the nuclear deal with Iran are "legitimate", Foreign Secretary William Hague has acknowledged, but said the deal should "give us faith in the power of diplomacy.
Hague told BBC Radio 4's World This Weekend he understood the scepticism of Israel and Saudi Arabia about Iran's commitment to the process.
He said: "They do all have very legitimate concerns about Iran's nuclear programme and it's not surprising that people will be sceptical about any agreement.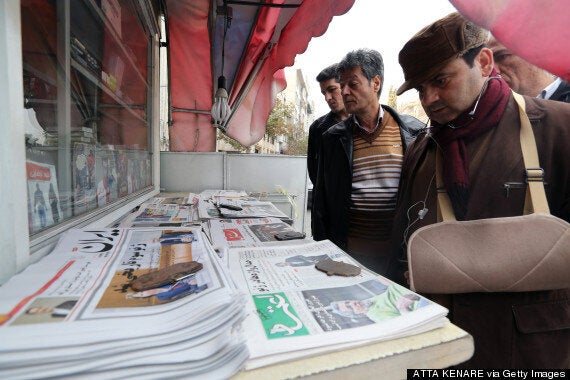 Iranians look at newspapers displayed outside a kiosk in the capital Tehran a day after a deal was reached on the country's nuclear programme
"After all, Iran also has a history of not revealing the truth about its nuclear programme to the rest of the world.
"But this is the first time that Iran has entered into an agreement with other nations, with the international community, about what to do about its nuclear programme."
Prime Minister David Cameron said the deal was an "important first step" and "demonstrates how persistent diplomacy and tough sanctions can together help us to advance our national interest".
He insisted sanctions would continue to be enforced "robustly" in order to secure a comprehensive final deal with Iran.
He said: "We now have an international agreement with Iran that moves it further away from getting a nuclear weapon.
"This is an important first step, which must now be fully implemented. We will continue to enforce sanctions robustly in order to secure a comprehensive and final settlement that fully addresses the real and substantive concerns of the international community.
"Today's deal with Iran demonstrates how persistent diplomacy and tough sanctions can together help us to advance our national interest."
Hague said the agreement set out Iran's rights as part of a further "comprehensive" deal, if that could be negotiated.
"What it says is that as part of a comprehensive solution, if we reach that further stage of a comprehensive solution, then Iran will be able to enjoy its basic rights to nuclear energy for peaceful purposes and that would involve what we call a mutually defined enrichment programme limited to practical needs.
"That's an important statement by the rest of us, by the international community, but that is in return for negotiating a comprehensive settlement that will give assurance to the whole world that the Iranian nuclear programme is for peaceful purposes."
He said there was a "very different" and "sincere" approach from Iran since the government of president Hassan Rouhani took office.
"This is a change in behaviour by Iran and we should respond constructively and openly to that," he said.
This was "only a beginning", he stressed. "Can we reach such an agreement? It will be difficult but I think this agreement we reached in the early hours of this morning should give us faith in the power of diplomacy and pressure to resolve even some very intractable problems."
Listen to William Hague discuss the deal on Radio 4...
Under the terms of the deal, Iran agreed to halt progress on key elements of its programme in exchange for modest relief from certain economic sanctions.
These include unfreezing of some assets and the lifting of suspensions of some sanctions on items like petrochemicals, gold and precious metals.
In return, Iran will have to carry out actions agreed through the interim deal, including stopping the enrichment of uranium above a level of 5% and the elimination of the stockpile of uranium above that level that it has already built up, as well as stopping work on its heavy water reactor at Arak.
But Israel's prime minister Benjamin Netanyahu has criticised the deal as a "historic mistake", saying the international community has given up too much to Iran.
Speaking to his cabinet, he said that Israel is not bound by the deal and reserves the right to defend itself. That is a reference to possible military action against Iran.
"Today the world became a much more dangerous place because the most dangerous regime in the world made a significant step in obtaining the most dangerous weapons in the world," he said.
Dr Alan Mendoza, executive director of British based neo-conservative think tank The Henry Jackson Society called the deal "flawed".
"Our concessions cannot be reclaimed, whereas they can simply start their advanced nuclear activity again in six months time if they choose to because we have failed to dismantle any of their existing centrifuges.
"With 10,190 centrifuges already working, we could be stuck in a permanent situation of 'nuclear blackmail' going forwards where Iran dangles the threat of restarting advanced enrichment at any time to claim more sanctions relief from us."
Iran's foreign minister Mohammad Javad Zarif insisted his country had an "inalienable right" to enrich uranium.
But he said the agreement was an important first step to putting an end to a "rather sad chapter".
Speaking from the White House, the president said the deal included "substantial limitations" on Iran, cutting off its ability to make a nuclear bomb.
Obama said: "While today's announcement is just a first step, it achieves a great deal.
"For the first time in nearly a decade, we have halted the progress of the Iranian nuclear programme, and key parts of the program will be rolled back."
Related