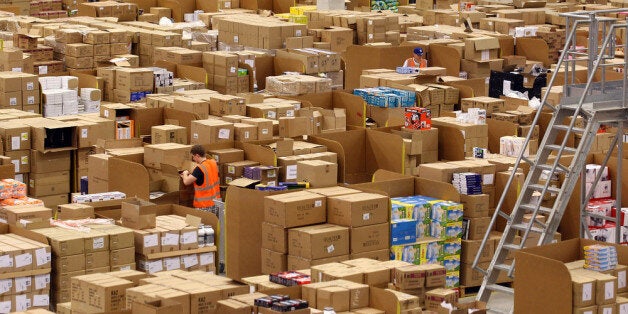 Online retail giant Amazon makes its staff work under "unbelievable" pressure in "slave camp" conditions, with employees at their warehouses having to walk 11 miles in a shift and collect orders every 33 seconds, an investigation has found.
Stress expert Professor Michael Marmot said Amazon staff were suffering "all the bad stuff at once", adding: "The characteristics of this type of job, the evidence shows increased risk of mental illness and physical illness."
"There are always going to be menial jobs, but we can make them better or worse. And it seems to me the demands of efficiency at the cost of individual's health and wellbeing - it's got to be balanced."
The investigation saw 23-year old undercover reporter Adam Littler get an agency job as a "picker" at Amazon's Swansea warehouse, which has 800,000 square foot of storage.
Littler was given a handset telling him what to collect and put in the trolley, giving him a set number of seconds to find each product as it counted down. The scanner beeped if any mistakes were made.
"We are machines, we are robots, we plug our scanner in, we're holding it, but we might as well be plugging it into ourselves", he said.
"We don't think for ourselves, maybe they don't trust us to think for ourselves as human beings, I don't know."
Littler's scanner tracked his picking rate and if it was too low, he was told he could be disciplined. After working a ten and a half hour night shift, he said: "I managed to walk or hobble nearly eleven miles, just short of eleven miles last night. I'm absolutely shattered. My feet are the thing that are bothering me the most to be honest."
'You all literally work to the bone and there doesn't seem to be any reward or any let-up. I've never done a job like this before. The pressure's unbelievable."
An Amazon spokesman said: "The safety of our associates is our number one priority and we adhere to all regulations and employment law. Independent legal and health and safety experts review our processes as a further method of ensuring compliance."
"Amazon has retained an independent expert who has visited our buildings and associates. In the independent expert's opinion, a picking role is similar to jobs in many other industries and does not increase the risk of mental and physical illness.
"Like most companies, we have performance expectations. Productivity targets are set objectively, based on previous performance levels achieved by our workforce. Some of the positions in our fulfilment centres are physically demanding, a fact we make clear in all relevant job postings and during our recruiting process. Some associates seek these positions as they enjoy the active nature of the work. We have other less physically demanding roles for associates who would prefer them."
Related