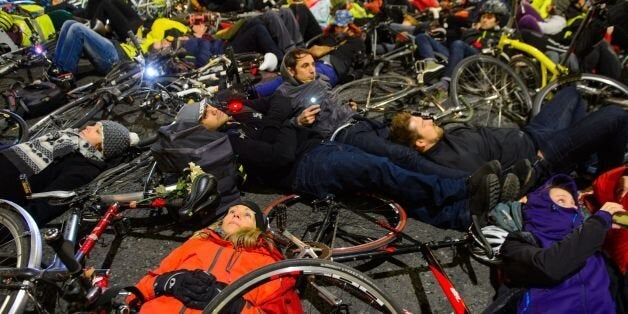 A huge protest has taken place in central London with more than 1,000 cyclists sprawling themselves across roads to demonstration against dangerous traffic conditions that have seen a raft of fatalities on the streets of the capital.
The protest, which was called a "die-in", featured cyclists spread in the road surrounded by their bikes outside the Transport for London headquarters in Southwark, as well as on Blackfriars Road.
"We Londoners are going to join the Dutch, and follow them until we get our roads safe," said Donnachadh McCarthy, 54, an organiser of the Stop Killing Cyclists protest, who took inspiration from a similar protest in the Netherlands.
"So I respectfully ask you now, London cyclists and pedestrians and drivers who have come to join us today, to lie on the pavement with your bicycles, turn on your lights and let them flash in the memories of people killed and injured in the last eight years."
He added: "We are here because Londoners are fed up of being killed. We need to have modern, European, safe cycling network. We believe it's a human right for children and pensioners to cycle around our city safely, and at the moment they can't. We have brought the battle to TfL's headquarters because these are the people making the decisions. We want representations and we want real funding. We want £600 million a year spent on safer cycling in London.
"We believe that we need a separate, segregated modern cycle network that is at least two metres wide. We can do that in London, there is plenty of space to do it."
London Mayor Boris Johnson said: "This targeted operation has been hugely effective at raising awareness of road safety among motorists and cyclists. This is a balanced operation reminding everyone of their duty to take care of each other while out on the roads, and I hope the figures put to rest concerns by some groups that they are being singled out."
More from the Press Association:
There has been a swell of anger among cyclists in recent weeks after it emerged that six people were killed while riding in the space of two weeks earlier this month. Brian Holt, 62; Francis Golding, 69, Roger William De Klerk, 43, Venera Minakhmetova, 24, a 21-year-old man from St John's Wood and a man believed to be in his 60s all died between November 5 and 18.
The number of cyclists killed in London so far this year - 14 - now stands equal to those who died in the whole of 2012. Leon Daniels, managing director of TfL Surface Transport, said one of the protesters' key demands - segregated cycle routes - were to be introduced in the next 10 years.
He said: "We are all shaken by the recent spate of deaths on the roads, and our sympathies are with all the friends and families of those affected. The protesters are rightly demanding safety should be at the top of our priorities. It is. That's why we are investing nearly £1 billion in upgrading the existing superhighways with greater segregation, introducing major new segregated routes and backstreet quiet routes, and overhauling dozens of junctions to give more protection to cyclists.
He added: "Delivering such major improvements will take time, but we are working flat-out to do so. We and the mayor have set out our plans and the first major improvements, such as the segregated extension of the Superhighway to Stratford, are now being seen. Over the forthcoming weeks and months Londoners will see many more improvements as the investment we are making bears fruit."
The protest, organised in part by cycle activist group Critical Mass, follows a police operation that stationed hundreds of officers at busy junctions around central London. Operation Safeway deployed 650 officers to 60 junctions during evening and morning rush hours on Monday, primarily targeting cyclists who breach the highway code.
Related