An asylum-seeker on hunger strike was flown back to Nigeria in a private jet - only to be turned away.
Home Secretary Theresa May is facing questions about the farce, which is believed to have cost £100,000.
Isa Muaza, who has refused almost all food for more than three months and is said to be near death, was flown out of the UK on Friday after a last-ditch legal challenge failed.
But he had to be brought back via Malta when Nigerian authorities apparently refused the chartered plane permission to land.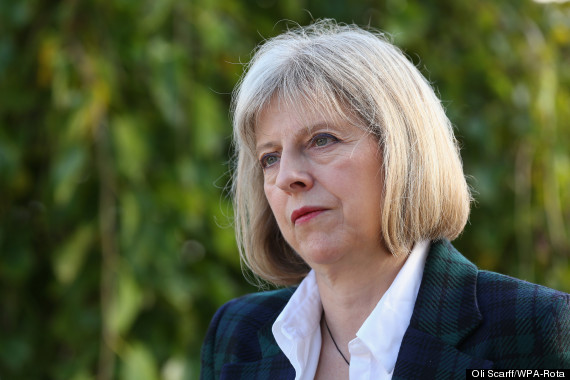 Theresa May could be told to explain the fiasco in the Commons
The 47-year-old, from Maiduguri in the northeast of Nigeria, entered the UK in July 2007 on a visitor's visa but did not leave when it expired.
After being detained for removal as an overstayer, he claimed asylum on the grounds that members of hardline Islamist group Boko Haram wanted to kill him. He says two members of his family have been murdered by the group.
The claim was rejected as "manifestly unfounded" in August, prompting his hunger strike.
His treatment during the hunger strike has generated intense criticism of the Home Office.
Lib Dem MP Julian Huppert launched a petition calling on May "to exercise clemency, release him from detention to receive medical treatment to stabilise his condition prior to any removal, so that another death or serious harm in immigration detention or during the removal process may be avoided."
Toufique Hossain, Muaza's solicitor, told The Independent: "It is quite clear that the Home Office has taken a decision to get my client out of this country as soon as possible, even taking the highly unusual decision to hire a private aircraft to do so.
"Now after what has happened, he is an extremely distressed man. When he boarded that plane on Friday he thought that was it - the doors were locked and he genuinely believes he will be persecuted upon his return. We are now looking at our options to stop what is going on."
May could now be brought to the Commons to explain the botched deportation - estimated to have cost more than £100,000.
Huppert told The Independent: "Mrs May has got this wrong on several levels. On a human level, someone who is so clearly ill should not be deported. Also, how can this be seen as value for money? Whether out of humanity or financial prudence, she has got this wrong.
Shadow immigration minister David Hanson said: "Theresa May needs to explain how this case has been handled. How could the Home Office put a man in this medical condition on a long flight at taxpayers' expense with no agreement from anyone that the plane could actually land?
"Deportations should be carried out with competence and humanity - neither of those things seem to have happened in this case."
A Home Office spokesman said: "We do not routinely comment on individual cases."