A young man appears to have livestreamed his attempt to commit suicide by setting himself on fire while 200 people watched online.
The unidentified male used 4chan's notorious /b/ imageboard to announce: "Hi /b/. This is it. Tonight I will be ending my own life.
"As an oldfag who's been on 4chan since 2004, I thought I would finally give back to the community.
"All that I request is for you guys to link me to a site where I am able to stream it."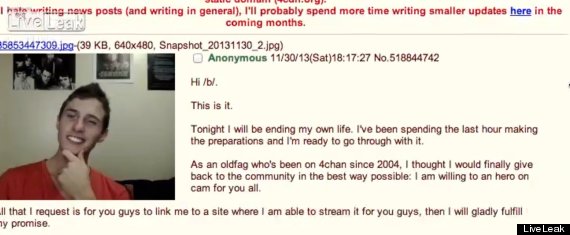 The man's announcement
According to the Daily Dot, his request was taken up by another user who set up a chatroom on Chateen.
Once 200 people had signed up he appears to down vodka and pills before setting a small fire in the corner of his room and crawling under his bed.
A video still available on Live Leak shows the room filling up with smoke as he types: "#imdead #omgimonfire I'm fuck3d".
Some of those watching complained they could not see the video properly because of the smoke. At the end of the video firefighters can be seen dragging him from under the bed.
The fate of the man is not known although some began looking for reports of deaths and injuries in house fires around the time of the broadcast.
YourAnonNews, a Twitter account associated with anonymous posted the following tweet with a link to a story of a man dying in a house fire. But other suggested he was a student at Canada's University of Guelph and survived.
If you have been affected by any of the issues in this article you can contact the Samaritans on 08457 90 90 90.