Downton Abbey's Christmas special will see the Crawley family implicated in a royal scandal that threatens to engulf the monarchy after a visit to Buckingham Palace, it has been revealed.
As the rest of Britain shivers, the Downton bunch will be enjoying summer in the festive episode which will focus on Lady Rose's 'coming out' and also give fans their first look at the Grantham's London home.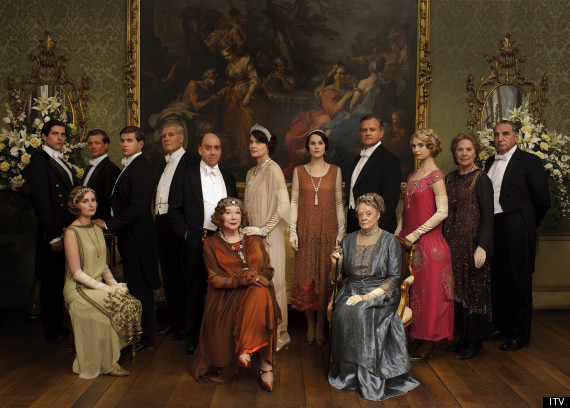 The Downton Abbey cast are joined by some new faces
Here's the official plot synopsis:
It's the summer season and as part of Rose's 'coming out' she is to be presented at Buckingham Palace. The family and servants are at Grantham House, their London residence, preparing for the busy social program. Not one to miss such a grand occasion, Cora's mother, Martha Levinson makes the journey from New York with her playboy son Harold, fresh from his recent brush with the law. Both outspoken and larger-than-life, they make quite an impression amongst certain members of London's high society, in particular with Lord Aysgarth, played by James Fox.

Isobel finds herself with an admirer while Edith is wrestling with a moral dilemma. Downstairs, Daisy gets an unexpected invitation and Carson treats the staff to a special day out. When the Crawleys are implicated in a scandal that threatens to engulf the monarchy, Robert will go to great lengths to protect the royal family, and his own.
The episode will see Emmy and Golden Globe winner Paul Giamatti finally join the cast as Cora's "maverick playboy" brother Harold Levinson.
Other newcomers will include BAFTA award winner James Fox, alongside Poppy Drayton, playing his daughter Madeline, Oliver Dimsdale who plays the Prince of Wales, Janet Montgomery, Guy Williams, playing King George V and Michael Benz as Harold Levinson's valet, Ethan.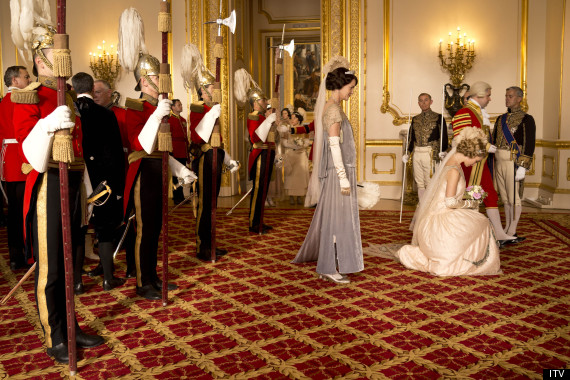 Downton's Christmas episode wasn't actually filmed at Buckingham Palace, Lancaster House was used instead when Cora presents Lady Rose to The King and Queen.
The two hour episode will be shown on ITV and ITV HD on Christmas Day at 8.30pm and will see the return of show favourites Maggie Smith, Hugh Bonneville, Michelle Dockery, Elizabeth McGovern, Jim Carter, Penelope Wilton, Phyllis Logan, Samantha Bond and Laura Carmichael.
Plus Lily James, Allen Leech, Brendan Coyle, Joanne Froggatt, Lesley Nicol, Sophie McShera, Rob James-Collier, Ed Speleers, Cara Theobold, Kevin Doyle and Raquel Cassidy, while Shirley MacLaine who will reprise her role as Martha Levinson.
Check out some first look photos from the episode in our gallery below...
CLICK HERE TO WIN A HP PAVILION TOUCHSMART 15.6" LAPTOP WORTH £500!
LIKE US ON FACEBOOK | FOLLOW US ON TWITTER