Despite Bill Kenwright's tears, there was little sorrow felt among Everton fans at David Moyes' departure in the summer.
Although still prone to too many draws under Roberto Martínez, they are a free-flowing and exciting side this season, boasting an envious blend of youth and experience.
And ahead of Everton's testing trip to Old Trafford on Wednesday night and the weekend trek to Arsenal, Martínez struck another chord with the Goodison faithful.
"This week will have a huge bearing on our season," he said. "It would be very easy for me to play it down but we are going to go to Old Trafford and the Emirates.
"They are games that we are not expected to win but, clearly, if we want to achieve something special, we need to be able to break the mentality of going to the big grounds and getting some wins.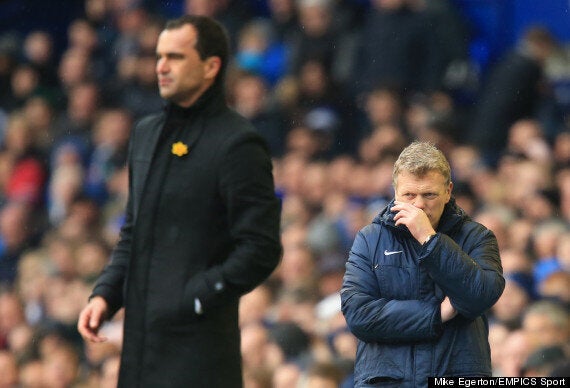 Martínez's Wigan knocked Moyes' Everton out of the FA Cup last season
"Over the last 10 years, we have not beaten Arsenal, Manchester United, Chelsea and Liverpool at their grounds and we need to address that. We need to make sure we are ourselves."
Everton did not win at United, Arsenal, Liverpool or Chelsea in the Premier League in Moyes' 11 years in charge. Their sole triumph at any of those grounds came in an FA Cup penalty shootout victory at Stamford Bridge in 2011, and Moyes pessimistically opined he was "taking a knife to a gunfight" ahead of their September 2011 fixture at Manchester City, a place they invariably fared well at.
Upon joining United, the Scot admitted whenever he took Everton to M16 his objective was "to get out of Old Trafford alive". That hardly quelled the "plucky" moniker tag bestowed upon the club during Moyes' reign.
At this stage last season, Everton had 21 points - three less than their current haul - although they are still in fifth place. It is feasible they will drop below their sixth spot finish of Moyes' final campaign, let alone reach the Champions League, but their supporters, sometimes as theatrical as the club chairman, are enjoying their honeymoon with Martínez.
Surprisingly, they have scored two less goals than at this juncture in 2012-13, although Moyes' last year featured an atypical good start. Ross Barkley has belatedly earned a first-team spot, they are not reliant on battering ram tactics and Martínez is showing faith in rough diamonds, such as Gerard Deulofeu that Moyes didn't dare touch. The pragmatic conservatism has gone.
Whereas Moyes was known as "dithering Davie" for his thoughtful transfer strategy, Martínez brought in James McCarthy, Gareth Barry and Romelu Lukaku. The quantity of Everton's squad is matched by its quality.
The Spaniard's quotes on Monday were the antithesis of Moyes' occasional gloominess ahead of tough trips. Granted, Everton haven't won at Old Trafford since 1992, and their last victories at Anfield and Arsenal came in 1999 and 1996, but that was when they were relegation fodder, not an habitual top six team. Moyes' record at the one-time "Big Four" was pathetic.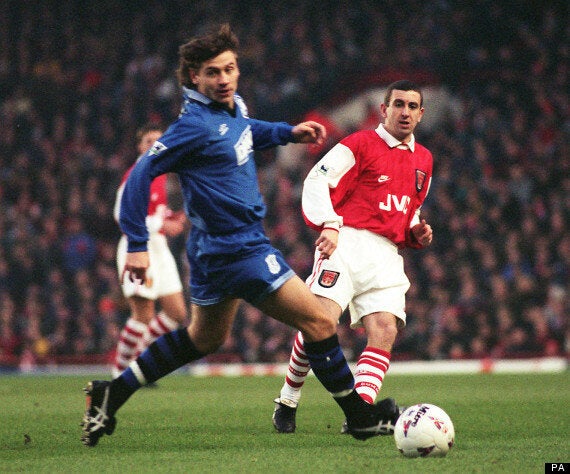 Remember when.. Andrei Kanchelskis scored the winner in Everton's last win at Arsenal?
While there is enormous respect for Moyes, there is little affection. He was blameless for the ostentatious and disrespectful manner in which United announced his appointment in May, but the risible offers for Leighton Baines and Marouane Fellaini were about as popular as a Kopite on the Gwladys Street Stand.
"He is doing a very good job," Moyes said of Martínez. "He has very good players there. I always told them they could play without a manager because they are very well organised.
"But Roberto is doing a really good job keeping it going."
"Keeping it going" used to be a favourite line of Moyes' at Finch Farm. Martínez is aiming higher.