Nigella Lawson has claimed Charles Saatchi threatened to "destroy" her and she endured a "summer of bullying and abuse", the TV chef told a jury hearing at the trial of the former couple's personal assistants.
The TV chef, clad entirely in black apart from a white collar, was besieged by photographers as she arrived at Isleworth Crown Court in west London.
"I have been put on trial here where I am called to answer, and glad to answer the allegations, and the world's press, and it comes after a long summer of bullying and abuse," she said. Court artist sketch by Elizabeth Cook of Nigella Lawson giving evidence
"I find it's another chapter in that."
TOP STORIES TODAY
She admitted she had been reluctant to give evidence in the trial, and spoke of her ex-husband Saatchi's reaction to her reluctance.
"He had said to me if I didn't get back to him and clear his name he would destroy me," she said.
Lawson said following the "awful incident at Scotts (restaurant)", false allegations of drug use began circulating on a "PR blog".
She said these allegations on the blog were "dedicated to salvaging Saatchi's reputation and destroying mine".
When asked by defence barrister Anthony Metzer QC if Saatchi had a temper, Lawson said: "Yes, he did have a temper and I don't think that anyone can be in any doubt he had a temper," she said.
Lawson said he "didn't like to take part in family life".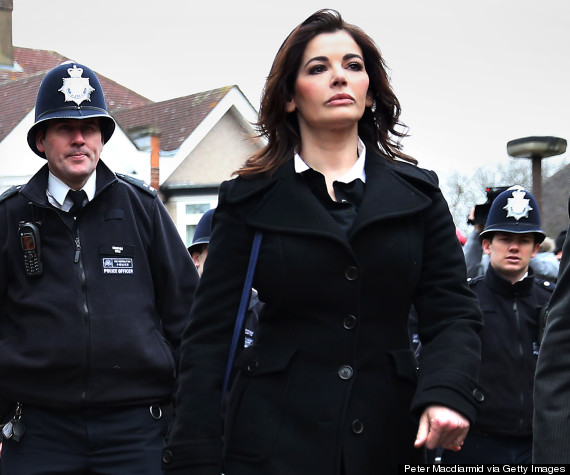 Nigella Lawson arrives at Isleworth Crown Court
When asked if she thought Saatchi's background conflicted with hers, she said: "I don't understand why my marriage is pertinent to you."
The trial centres on two Italian sisters Elisabetta, sometimes referred to as Lisa, and Francesca Grillo. It is alleged they committed fraud by abusing their positions as PAs by using a company credit card for personal gain.
Speaking about Lisa, Lawson said: "It's very difficult when you find out that someone you have loved and trusted could behave that way.
"In my heart of hearts I do not believe Lisa to be a bad person.
"I believe her not to have a very strong moral compass."
The court heard last week that the Grillo sisters lived the ''high life'', spending the money on designer clothes and handbags from Louis Vuitton, Christian Dior and Vivienne Westwood.
Jurors have heard they are accused of using credit cards loaned to them by the TV cook and her ex-husband Saatchi to spend more than £685,000 on themselves.
Lawson said: "I was flabbergasted at the extent."
Regarding Lisa, she said: "Lisa had been a stalwart and had helped me through a very difficult time when my first husband died.
"I loved Lisa. My children loved Lisa.
"She came to me at a very difficult time in my life.
"She was a rock. I would have done anything for her."
Lawson, who referred to her multimillionaire ex-husband as Saatchi when giving evidence, said she once took £7,000 out of her savings to pay for Lisa to have her teeth fixed, giving her "incredible confidence".
She said Lisa left the job at one point and she continued to pay her for three months so she would not get "too anguished" about finding a new job.
She added: "I didn't want her to feel that she had to stay with me."
On Lisa's return, she was "increasingly bitter", Lawson said. "She broke our heart."
Elisabetta, 41, and co-defendant Francesca, 35, both of Kensington Gardens Square, Bayswater, west London, deny the charge against them.
Lawson said Lisa had been a "rock" when her first husband, John Diamond, was terminally ill with cancer. "Sometimes I had to rush to hospital, she would stand in," she told the court. "She was my rock. I will never forget what she did for my family."
Lawson told the court that Lisa had become "like a member of the family" while living with her but became "bitter" later on. "She was not at all hardworking towards the end," she said. "Most of the time she was on Facebook. I do not think her bitterness was towards me personally. I think it was towards her life."
Lawson told the court she believed the amount allegedly claimed by the defendants was "a lot higher".
"I was very, very careful not to say something was unauthorised if there was even a flicker of doubt," she said.
When asked if she would agree that she shared a liberal and bohemian background with her late husband Diamond, she said: "I fear my father might take exception to that."
Lawson said that while Diamond left some debts, she did not use Saatchi's money to pay them off. "I'm an independent woman and I used none of his money to pay off my husband's debt," she said.
Lawson said her independence could "irritate" Mr Saatchi.
She had to correct Metzer for saying her team call themselves Team Nigella.
"No, they call themselves Team Cupcake," she said.
Just before that, Judge Robin Johnson said to the defence barrister: "Don't invite argument, Mr Metzer."
Frustrated at his line of questioning, Lawson said: "Why don't you just ask me something directly?"
Lawson remained on her feet throughout giving evidence despite the judge saying at the beginning that she could take a seat.