North Korean woman prisoners were dragged in to 'service" guards at the country's political prisons, and then killed so the "secret could not get out," a former prison guard has claimed.
Amnesty International has released shocking new testimony from a former prisoner and a prison guard, refugees from the hermit nation, along with new pictures showing the enormity of the prison camp system in the country.
The human rights charity say the new satellite images suggest that Kim Jong Un's regime is expanding its prison camp system, known as "kwanliso".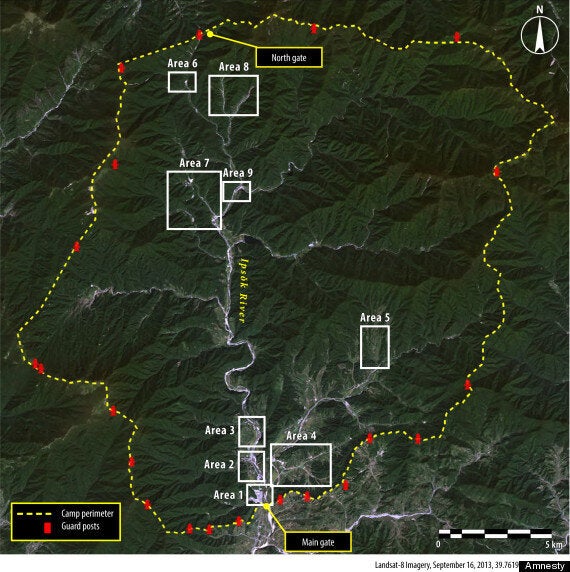 A Satellite image of Kwanliso 15, showing how it is surrounded by a double fence along its perimeter and numerous guard posts
Many of those 150,000 estimated prisoners in North Korea have not committed the crimes themselves, but are convicted because of a family member's actions.
The alleged offenders are sent there without any form of judicial process as are their immediate three generations of family members.
Kim Young-soon

Former detainee in Camp 15, 1980 to 1989

Kim described a public execution she witnessed of two detainees who were caught attempting to escape. She explained how they were first "half beaten to death.

"They were brought to a stage after they were badly beaten.

"The prisoners were tied to wooden stakes and shot three times in their head, chest and feet."
In two of the camps, the images show new accommodation blocks, new areas for forced labour and tighter security being installed on the perimeter fences and guard towers, the charity said.
Kwanliso 16, near Hwaseong in North Hamgyong province, is approximately 215 square miles, and Kwanliso 15 covers an area of 142 square miles, and is located in central North Korea around 45 miles from the capital Pyongyang.
The former security official at kwanliso 16 – the largest political prison camp in North Korea – who has been interviewed by the charity, has never spoken publicly before.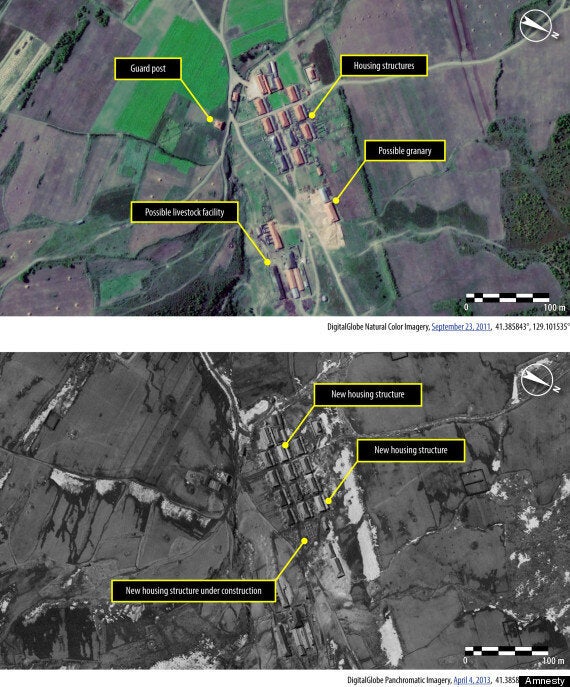 Two satellite images of a village in the northern part of North Korean political camp 16, which appears to have undergone change in the observation time frame, with new housing being recently added or being under construction
He describes detainees being forced to dig their own graves, and were then killed with hammer blows to their necks, and women being raped by visiting officials and then disappearing.
Forced labour is common, often in extremely dangerous conditions, according to ex-detainees.
The report's author, Amnesty International's North Korea Researcher Rajiv Narayan, said: "Under its new leader Kim Jong-un, North Korea is violating every conceivable human right.
"The camps are a gruesome and powerful tool at the heart of a vast network of repression. People are sent to the political prison camps without charge, let alone a trial, many of them simply for knowing someone who has fallen out of favour.
"Conditions are dire. Torture is rampant, there are reports that women are raped, and we know that public execution is common place. Many of the prisoners die of malnutrition and overwork in dangerous conditions.
"We are calling on the North Korean authorities to acknowledge the existence of the camps, close them, and grant unhindered access to independent human rights monitors like Amnesty International."
He claims to have witnessed prison officers strangling detainees and then beating them to death with wooden sticks, and says women were "disappeared" after being raped.
North Korean diplomats called the UN report a "political plot."