The Seattle Seahawks' 34-7 win over the New Orleans Saints was hardly earth-shattering, but it did shake it up a bit.
Boisterous fans at CenturyLink Field registered enough noise during Seattle's win on Monday night to register at an earthquake monitoring station about a block from the stadium.
John Vidale, director of the Pacific Northwest Seismic Network, told CNN the station registered five earthshaking moments during the game, some in the 1 to 2-magnitude range.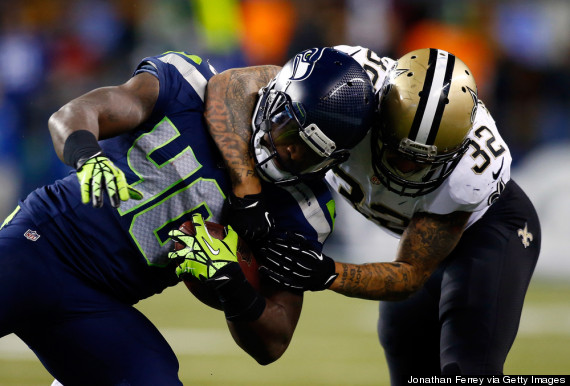 Seattle defeated New orleans on Monday night
Seahawks fans' rowdiness also set a record for being the loudest outdoor sports stadium.
Crowd noise reached 137.6 decibels in the second quarter of the game, breaking the kansas City Chiefs' previous record of 137.5 decibels in October.
Earth-rattling Seattle supporters have registered on the Richter scale once before, in 2011, which was also against the New Orleans Saints.
Seattle's KIRO-TV reports the largest seismic event occurred when Michael Bennett returned a ball fumbled by Saints quarterback Drew Brees for a touchdown in the first quarter.