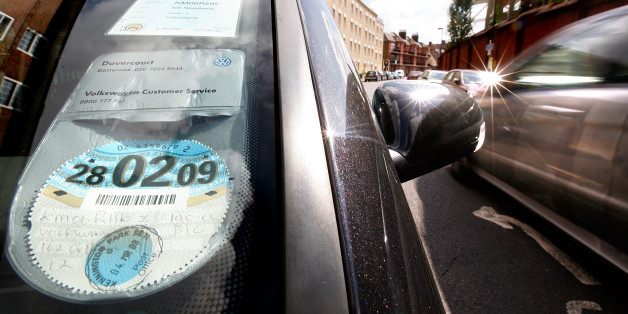 Cate Gillon via Getty Images
The car tax disc is set to be scrapped, after more than 90 years being stuck to British motorists' vehicles, and replaced with a modern electronic system, Chancellor George Osborne will confirm today.
For the first time motorists will also be able to pay for their vehicle excise duty (VED) by monthly direct debit, spreading the burden for hard-pressed drivers, although this will cost an extra 5%.
The extra charge for paying for six months at a time will be reduced from 10% to 5% and the two measures are expected to save motorists who spread their payments over £20 million a year.
Scrapping the tax disk is expected to save businesses a total of £7 million a year in administration costs, but customers who are not online will still be able to tax their car in person at a Post Office or on the phone.
A Treasury spokesman said: "This is a visual symbol of how we are moving government into the modern age and making dealing with government more hassle free."
The changes will be legislated for in next year's Finance Bill and will come into effect from October 2014.
Officials said the tax disc was no longer needed for enforcement purposes, with the Driver and Vehicle Licencing Agency and police already relying on an electronic register.
The number of visual notifications by the police has fallen by 75% since 2008, the Treasury said.
Vehicle tax was introduced in the 1888 budget and the system of excise duty applying specifically to motor vehicles was introduced in 1920, with the tax disc appearing the following year.
AA roads policy head Paul Watters said: "The tax disc is now technically redundant with real-time online records available to the police and other agencies.
"The disc has been with us a long time and it will take some getting used to not having it. However, reducing bureaucracy, improving efficiency and security will save money that can be better spent on improving other Drive and Vehicle Licensing Agency services."
See also: