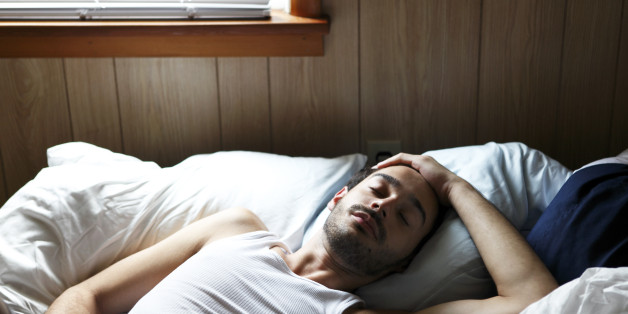 Tim Kitchen via Getty Images
With decades of drinking under our belts, HuffPost UK have tried every hangover cure under the morning-after-the-night-before sun.
Bacon butties, Bloody Mary's, Berocca - you name it, we've put it in our bodies in a desperate attempt to undo the effects of one too many vodkas.
But sometimes (especially after the work Christmas party, ahem) hangovers can be so severe that even leaving your bed or desk can seem nigh-on impossible.
The solution, according to food delivery service Grazing, is to bring a box of hangover-friendly goodies direct to the alcohol-soaked and sorrowful.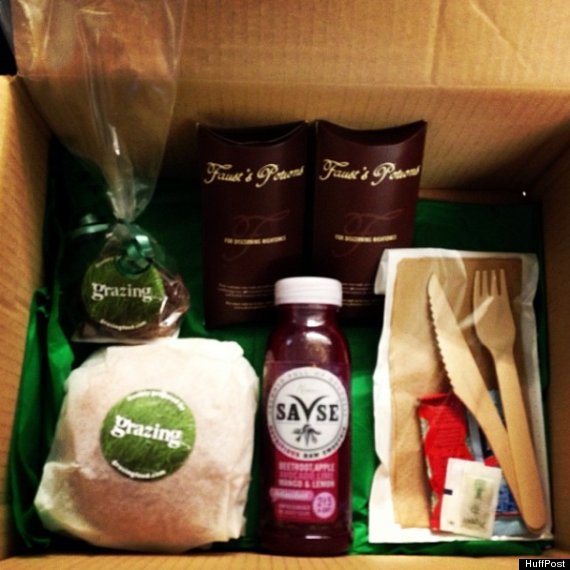 The formula? One bacon buttie + one bag of chocolate-covered bacon + one Savses smoothie + Fausts' Awake Potion.
But for a steep £12.95 (excluding VAT) does the box cure-all or just cause a bigger headache? We put it to the test.
Bacon and fried egg buttie
They say:
Hangovers can cause blood sugar levels to drop. Eggs and bacon are both rich in cysteine, an amino acid that aids the breakdown of toxins, while loading up on carbs also helps redress the balance. Science aside, at least it will cure a bad case of the mucnhies
We say:
"The bacon was delicious, I could quite happily eat it all over again. Perfect hangover food."
"Good quality, well-smoked bacon. Although I'd have liked the egg to be more runny and I found the bread slightly hard."
"The bacon was thick and not too salty - loved the fluffy bap too."
Verdict: 9/10
Chocolate-covered bacon
They say:
It might sound strange but these chewy treats are a decadently delicious mid-morning pick-me-up. They're full of potassium, which gets depleted when you drink, causing you to feel sick and dehydrated.
We say:
"Mmpphhmmm. I could bathe in chocolate bacon. If I could have a trough of that - I'd be a happy woman."
"I thought it was just going to be bacon-flavoured chocolate, so was shocked to find real bacon inside. I could probably get used to it but not sure I'm brave enough to eat a whole bag on a hangover."
"Deep down I think we have all secretly known that bacon and chocolate would be an utter sublime combination but until now no one really had the balls to suggest what sounds like an absurd and artery-hammering idea."
"Hopefully it takes off in much the same way as salted caramel has. It has the same juxtaposition in taste of salty and sweet, but with extra texture thanks to the meat."
Verdict: 9/10
SaVse Smoothie - Beetroot, Apple, Avocado, Lime, Mango and Lemon
They say:
This smoothie is literally packed full of superfoods. The fruit and veg are cold-pressed rather than heated to maximise the nutrients, antioxidants and vitamins, and the natural sugars in this healthy mix rehydrate the body, getting the alcohol out of your system quicker.
We say:
"If you're a fan of beetroot (which I am) this is the juice for you. It tastes super healthy and seems like a too good to be true way of condensing raw fruit and veg into a juice. Yum!"
"As a beetroot fan I had high hopes for this drink. But it tasted like earth and I had to stop drinking it."
"Looked healthy, tasted like sugar and soil. Had a few mouthfuls and gave up. Not quite the raw smoothie it sells itself as."
Verdict: 4/10
Fausts' Awake Potion
They say:
This miracle in a bottle comprises of amino acids, guarana, green tea, ginseng, Vitamins B and C and electrolydes.
We say:
"Without water it takes like a hideous orange potion and I almost spat it out, with water it tastes like delicious orange squash."
"I feel perkier after drinking it."
"It looks like something from Alice in Wonderland."
Verdict: 8/10
But at £12.95 is it worth the money? It depends.
If you're unable to move, with close friends/family/colleagues to rustle you up some grub - sure it is. But if you're able to stop wallowing and get to the local cafe, it's a bit too much... no matter how tasty the bacon chocolate may be.
As we all know the more severe the hangover, the deeper the pockets will go to get anything to ease the pain.
Created by a team of chefs in the heart of the City the food is transported and kept warm in Grazing's pioneering hot boxes. The Morning After The Night Before Brekkie is £12.95, excluding VAT, per person. Find out more here.