Foods to avoid include grains and gluten, processed foods, legumes, dairy, white potatoes, added sugar and industrial or seed oils.
According to Nom Nom Paleo's Michelle Tam - paleo blogger, pharmacist and author - "the biggest misconception about the Paleo lifestyle is that all we eat is meat and bacon."
We asked Michelle to tell us about the do's and don'ts of paleo diet and what to be mindful of.
"Like grains, legumes—which include beans, peas, and even peanuts (which aren't nuts at all)—aren't your healthiest option.
"Sure, beans are plentiful and full of minerals, but their nutrients aren't readily bioavailable to our bodies due to the phytates in legumes.
"And while it's possible to make legumes less harmful by taking the time to soak, sprout, cook, and ferment them, there are many more nutrient-rich (and far less time-consuming) options available to you.
"Soy, in particular, should not be part of your regular diet; commercially available soy is typically genetically modified, and contains isoflavones that can disrupt normal endocrine function."
Enjoy three of Nom Nom Paleo's yummiest and healthiest recipes:
Shrimp-Stuffed Mushrooms (24 servings)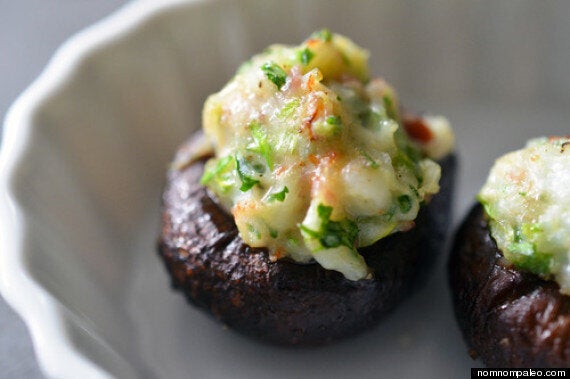 24 ounces (about 24 medium-sized) cremini mushrooms
2 tablespoons melted Ghee or fat of choice
8 ounces fresh or frozen shrimp
¼ cup scallions (about 2 scallions), roughly chopped
2 bacon slices, diced (about ⅓ cup)
1 tablespoon jalapeño pepper, diced small
1 teaspoon Paleo-friendly fish sauce
Freshly-ground black pepper
Preheat the oven to 450°F.
Clean your cremini mushrooms and remove the stems.
Place the mushrooms on a foil-lined baking sheet, and brush them with melted ghee. Roast the mushrooms, gill-side down, for 12 minutes.
Flip over the mushrooms, and roast for 5 to 10 minutes more, or until the liquid released by the mushrooms has evaporated.
While the mushrooms are in the oven, de-vein and remove the tails from the thawed shrimp, and chop them into medium-sized pieces.
Toss the shrimp, scallions, cilantro, bacon, jalapeño, and fish sauce into the work bowl of a food processor. Season to taste with salt and pepper.
Pulse the ingredients for the filling until a coarsely-chopped mixture develops. The filling should be the consistency of a sticky, chunky paste.
Scoop out the filling with a spoon or small disher, and fill each cooked mushroom with the shrimp paste.
Return the mushrooms to the oven for 8 to 10 minutes, or until the shrimp mixture has set.
Transfer the mushrooms to a plate and serve.
Green Sliders (spinach, mushroom, and beef mini burgers) (30 servings)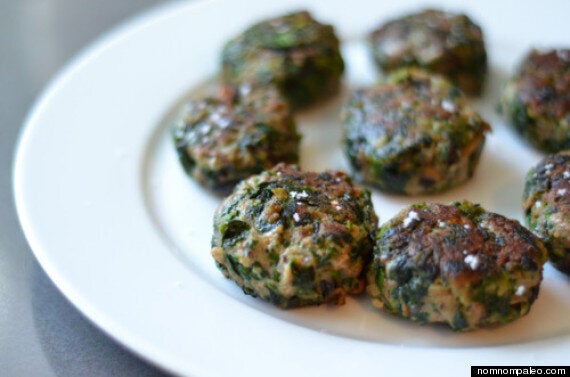 1 pound frozen chopped spinach
1 tablespoon unsalted butter (or coconut oil)
1/2 cup finely chopped yellow onion (from 1/2 medium onion)
1/2 pound Cremini mushrooms, finely chopped
1/4 cup coconut cream or coconut milk
1/2 cup small-dice celery (from about 2 medium stalks)
1/2 cup loosely packed fresh Italian parsley leaves
1 medium garlic clove, minced
1 teaspoon kosher salt, plus more as needed
1 1/2 teaspoons freshly ground black pepper, plus more as needed
1/4 teaspoon freshly grated nutmeg
2 large eggs, lightly beaten
Tomato sauce, warmed, for serving (optional)
Dump a packet of frozen spinach into a Corningware container covering it with a lid, and nuke it on high for 4 minutes to defrost it. Then, dump the spinach into a colander and press out all the liquid.
Heat the butter (or coconut oil) over medium heat in a large cast iron skillet and toss in the chopped onions and mushrooms along with some salt and pepper to taste.
The veggies should be sautéed until the liquid has evaporated and the onions become softened.
Next, the coconut milk, parsley, and celery should be pureed, then poured over the ground beef in a large bowl, and then add the chopped spinach, coconut flour, garlic, and measure salt and pepper, and nutmeg.
Add the beaten eggs and cooked 'shrooms - you may use your hands to gently combine all the ingredients.
Then for the fun part, form the meat mixture into small patties (about 2 inches in diameter).
Heat 2 tablespoons of coconut oil in a cast iron skillet over medium heat and fry the sliders in three batches.
Cook the sliders for 3 minutes on each side (each batch should take about 6-7 minutes to finish).
The reheat a bowl of marinara sauce in the microwave and sprinkle some fleur de sel on the mini burgers before you dig in.
Slow Cooker Korean Grass Fed Short Ribs (serves 4-6)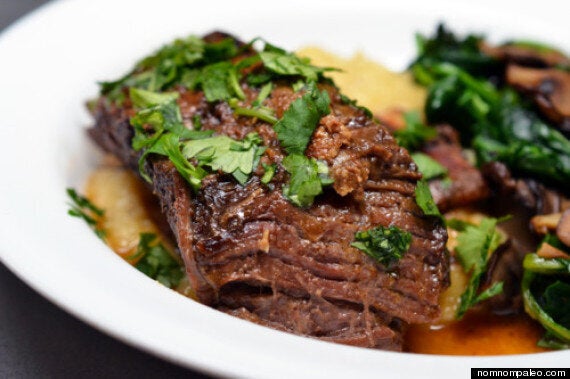 6 pounds of bone-in English-style grass-fed short ribs
1 medium pear or Asian pear, peeled, cored, and chopped coarsely
6 garlic cloves, peeled and roughly chopped
3 scallions, roughly chopped
1 hunk of ginger, about the size of your thumb, cut into two pieces
2 teaspoons of Red Boat fish sauce
1 tablespoon coconut vinegar
1 cup organic chicken broth
Small handful of roughly chopped fresh cilantro
Preheat your broiler with the rack 6 inches from the heating element. Season the ribs liberally with salt and pepper and lay the ribs, bone-side up on a foil-lined baking sheet.
Broil the ribs for 5 minutes and then flip them over and broil for another 5 minutes.
Stack the ribs in a single layer in the slow cooker. I lay them on their side to cram them all in the pot.
Toss the pear, coconut aminos, garlic, scallions, ginger, fish sauce, and vinegar in a blender and puree until smooth.
Pour the sauce evenly over the ribs and add the chicken broth to the pot.
Cover with the lid, set the slow cooker on low, and let the ribs stew for 9-11 hours.
When it's time to serve the ribs, remove the meat from the slow cooker and place them on a serving platter.
Let the braising liquid settle for 5 minutes and then ladle off the fat if you wish. Adjust the seasoning with salt and pepper, and pour a cup of sauce over the ribs.
Sprinkle on the chopped cilantro and serve the remaining sauce on the side.