These are the dramatic images of severe storms which have swept the country, destroying homes and causing chaos for travellers with roads flooded and many rail services unable to run.
While Scotland and northern England bore the brunt of the disruption yesterday, it was East Anglia, southern England and Wales where transport problems proliferated today.
Most Scottish rail services were able to run today, following yesterday's virtual shutdown. But In England and Wales it was a different story, with a number of Greater Anglia train company services unable to operate, and some Norwich to London trains having to be cancelled.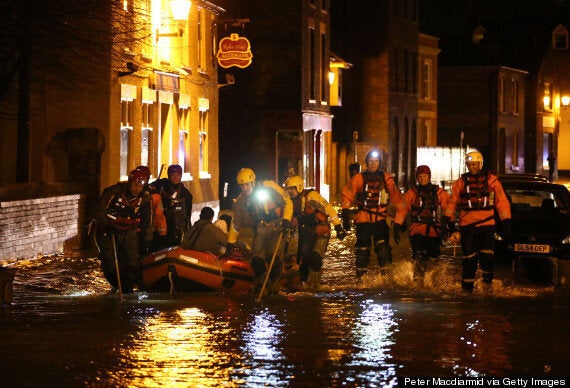 A rescue team pulls a boat with an evacuee on board through flood water in The High Street in Boston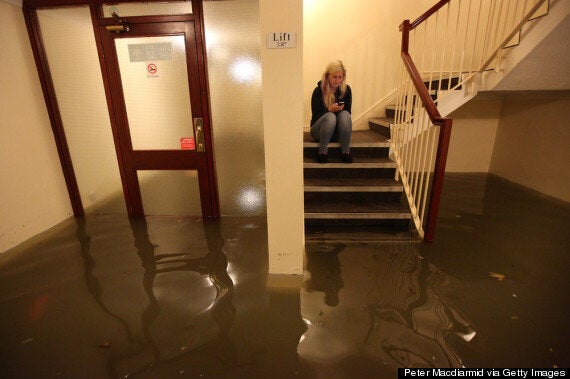 A resident sits on the stairs of an appartment deep in flood water
Flood waters are reported to be receding after the worst tidal surge for more than 60 years hit coastal towns along the east coast of Britain.
Thousands of people were evacuated from their homes and spent the night in temporary accommodation as officials warned lives could be at risk.
The North Sea surge hit the north Norfolk coast early yesterday evening and headed south throughout the night.
The fierce Atlantic storm - which has already claimed two lives - caused widespread disruption yesterday, but some agencies this morning said that the expected flooding overnight was less severe than expected.
EMilitary personnel from Colchester Garrison helped emergency services during the night in Maldon, and the majority of people evacuated from their homes have now left rest centres, police said.
More than 10,000 homes on the coast were last night earmarked for evacuation after officials warned that the lives of people in the regions could be at risk.
In Boston, Lincolnshire, more than 250 people were taken to evacuation centres last night, and 200 were reported to be at a centre in Clacton-on-Sea in Essex.
The Environment Agency has issued 45 severe flood warnings - the highest category, which are only issued when flooding poses a danger to life - covering coastal areas in East Anglia, the North Sea coast and south-eastern parts of England as high tides return again this morning.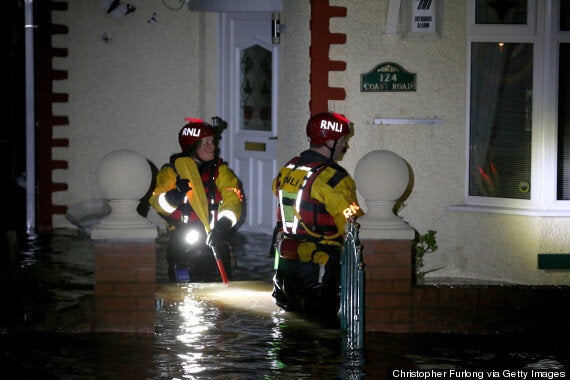 RNLI rescue personnell work through the night searching flooded properties for people not already evacuated as emergency services prepare for the next high tide in Rhyl
Across the country more than 100,000 properties were hit by power cuts as winds of up to 140mph battered powerlines.
At Blakeney in north Norfolk, the water breached the quay at about 5.30pm. Allan Urquhart, who has lived on the seafront for eight years, took a rowing boat to the King's Arms pub to collect a friend.
He said: "I'm going to row back to the house and we'll stay upstairs tonight.
"We've put sandbags in place so hopefully we'll be OK. I'm as confident as I can be.
"This is the worst flooding I've seen so it could be a difficult night for lots of people."
Environment Secretary Owen Paterson, who chaired two Cobra meetings, said: "It is really important that people take steps to prepare for flooding, which is likely to occur overnight.
"Clearly our priority is public safety and I urge people to act on the advice from the environment agency, police and local agencies."