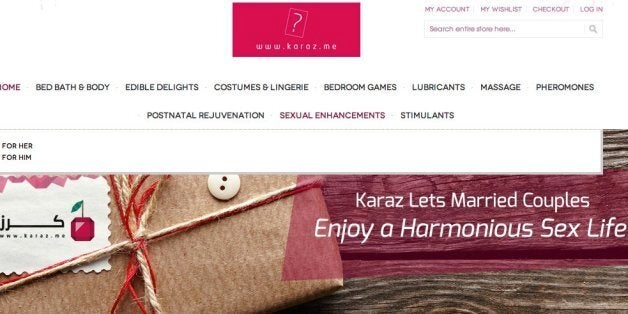 Karaz - which means "cherries" in Arabic - is based in Ramallah and opened online. It sells things such as costumes, lingerie and "edible delights".
The site's founder, Ashraf Alkiswani, was inspired to open the shop after hearing tragic stories of couple's wedding night fiascos.
He used these to make a case when approaching local sheiks for a fatwa to support his venture.
He told the Guardian: "I told them the two stories that compelled me to begin this business. Two stories of embarrassing moments that were so embarrassing they were sad.
"I told them of the couple on their wedding night, the woman nervous and the man so eager to begin his sexual journey he didn't even think, or even know, to use foreplay.
"With her nervousness teamed with his eagerness, she ended up in hospital with bleeding for three days."
According to Islamic teachings sex is reserved for married couples and the site hopes to encourage intimacy between couples.
The site says: "Our aim is to provide a range of tasteful products to help rekindle the purity and passion between married couples.
"Karaz is proud to help foster healthy relationships and open communication by offering a wide spectrum of marital aids that help husbands and wives achieve and maintain an intimate lifestyle."
The shop is following hot on the heels of Turkey's first-ever sex shop which opened earlier this year.
Christmas Sex Toys
Popular in the Community