The funerals of a further two victims of the Glasgow helicopter crash have taken place. Around 200 police officers attended an island memorial for Constable Tony Collins, who was killed when the force aircraft crashed through the roof of a pub.
Colleagues of the 43-year-old paid their respects at a graveside service on the Isle of Arran. The father of three was a member of the Police Scotland helicopter unit and was returning from an operation when the aircraft plunged from the sky.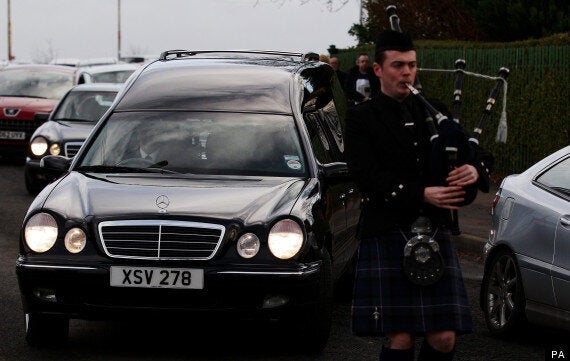 A lone piper leads the funeral cortege
Eight others died when the Eurocopter EC135 crashed through the roof of the Clutha pub on November 29. John McGarrigle, 57, who had been on a night out at the bar, was also remembered at a service in Glasgow today. Pc Collins was buried at Lamlash Cemetery on Arran, where the Rev Angus Adamson described him as "good fun, with a great sense of humour".
Around 500 mourners were led by his wife Lucy, sons Ryan, 19, Innes, 12 and six-year-old Gregor, and his mother and father Geoff and Margaret. Police Scotland chief constable Sir Stephen House attended the funeral, which saw officers form a guard of honour as Pc Collins's casket was taken to the graveside.
The chief officer of Scottish Fire and Rescue, Alasdair Hay, was also at the service, with Justice Secretary Kenny MacAskill and Glasgow City Council leader Gordon Matheson. Adamson said: "All we have for now are the tender, dear and precious memories of Tony as his life touched and enriched ours, but those precious memories are what keep the love alive and vibrant.
"For now we must be content to let him go and thank God for the full, happy and rewarding life he gave to us in Tony Collins." Born in Plymouth in October 1970, Pc Collins lived in Malpas, south Wales, and Limekilns in Fife before moving to Arran with his parents as a teenager.
He was turned down for the police at 17 due to his asthma but was accepted at 25 and went on to receive two bravery awards in the course of his career. The funeral of Pc Collins's colleague Constable Kirsty Nelis, 36, will be held at St Andrew's Cathedral in Glasgow tomorrow. Pilot David Traill, 51, was remembered at a service at Glasgow University on Saturday.
Six people inside the Clutha died when the helicopter crashed at around 10.25pm. The funeral of pub customer Mr McGarrigle was held at St Bartholomew's RC Church in Castlemilk today. Hundreds of mourners attended a mass which was followed by a service at Linn Crematorium.
A lone piper played Flower Of Scotland as his coffin, bearing white flowers that spelled "brother", was driven from the church. Glasgow Lord Provost Sadie Docherty were among those who attended to pay their respects. Funerals for Clutha victims Mark O'Prey, 44, and Gary Arthur, 48, took place yesterday.
The others who died in the tragedy were Robert Jenkins, 61, Colin Gibson, 33, and Samuel McGhee, 56. Investigators said they have found no evidence of engine or gear box failure and their inquiries into the cause of the crash are continuing.
McGarrigle was raised in Castlemilk, where he lived for most of his life before moving to be nearer family in Cumbernauld. He was a father to daughters Linda, 34, and Marie, 36, and son John, 38, who read a passage from the Bible during the service and acted as a pall-bearer.
McGarrigle was a regular at the Clutha and a member of a writers' group at the neighbouring Scotia pub. He wrote and contributed to a number of published volumes of poetry about Glasgow and its people. His family described him as "a larger than life character who never had an easy life".
In a statement issued yesterday, they said: "Despite being a single parent to three children, he still managed to get a masters of art degree from Glasgow University. He will be greatly missed by everyone." Father David Wallace said following the service: "Everyone in the city of Glasgow has been affected by that tragedy in some way, but in a very particular way John's family came to say goodbye to their father, to their brother.
"He was a man of great care who brought up three children single-handedly. As we can all understand, his family are fairly devastated by their loss." Police Scotland were represented at the service by Chief Superintendent Barry McEwan.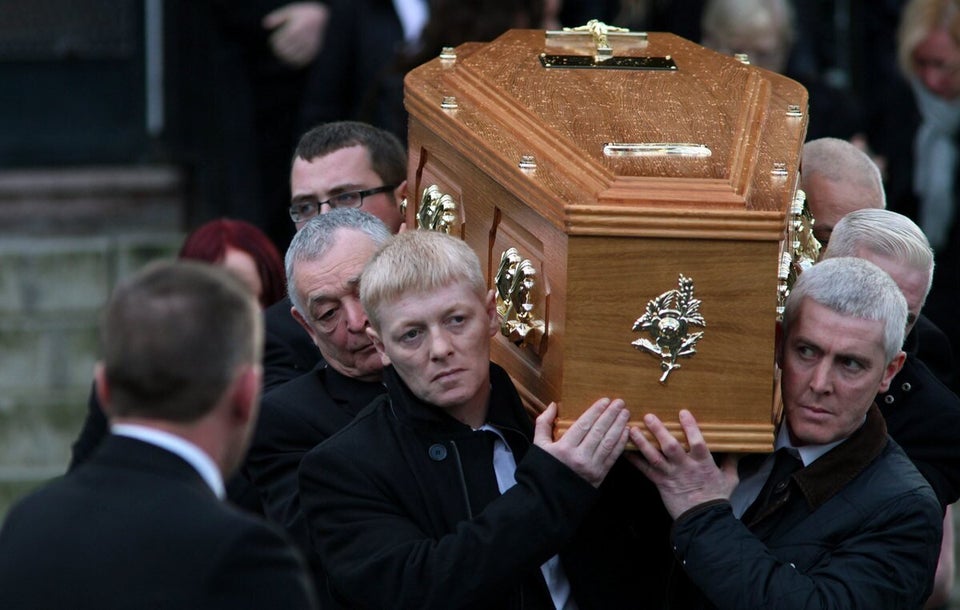 Clutha Funerals