Have you heard the one about the Pope, a goat and some kids...
Ok, just to reassure you, it's not the start of a questionable joke. So, just what does the Pope, a screaming goat and candy-deprived children have in common?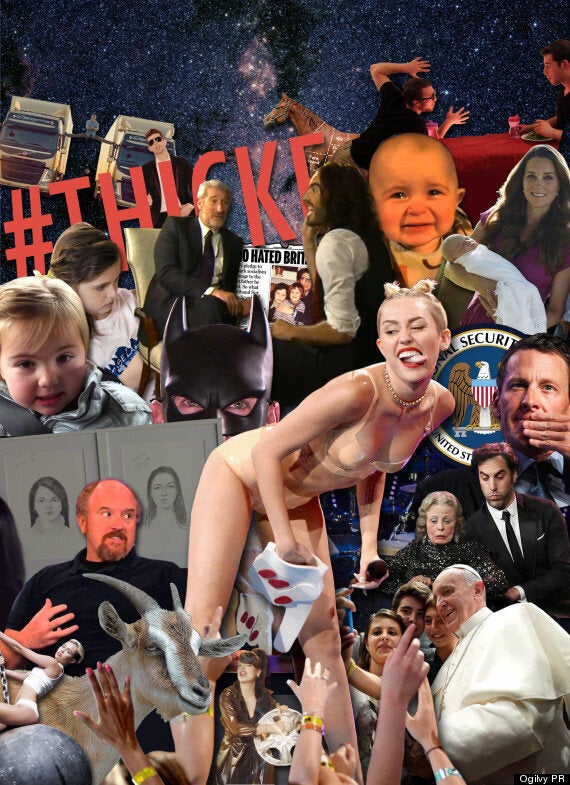 Well, they all appear in the definitive Scoreboard of Content 2013 as compiled by The Huffington Post UK and Ogilvy Public Relations which we can exclusively announce today after a call out for votes from more than seven million influential consumers and creators.
The Scoreboard includes everything and anything from videos and tweets to hash-tags and selfies from around the globe which were assessed by an expert panel of judges who divided the crowd-sourced favourites into Top Fives across five genres: Sex, Humour, Fame, News and Lifestyle.
And after hours of tense deliberation, the exhausted judges were delighted to announce the category winners and the overall victor - Miley Cyrus' performance at the VMA's - which we present below.
Music videos featuring nudity, tongues and twerking are the most impactful pieces of sex related content and this loud genre has drowned out all other mainstream forms of 'sexy' content in 2013.
WINNER: Miley Cyrus twerking at the VMAs
Michael Darragh, Managing Partner, Ogilvy PR London: "20 years ago Madonna writhed on stage in a wedding dress, simulating masturbation, singing 'like a virgin' at the very same awards as Miley Cyrus in 2013. Not much has changed. Was Miley any more shocking? What makes it different is how the edit of the version circulated online, used cutaways of audience members, seemingly in-shot, to humanise the story and cleverly building the sense of shock that the clip portrays."
Views: 10.1 million (live) + 10 million (approx online)
Social Media Impressions: 1.8 million (during performance)
The popularity of sketch-comedy dominates this category, and reveals that home generated, simple, universal humour is dominating the online world.
Winner: How animals eat their food
Chris Hackley PhD, Professor of Marketing, School of Management, Royal Holloway University of London: "How animals eat their food is a hilarious example of the way content liberates individual talent and creativity in an area that has become dominated by corporates. Same goes for Bat Dad. In a way, personal content like this serves the corporate content by keeping a sense of the authenticity of social media."
The traditional airbrushed, soft focus image of family life and biological reality are being challenged online, and we are now given a chance to chuckle and self-identify without shame, and then celebrate the experience.
Winner: Dove 'Real Beauty' sketches
Robbie Spargo, Head of YouTube Activities, Digital and Branded Entertainment, FremantleMedia: "The Dove Real Beauty Sketches video was particularly interesting because it shows how advertisers can bypass paid campaigns to reach a vast, engaged audience directly on YouTube, simply by creating a compelling piece of content that conveys their core values.
Social Media Shares: 3.7 million
Famous faces are pre-empting and replacing gossip sites, glossies and tabloids by offering intimacy and exclusivity directly to fans and beyond as they focus attention online.
Michael Darragh, Managing Partner, Ogilvy PR London: "Fabio Ragona's Pope selfie demonstrates content as a powerful tool of communication for brands to talk to a new generation. Visual content has become a form of communication, and even brand Vatican can see the benefit of it."
Shares: 1,150 on Twitter (Re-tweets, Favourites), plus those on articles, (Telegraph article 4,000 shares, times roughly 20 articles of similar influence = 80,000)
Long-form journalism, the access to sources only major outlets can achieve and the scandals revealed thus continue to drive impactful news content.
Winner: The Guardian NSA Exclusive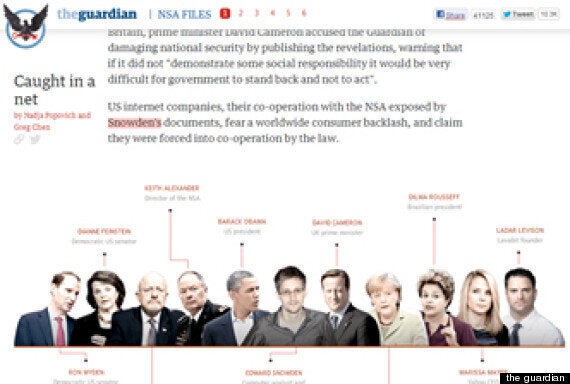 Shares: 51,000 (of microsite)
Carla Buzasi, Editor-in-Chief, Huffington Post UK: "Politics aside, The Guardian's coverage of the NSA Files has provided rafts of content both on and off-line, that has captured the public's attention over recent months. Cleverly revealing details on Guardian.com as well as in print, has brought huge audiences to Guardian-generated content."
Over 180 items of content were put before a panel of content experts, Carla Buzasi, Editor in Chief of the Huffington Post UK; Michael Darragh, Head of Digital and Content at Ogilvy Public Relations/London; Chris Hackley, Professor of Marketing at Royal Holloway, University of London; Robbie Spargo, Head of YouTube Activities at FremantleMedia; and Susi Weaser, Head of Partner Management at ChannelFlip. The panel of judges then decided upon a top five in each category, crowning one overall winner.