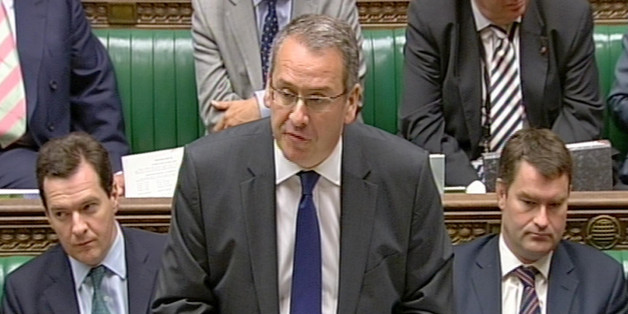 PA/PA Archive
The Treasury did not have a "political desire" for the Co-operative Bank to buy 632 Lloyds bank branches during the bidding process last year, according to Tory MP Mark Hoban, who was financial secretary to the Treasury at the time of the auction.
Concerns have been mounting about ministerial interference in the sell-off, titled Project Verde, which was required under EU rules governing state aid to offset the fact that Lloyds needed a £20 billion state bailout in 2008, amid suggestions that ministers had a "political desire" for Co-op's bid to succeed. Co-op withdrew its bid in 2011, with it later disclosed that the bank was hiding a £1.5 billion hole in its balance sheet.
Speaking to the Huffington Post UK, Hoban dismissed suggestions made by figures "who were not privy to my conversations", such as business secretary Vince Cable and disgraced former Co-op chair Paul Flowers, that he had around 30 meetings with the Co-operative Group and "encouraged" them in their bid during the process.
The former Treasury minister said that the sale was a "commercial decision" between Lloyds and the Co-op Group, adding: "When you go through the Treasury records as we have done, I think I had two meetings with the Co-op, and 10 phone calls".
TOP STORIES TODAY
Hoban said that "none" of his conversations had been with Flowers, adding: "We were interested in the outcome clearly. We definitely had an interest in finding out how the deal was progressing. The meetings I had with the Co-op were largely once they had been signed up as bidders."
"I don't think there's anything wrong with asking questions. We would talk to a range of institutions and if you look back at the records of who I've met at the Treasury, you'd see I talked to a range of banks in my time."
Speaking on BBC Newsnight in November, Vince Cable said ministers had held a "fairly substantial number" of meetings with the Co-op, adding: "I think it was around that number [30]". However, George Osborne denied Hoban had met the Co-op 30 times.
Paul Flowers, the now-disgraced minister who was chairman of the Co-op bank, claimed last November that Hoban had "encouraged" the Co-op's bid with "many, many telephone conversations and meetings" to Co-op Group chief executive Peter Marks about the process.
Despite Hoban's insistence the Treasury had no bias towards the Co-op, George Osborne reportedly tried to help get the bank preferential treatment in relation to its capital position. An aide told the Financial Times: "We are totally unashamed in trying to help a British institution and the British economy."
Hoban's intervention comes as Lord Levene, who led a rival bid for the Lloyds branches as chair of NBNK Investments, claimed that he had been told by then Bank of England governor Mervyn King that there was a "political desire" for the Co-op to succeed in their Lloyds bid that would be difficult to overturn.
Hoban said he had met Lord Levene but could not recall how many times he had done so. Speaking to Sky News, one NBNK investor said: "This was not a level playing field. That has become clear. NBNK has paid £30m to compete in an auction it had no chance of winning."
The Co-op is set to be subject to series of probes, with the Financial Conduct Authority and Prudential Regulation Authority considering whether to launch formal investigations. A separate probe ordered by the Treasury will also take place.
In a statement issued last week, Lloyds said: "The bidding process for the Verde business was assessed on a fair and open basis. The Lloyds board made the decision to proceed with the Co-op based on value and certainty.
"They chose to proceed with a business that had an existing franchise, branch network and a banking licence.
"The Group also maintained a Plan B - an IPO (initial public offering) of Verde. The first phase of that completed in September with TSB on the UK high streets."