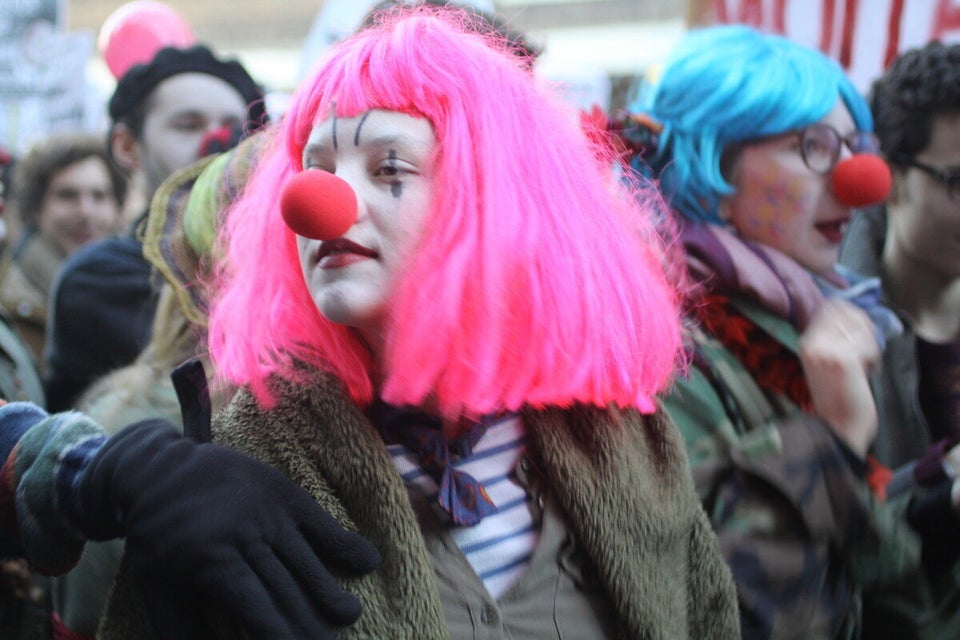 #copsoffcampus
The Huffington Post UK will be live blogging today's protest. Please send pictures in to ukstudenteds@huffingtonpost.com or tweet us @HPUKStudents. All photos will be credited unless otherwise requested.
Thousands are expected to attend a student demonstration outside the University Of London Union on Wednesday in protest against the presence of police on campus.
The day of action, spearheaded by student organisation National Campaign Against Fees and Cuts (NCAFC) has gained support from politicians and has more than 2,700 attendees on its Facebook page. The protest is a response to police violence which students claimed took place last week. A video of a police officer seemingly punching a student in the face emerged, prompting Labour politician John McDonnell MP to speak out against the "persecution" of the protesters.
Hannah Webb, of the NCAFC, says: "Last Wednesday, protesting students were met with disproportionate police brutality.
"People were arrested, they were kettled, and they weren't fed for 11 hours. Even though it's scary to go back out there and oppose this, we've got to stand up for ourselves and others who face attacks. We can't let this continue to happen."
Story continues below gallery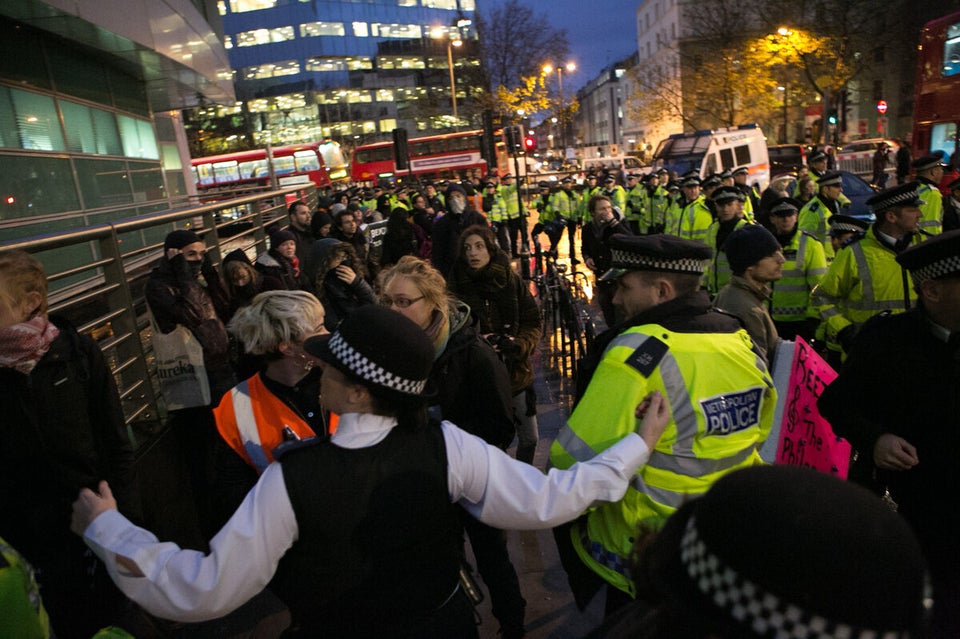 Cops off campus protest
The cops off campus protest last week
"The University's management is no longer willing to tolerate demonstrations in Senate House, the cloister entrance and the East and West car-parks," the letter read. "If this policy is not followed then the University will consider protesters to be trespassing on University property and will take all the necessary legal measures to prevent and prosecute such trespass."
A spokesman for the Met police said he could not give an estimate of how many officers would be attending today's protest but said "there will be an appropriate plan in place" and contingencies from other police forces would attend if required.
Students have been encouraged by the NCAFC to organise protests at universities across the country if they cannot make it to London.
Northumbria University students took part in the national day of action, which gained support from their local MP, Grahame Morris, who said: "The right to peaceful protest and assembly is a basic right in a free society and I applaud students and trades unionists' commitment to the defence of our finest democratic traditions of free speech and peaceful protest in the cause of social justice."
Student Gary Spedding told HuffPost UK they would put up a "ferocious fight" for education if necessary.
"I am exceptionally concerned by the draconian measures being implemented by certain university administrations and I must express my disgust at actions being committed by some police officers on a number of campuses across the UK.
"This heavy-handed repression is a serious student welfare issue. I feel it is appropriate to remind management about what should be paramount to our universities at all times; the safety and wellbeing of students.
"I reject attempts to caricature and debase students as violent and intimidating when we engage in largely peaceful protest against austerity, against cuts to Higher and Further Education, and to stop the privatisation of student debt."
A post on the Facebook event for Wednesday's national protest read:
In the past month universities across the country have been subject to unprecedented levels of violence from the police, targeting a resurgent wave of activism against the privatisation of the university system.

Across the country, students are initiating a vibrant, popular, winnable fight for democratic and public universities, free from exploitation and repression. We cannot be beaten if we stand together.

In the past week, police have violently evicted, beaten, and arrested students from peaceful occupations in London and sent undercover police officers to spy on students, arresting 3/4s of the union sabbatical team. They have attempted to recruit students to act as informers against fellow student activists in Cambridge, and attacked protests against outsourcing in Sussex. Across the country, managements are using injunctions and violence to suppress dissent; at Birmingham, students were threatened with £25,000 court costs.

The scale of the police's response has never been witnessed on British universities. Students beaten, strangled, having teeth punched out, dragged across roads, and violently bundled into vans. This cannot be allowed to continue.

The violence of the police is not just a student or education issue. For years the Metropolitan police have been able to beat, arrest and murder citizens in London with impunity; the IPCC functioning as nothing more than cover for unaccountable, systematic violence.

Groups all over the country are calling for a national day of action on Wednesday December 11th – with local action and a demonstration in London. This event is being set up as a reaction to this call; we are relaying this call for urgent solidarity.

***What is #copsoffcampus?***

We stand for an education that is public and democratic, free for all. Campuses should be places for inquiry, critical thinking and dissent. Across the country, students and workers are fighting for that vision. Students and workers united hold all of the legitimate power. We are the people who give our institutions life and make them function.

The only power that management ultimately has is police and state violence. They can't win the argument, but they can – and do – call in the cops, assault and intimidate us. With an agenda of austerity, the authorities are behaving in an ever more violent and repressive way.

Our response is to mobilise harder.

Meet at 2pm at the University of London Union (ULU)

If you cannot make it to London on the day, or want to stay local, do something on you campus.

#copsoffcampus
Democratic campuses, public education
Solidarity with staff and the fair pay strikes
Stop the privatisation of student debt.
Against the police/austerity agenda
Related