Mince pies might seem like they're tricky to make, but as Christmas treats go, they are pretty straightforward.
We collected four recipes from the UK's leading chefs that will make you want to jump into that apron.
Let us know your favorites in the comments below.
Boozy & Brazen Pies (with brandy, loads of spice and a touch of frangipani goodness)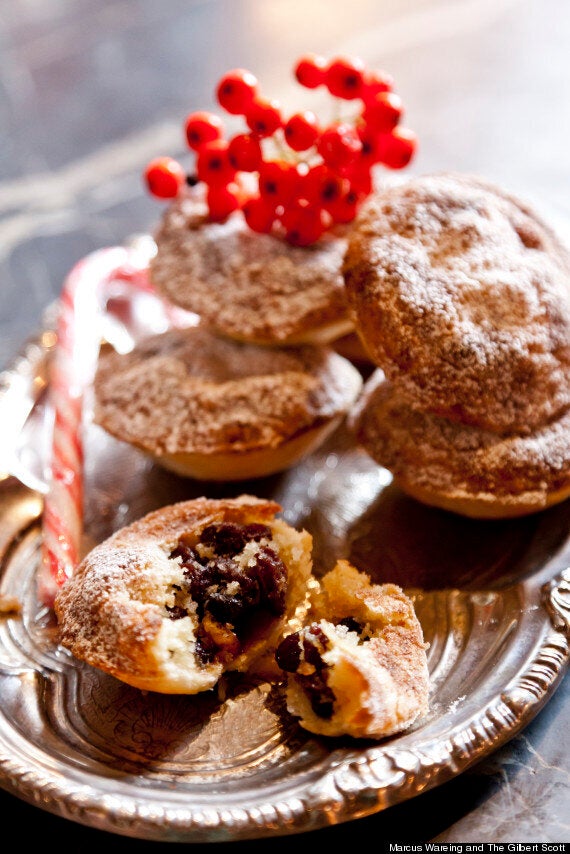 Marcus Wareing and The Gilbert Scott
1 large cooking apple, peeled then grated
50g pitted prunes, finely chopped
25g dried cranberries, finely chopped
500g Christmas fruit mince
25g Amaretto (or a drop or two of almond essence)
75g unsalted butter, at room temperature
1 medium free range egg, beaten
Make the pastry first by creaming the butter and icing sugar together until pale and fluffy.
Add the salt and egg and mix well then add the flour and mix until dough just comes together (if you overwork it it will alter the crispness of the finished product).
Turn out onto a floured bench and shape into a circle. Clingfilm and refrigerate until firm. Dip the sweet paste in flour then place on a sheet of baking paper.
Roll out to approximately 3mm thick then flour well and leave to rest in the fridge for 20 minutes. Remove and, using a circle cutter, cut out the desired circle sizes you require.
For the mince mix; combine all ingredients and set aside.
For the frangipane; cream the butter and sugar then fold in the remaining ingredients and combine well. Place into a piping bag and set aside.
To assemble the tarts; preheat your oven to 180°C. Line the tart cases with the pastry disc then 2/3 fill with the mince mix. Pipe a good dollop of frangipane on top then place in the oven until the frangipane turns a pale golden colour (approximately 15 minutes).
If you wish; douse with a good splash of Amaretto when they come out of the oven; then leave to cool (if you can!).
Gluten Free Mince Pie Tart Mix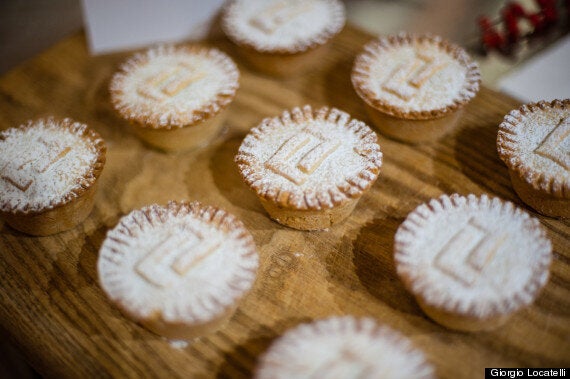 Whip the butter, icing sugar, salt, vanilla in a mixing machine with a paddle until pale. Add the eggs one by one, whip for a minute and add the flour. Rest the dough for a couple of hour before use.
1700 gr Bramley apples, peeled, cored, chopped
180 gr cup chopped prunes
90 gr brown and golden raisins
90 gr semi dried currants
125 gr unsalted butter, cut into pieces
50 ml tablespoons dark rum
1 tablespoon grated orange peel
1 teaspoon grated lemon peel
1 teaspoon ground cinnamon
1/4 teaspoon ground cloves
1/4 teaspoon ground nutmeg
Mix all the ingredients together in a bowl and leave in the fridge over night mixing few times to marinate all the ingredients and flavours together.
Next day in large cooking pan, cook over low heat until the apple gets overcooked that all the mix get darker and arrives to a marmalade texture, stirring slowly but continuously. It normally takes one hour or more. Cool down the filling and keep in the fridge.
Preheat to 180. Roll out the pie dough on lightly floured surface to about 3 millimetre thick. Cut some round for the base of the mince pie moulds and gently press into place, trim the edges. With a piping bag put the filling into the mould and repeat the dough process to cover and close the pie.
Paint the pie with an egg wash and decor before cooking it for about 10-15 minutes or until golden colour.
Rest to cool down before eating.
Tom Aikens' Mince Pies (24 servings)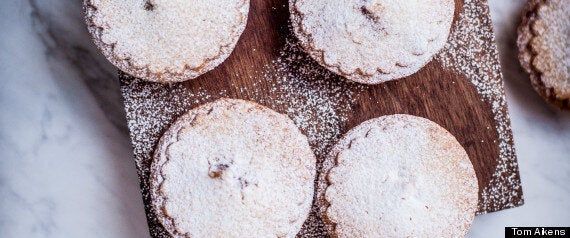 325g-cooking apples, peeled, cored and chopped 115g shredded suet
115g sultanas and currants
150g soft dark brown sugar
Zest and juice of 1 lemon and orange
Large pinch fresh grated nutmeg
110g caster or powdered sugar 2 egg yolks
Few drops vanilla essence
Mix all the ingredients together, except the brandy, in a bowl and leave in a cool place for 12 hours to marinade.
Place the mixture in a baking dish, cover with tin foil and bake for 2.5 to 3 hours at 140°c / 225°f.
Leave to cool stirring from time to time and then stir in the brandy.
Spoon the cooled mixture into storage jars and cover with waxed discs and seal. This is then ready to use, however it's best to leave it to mature for a month.
Sieve the flour and salt, put into a stand mixer and place on a low to medium speed, then add the butter mix till crumb like. Add the sugar then eggs and yolks, it will slowly come together, then refrigerate for 1 hour.
Roll the dough out between two sheets of parchment to a 0.5cm thickness, then let it rest for 10 minutes. Cut out 48 pieces with a round cutter, you need the tops to be medium and the bottoms to be large.
Make the mince pies in either small Yorkshire pudding moulds or tartlet cases. Lightly grease the moulds/cases then flour. Line with the pastry then add the mince pie mix. Place on the lid, crimp the edges and bake at 180°c /375°f for about 10-15 minutes, dust with icing sugar.
The Foragers Forest Treat (30 servings)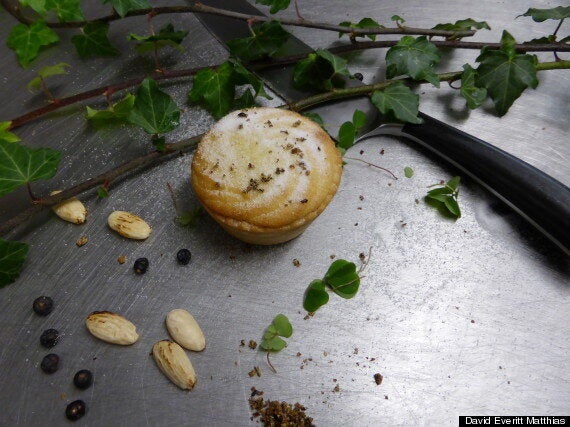 300g Bramley Apples Grated
75g Smoked Almonds Chopped
1 Orange Zested and Juiced
1 Lemon Zested and Juiced
300g Unsalted Butter cold,
Seeds from 2 Vanilla Pods
525g Unsalted Butter Room Temp
Combine all the ingredients, except for the Rum, Amaretto and Wood Sorrel in a large mixing bowl, mixing them together very thoroughly indeed.
Cover and allow to macerate in a cool place overnight, so the flavours develop.
After that pre-heat the oven to 120°C.
Cover the bowl loosely with foil and place it in the oven for 3 hours, then remove the bowl from the oven. Allow to cool, stirring from time to time.
When cold, mix in the rum, amaretto and wood sorrel. Place in sterilised jars.
Place all the ingredients in a food processor and pulse until a texture like breadcrumbs is obtained.
Add the eggs and pulse until mixture starts to form a ball.
Turn out onto a floured surface and work as little as possible until it is smooth, form into a ball and flatten, wrap in cling film and chill for at least 3 hours.
Then dust the working surface with a little flour, and roll the pastry out to a thickness of approximately 3mm.
Using a 9 cm cutter, cut 30 disc of pastry. Shape into the muffin trays.
Fill each with the mincemeat to just over ¾.way up the pastry.
Pipe a swirl of the Viennese pastry crust. Place in the fridge to set for 30 minutes.
Place in oven and cook for 20 -30 minutes until golden.
Remove from oven, immediately sprinkle with juniper sugar. Allow to cool
Place the butter and sugar in a mixing bowl and beat until light and fluffy.
Mix the egg yolks and eggs together and add to butter and sugar a little at a time, beating well in between additions.
Add the salt and oranges zest and gradually add the flour beating well.
Place in the fridge for 10 minutes to firm up a little and then place in a piping bag with a large star tube until ready to use.
Crush the juniper berries and add to the granulated sugar.
Place in a food processer and whizz until the texture of castor sugar.
Pass through a sieve. Store in a sealed jar.