Nelson Mandela's coffin has arrived at his beautiful ancestral home of Qunu, in the Eastern Cape region of South Africa.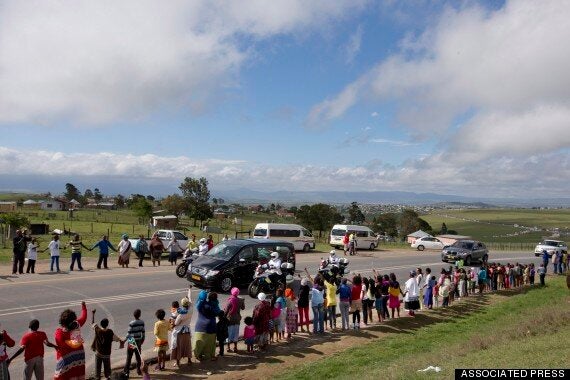 People formed a human chain along the route
It arrived in Mthatha on Saturday afternoon before a final journey to the village of Qunu, Mr Mandela's childhood home, where the anti-apartheid icon will be given a state funeral amidst the stunning rolling hills.
Some 4,000 people have been invited to attend the funeral of the anti-apartheid hero including family members, African leaders and several heads of states.
Prince Charles is expected to arrive with the British High Commissioner Judith Macgregor in Qunu, the remote village where the former South African president grew up, on Sunday morning. The coffin was flown from Pretoria
Prominent US civil rights activist Reverend Jessie Jackson is also thought to be attending the service.
The Prince is representing the Queen after Buckingham Palace confirmed that the 87-year-old monarch would not make the journey to South Africa for the ceremonies to mark Mr Mandela's death.
After the former statesman's death last week, Charles described Mr Mandela as the "embodiment of courage and reconciliation" and said his passing had left "an immense void" in the lives of everyone who had been affected by his fight for justice and freedom.
At least 100,000 people saw Mr Mandela's body lying in state in Pretoria over the last three days, but some had to be turned away.
It comes amid speculation that Desmond Tutu, the former archbishop, will miss his close friend's burial service, with some reports claiming he was not invited for political reasons. The mood is more one of celebration than sorrow
The Nobel Peace Prize laureate is a long-time friend of Mr Mandela and occasional critic of the current government.
A spokesman for Mr Tutu refused to elaborate and said the retired archbishop himself would not be commenting.
However, a spokesman for President Jacob Zuma told media in South Africa that Mr Tutu is "definitely on the invite list".
The 95-year-old former leader died on December 5.
Popular in the Community