It's that time again, when telly bosses wheel out the big guns to keep us in Yuletide cheer on the box.
Here are our top 12 picks of the festive entertainment available on the small screen during the week of Christmas this year... and please shout if you think we missed a goodie!
(NB - We've avoided the soaps, as we all know there'll be Christmas crackers being pulled plot-wise all over Albert Square and in the Rovers, and we'll be doing our film list separately tomorrow.)
1. Strictly Come Dancing Final - 6.30pm, BBC1
It's beaten all other reality TV competitions this season hands down for ratings, and now the Strictly finalists take to the floor one final time to see who's taking the glitterball home this year. Susannah Reid is a strong favourite to dance to glory, but there've been upsets before.
2. The Muppets and Lady Gaga at Christmas - 5.25pm, Channel 5
It's a veritable diva-off as the pop princess comes face to face with the porcine empress - who will win is anybody's guess. Gaga may have her army of Little Monsters, but Miss Piggy will always have one green gentleman in her corner.
3. The Choir: Sing While You Work - 9pm, BBC2
For feelgood telly, you don't need much more than Gareth Malone's swirling bow tie and three workplace choirs in the series finale, against the awe-inspiring backdrop of Ely Cathedral. If you need a boost to get you into festive spirit, look no further.
4. Raised by Wolves - 10.50pm, C4
The telling of a somewhat dysfunctional Wolverhampton childhood doesn't sound particularly festive, but Caitlin Moran and her sister Caz bring out all the feeling of competitiveness, camaraderie, humour and affection that can blossom in big families tucked under one roof in this one-off sitcom, that make it unlikely but perfect seasonal viewing. A bit like the Royle Family for real.
5. Carols from King's - 6.15pm, BBC2
For many, Christmas only officially begins with the first dulcet notes from this superior choir in the pews of King's College, Cambridge. Candles and chestnuts at the ready.
6. Doctor Who - 7.30pm, BBC1
Matt Smith stands up for his final hour as the nation's favourite Time Lord. Fans will be wondering how writers can top the recent 50th birthday special, with only hints at a romantic interlude between the Doctor and his companion Clara (Jenna Coleman) to keep us guessing. (TV bosses' question: How will this fare against Corrie?)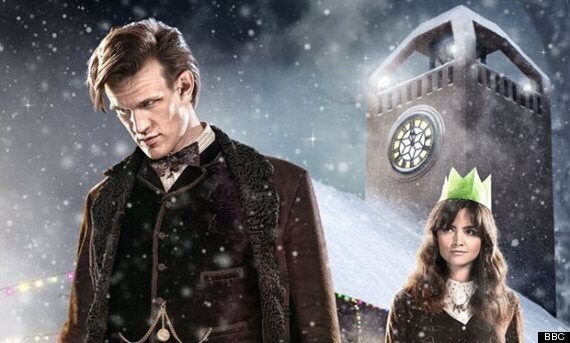 Doctor Who: Matt Smith and Jenna Coleman must prepare to say goodbye
7. Downton Abbey - 8.30pm, ITV
'Christmas ruined' were among last year's headlines and Twitter rants after the Christmas special served up a shocker with Matthew Crawley's untimely death at the wheel, all too poignantly soon after the birth of his son. Surely, Lord Fellowes won't have us choking over our turkey again in such fashion??? All we know is that it's a right royal outing for the family as Rose comes 'out' (early 20th century fashion) in London, and all beady eyes are on Mr Bates. (And this one's up against 'EastEnders' on t'other side.)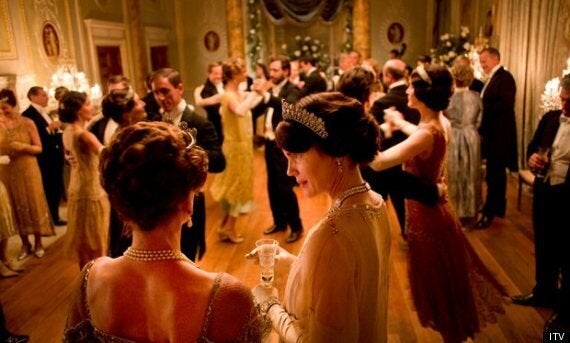 Downton Abbey: A palace visit for Cora and co
8. The Tractate Middoth - 9.30pm, BBC2
One of the box's best treats at this time of year are the one-off dramas that spill out. This year, we've got Mark Gatiss (a busy man with 'Dr Who' AND 'Sherlock' duties too) making his directorial debut in this chilling, adaptation of MR James novel. A young, brow-furrowed gentleman becomes haunted by a book, apparitions appear, and even his intentions become murkier. Starring Una Stubbs ('Sherlock'), Sacha Dhawan ('Being Human'), John Castle ('I, Claudius'), and the welcome face of Roy Barraclough ('Coronation Street').
9. New Gangsta Granny - 6.05pm, BBC1
I wouldn't normally flag up a David Walliams effort, but his combination of over-the-top banana skin humour and focus on entertaining the children does make this adaptation of his own novel seemingly perfect fare for effortless viewing for tired families still together, 24 hours after the turkey. Julia McKenzie is perfect casting as the Scrabble-playing granny with a big secret - and with Miranda Hart, Joanna Lumley and (inevitably) Walliams himself, this can't really go wrong.
10. Still Open All Hours - 7.45pm, BBC1
After last year's disaster of 'Ab Fab's return - I'm sorry, but it was - this is an audacious move by the BBC, to bring back David Jason to the shop of his youth, where, as Granville he served as long-suffering apprentice to master of all he surveyed, Arkwright. Granville now in charge, but will the laughs still come tumbling across the till in the absence of the much-loved Ronnie Barker?
11. Death Comes To Pemberley - 8.15pm, BBC1
This has got everything! While Austen purists may scoff at the idea of a sequel to 'Pride and Prejudice', surely even they can't find too much to complain about with the script in the hands of PD James, who's sensibly taken the plot in the direction of murder-mystery, and the flawless Anna Maxwell Martin up front and centre. It's a three-parter over three nights, so be prepared to settle in.
12. The Joy of Abba - 9pm, BBC4
If last week's Abba Night on C5 hasn't left you satiated, you'll welcome this more scholarly approach to the music of the Swedish superstars. While Bjorn Ulvaeus may play down the effort involved in his and Benny's peerless pop, lots of people from journalists to classical musicians obviously feel differently. Prepare to be freshly impressed by the apparent ease of it all.
What will YOU be tuning in for this Christmas? Let us know below...
Related