Google has revealed its annual look at the top searches for 2013, and as ever it's revealing, interesting, and mildly disturbing.
This year Google split the list into the top "trending" searches - IE those with the most intense periods of interest - and "most searched" terms overall.
Among the highlights were the fact that Paul Walker was the top trending search of the year, after his untimely death following a car crash in November, followed by 'iPhone 5S' and 'royal baby'.
The top "What Is?" search was led by "What is Twerking?" while the top trending event of 2013 in the UK was the Grand National, beating out even Andy Murray's Wimbledon win.
Boris Johnson was the top trending politician, naturally, while "How to make pancakes" was the top trending "how to?" search.
Take a look at the full list of top trending and general searches below, after we run through a visual list of the most searched "what is?" terms - which are, frankly, hilarious.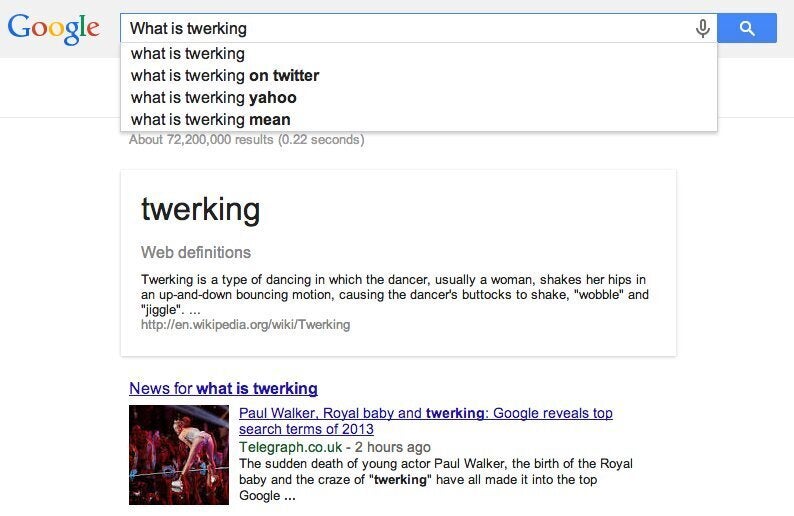 Top 'What Is?' Searches Of 2013
Top trending general searches:
1. Paul Walker

2. iPhone 5S

3. Royal baby

4. Cory Monteith

5. Oscar Pistorius

6. Nelson Mandela

7. Grand National

8. Universal Jobmatch

9. Margaret Thatcher

10. Xbox One
Top trending 2013 events:
1. Grand National

2. Wimbledon

3. Eurovision

4. Confederations Cup

5. The Oscars

6. Comic Relief

7. Glastonbury

8. Lovebox

9. Brit Awards

10. Ashes Cricket
Top trending politicians:
1. Boris Johnson

2. Nick Clegg

3. David Cameron

4. Maria Miller

5. Theresa May

6. Harriet Harman

7. George Osborne

8. Stella Creasy

9. William Hague

10. Ed Balls
1. Paul Walker

2. Cory Monteith

3. Oscar Pistorius

4. Nelson Mandela

5. Margaret Thatcher

6. Peter Capaldi

7. Nigella Lawson

8. Tom Daley

9. Lou Reed

10. Joey Essex
Top trending 'How to?' searches:
1. How to make pancakes

2. How to write a CV

3. How to lose weight

4. How to draw manga

5. How to play poker

6. How to play guitar

7. How to get a flat stomach

8. How to dip dye hair

9. How to reset iPod

10. How to find IP address
Most searched celebrities:
1. Kim Kardashian

2. One Direction

3. Miley Cyrus

4. Justin Bieber

5. Kate Middleton

6. Taylor Swift

7. Martin Lewis

8. Beyonce

9. Andy Murray

10. Harry Styles
1. EastEnders

2. Breaking Bad

3. Coronation Street

4. Big Brother 2013

5. Strictly Come Dancing

6. Emmerdale

7. Hollyoaks

8. Daybreak

9. Top Gear

10. The Voice
1. Man of Steel

2. Iron Man 3

3. Django Unchained

4. Despicable Me 2

5. The Great Gatsby

6. Skyfall

7. Life of Pi

8. Zero Dark Thirty

9. Elysium

10. Hangover 3
Related