Michael Adebolajo, the man accused of killing Drummer Lee Rigby, is "the most law- abiding terrorist in the history of this country", who paid for his parking ticket, moments before the alleged murder, his lawyer has said.
David Gottlieb, his defence counsel, explained that he was using a "Sherlock Holmes" approach, adding: "When you have eliminated the impossible, whatever remains, however improbable, must be the truth."
He told jurors the proper charge for Adebolajo would have been "treason, terrorism, or maybe manslaughter".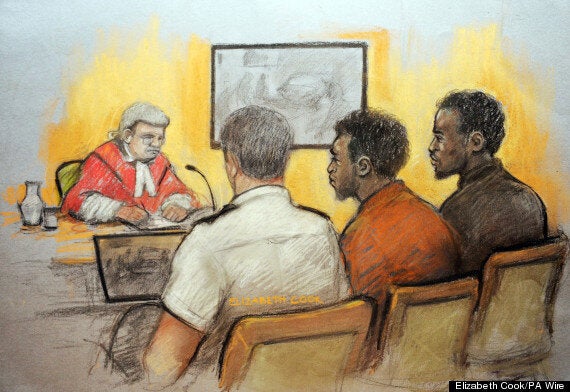 The two men accused of the murder of Lee Rigby, Michael Adebolajo and Michael Adebowale
Earlier, jurors were told by the prosecution that "Islam, one of the world's great religions, is not on trial". But, Prosecutor Richard Whittam QC told the jury, what the men did was "indefensible in the law of this country".
Muslim converts Adebolajo, 29, and Michael Adebowale, 22, are accused of running Fusilier Rigby down with a car and then hacking him to death with a meat cleaver and knives near Woolwich barracks in south east London on May 22.
Earlier in the day, Mr Justice Sweeney told the jury that nothing said by Adebolajo in his evidence amounts in law to a defence to the charge of murder.
He also told jurors that they were discharged from any further consideration of a count of conspiracy to murder a police officer. Both men deny remaining counts of murder and attempted murder of a police officer.
Whittam said in his closing speech: "What these two men did, crashing their car and breaking the back of Lee Rigby and then killing him is indefensible in the law of this country.
"Killing to make a political point, to frighten the public, to put pressure on the Government or as an expression of anger is murder and remains murder whether the government in question is a good one, a bad one or a dreadful one."
Gottlieb said, in Adebolajo's defence: "All deaths outside of lawful deaths are cruel, needless and unnecessary.
"Do you think really that this is the cruellest, most sadistic, most callous, most cowardly killing that's ever occured in our nation's history? It isn't."
Gottlieb asked the jury to consider whether the prosecution had put their case on the basis that it was "cowardly and callous" to "enflame" or "distract" them from the view that the death "must be murder and nothing else".