A Downing Street inquiry into allegations against Cabinet minister Theresa Villiers has cleared her of wrongdoing over an undeclared lunch with a lobbyist while a transport minister. But the finding was denounced as a "complete and utter whitewash" by Conservative MP Anne Main, who complained to Number 10 after learning that the 2011 lunch included discussion of a controversial planning application by developers Helioslough for a rail freight depot on green belt land in her St Albans constituency.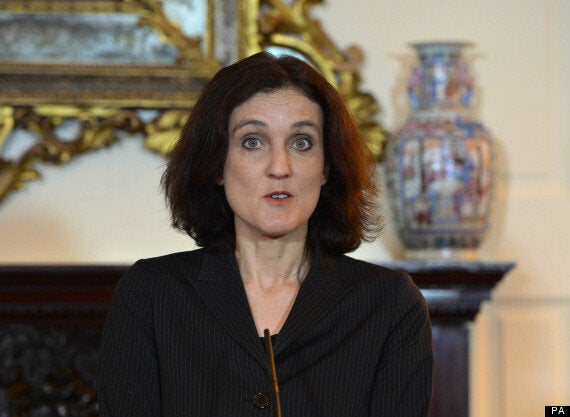 Secretary of State for Northern Ireland Theresa Villiers at Iveagh House in Dublin
In a letter to Main, Cabinet Secretary Sir Jeremy Heywood said that Villiers - now Northern Ireland Secretary - had assured him the lunch with Helioslough's chief lobbyist Simon Hoare was "a personal engagement with a long-standing friend", and that she did not take any action as a result or pass on the content of their discussion to officials or ministers in the transport or communities departments.
He said: "This is a position that has been supported by accounts from both departments and I have absolutely no reason to doubt these accounts." And he added: "Having considered this matter in full, I believe that both departments acted properly in respect of the planning appeal and that there is no evidence that decisions were affected by lobbying on behalf of Helioslough or other parties."
But the St Albans MP said that Heywood had failed to address the provision in the code governing ministers' behaviour which requires them not only to avoid conflicts of interest between their public duties and private interests, but also to ensure that no such conflict "could reasonably be perceived to arise".
Helioslough's application for planning permission for a £400 million international rail freight exchange on 300 acres of green belt between St Albans, in Hertfordshire, and London has faced stiff opposition from residents of the village of Radlett, who would be affected by the development.
The proposal for five warehouses served by railway sidings was first lodged in 2006 and had previously been blocked - most recently by Communities Secretary Eric Pickles in 2010 - because of fears of damage to the green belt. Following a judicial review, the application is again under consideration by Pickles, who indicated last year he was "minded" to allow it.
Following their lunch in August 2011, Hoare sent an email to Villiers seeking Department for Transport support in the case. But Heywood said in his finding: "The minister and officials have both confirmed that no action was taken as a result of this email. Those involved in the drafting of the revised Strategic Rail Freight Terminal policy guidance... did not have sight of this email or its content ahead of the publication of that guidance."
After receiving the findings in a letter from the Cabinet Secretary, Main said: "My constituents could be forgiven for thinking this was a whitewash. This enquiry took four months; never has it taken so long to say so little. I am very angry and deeply disappointed by the scant response I have received. My letter of complaint was four pages long and the response was less than one and a half.
"I do not believe Sir Jeremy Heywood has addressed my specific allegation concerning 7.1 of the Ministerial Code which states that: 'Ministers must ensure that no conflict arises, or could reasonably be perceived to arise between their public duties and their private interests, financial or otherwise.'
"If this is the answer then it appears to be acceptable that ministers can have private undeclared lunches with old friends to discuss sub judice planning decisions with impunity. This does not feel like justice for my constituents, we still hope that this decision will be overturned but in the meantime I still believe there are serious unanswered questions surrounding the transparency of the decision making for this application."
Main said she understood that Villiers discussed the application with local government minister Bob Neill prior to the lunch, but said that Sir Jeremy appears not to have spoken to him as part of his inquiry. She made clear she did not regard Sir Jeremy's report as the end of the matter, saying: "I am not stopping until I have got to the bottom of this."