An aeroplane is on its way to South Sudan to evacuate Britons from the war-torn country, the Foreign Office (FO) has said.
Fighting has spread through the newly-formed East African state following a reported coup attempt in the capital Juba at the weekend.
The FO said more than 150 Britons had been in contact wanting to leave the country, and the UK has sent a plane to help with evacuations.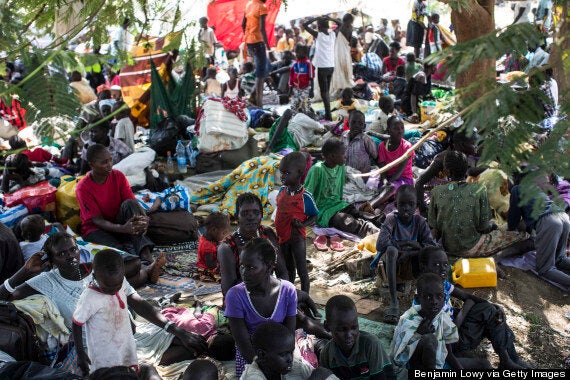 South Sudanese civilians fleeing an outbreak of intense fighting between groups of government forces take shelter at the United Nations Mission
A spokeswoman said: "A UK aircraft is en route to Juba to evacuate British nationals who wish to leave from Juba airport on Thursday 19 December.
"If you are a British national and you wish to leave Juba you should contact the FCO as soon as possible."
She added: "To date over 150 British nationals have contacted us, many of whom want help leaving the country."
Not all of those being evacuated were embassy staff, she said.
The FO said it was withdrawing some embassy staff and their dependants amid continuing violence in South Sudan.
It emphasised that its embassy in Juba remained open, though it is revising its status on a "constant basis".
The United Nations has estimated that up to 500 people have been killed in fighting between rival factions following a coup attempt against the president by soldiers loyal to his former deputy.
UN secretary general Ban Ki-moon said that around 20,000 people have taken refuge with the UN in Juba.
The FO has advised against all travel to within 40km of South Sudan's northern border with Sudan, Jonglei State and Juba, and all but essential travel to the rest of South Sudan.
Some commercial flights have resumed to Juba, where there has been fighting all week. South Sudan's president, Salva Kiir, has declared a night-time curfew from 6pm to 6am.
British nationals seeking to leave South Sudan are urged to contact the FO in London for advice, by calling 0207 008 1500 or by emailing crisis@fco.gsi.gov.uk.