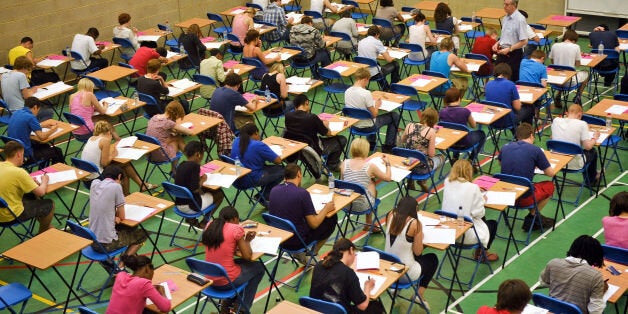 The UK's top universities are opening their doors to a rising number of students with lower grades, figures from UCAS suggest.
At the top universities in England, the number of English 18-year-olds accepted who did not achieve ABB or above is 70% higher than it was in 2011, according to a new UCAS report.
Since 2011 universities across the UK have increased the proportion of applicants they admit with "relatively lower" A Level grades, the report states.
Pupils accepted to the nation's medium and lower tariff universities had around one A Level grade lower than those in 2011, according to the report on university entry for 2013.
The news comes as UCAS announced that a record number of pupils were placed at British universities this year.
The rise follows an "unprecedented" dip in the number of students attending university last year - which marked the first year of pupils paying the new tuition fees of up to £9,000 a year.
Dr Mark Corver, head of analysis and research at UCAS, said: "For applicants, they've generally had a good year. A whole set of measures is pointing to favourable outcomes for applicants and many measures are signalling the best year ever.
"They've had more offers, they've had more choice between offers. That's led to more people getting their first choice course and it's driven higher acceptance rates. The entry rates have reached new highs for young people.
"Universities clearly had a tough 2012 as recruitment fell by an unprecedented amount. They've adjusted to this. They've made more offers and recruitment is up for 80% of institutions this year."
The latest report from the university admissions service shows that 495,600 people were placed into higher education institutions in 2013 - the highest number ever recorded.
This follows a record number of offers made by institutions - which collectively made 1.7 million offers this year.
Over half of applicants had four or more offers to choose from and "almost all" 18-year-old applicants got offers.
The top third of universities increased the number of acceptances made by 10% - taking their recruitment levels to record highs, UCAS found.
It said that young people across the UK are more likely to enter higher education than at any time before. The report states that three in ten 18-year-olds in England entered higher education this autumn.
UCAS chief executive Mary Curnock Cook said: "Predictions of a reduced appetite for higher education following the rise in tuition fees were premature. With 19-year-old admissions up by 18% in England, we can see that the dip in demand in 2012 was perhaps a pause for thought - more of those who were 18 in 2012 have now started university than those who were 18 in either 2010 or 2011.
"Greater competition amongst institutions meant that aspiring students were able to choose from a record number of offers and were more likely than ever to gain a place on their preferred course, including through Clearing which was a genuine market place for all types of courses and institutions this year."
Nicola Dandridge, chief executive of Universities UK, which represents higher education institutions, said: "It is excellent to see that 2013 has seen the highest ever number of students accepted into higher education, following the dip in demand in 2012. This year there was not only a 6.6% increase on 2012 but also a 0.7% increase on 2011.
"Since the changes to tuition fees were introduced, our main concern has been that no one is put off from going to university because of worries about money, in particular students from disadvantaged backgrounds. The fact that young English applicants from this group were more likely to enter higher education in 2013 than in 2012 is good news and shows that the work that universities are doing to widen participation is making a difference.
"However, we know there is still more work to be done. While the gap between the entry rate for the most and least advantaged has been narrowing since 2004, it is still large and there are still marked differences in participation across the regions."
Universities Minister David Willetts said: "It is fantastic that more students were accepted by universities than ever before, giving even more people the life-changing experience of university. Our reforms freed up the system, allowing more students to get their first choice university.
"The record proportions of people entering higher education, including the highest ever proportion of disadvantaged young people, show the benefits of going to university are understood. To respond to this continued demand we announced further increases in student numbers in the recent Autumn Statement."