Michelin star head chef Tom Aikens teaches us the Christmas staples but it's not some scary, elaborate process.
In this step-by-step guide, Tom shows us how to pull off a beautiful meal - the trick is in the preparation! (And not burning things).
Mince Pies (minimum of 24)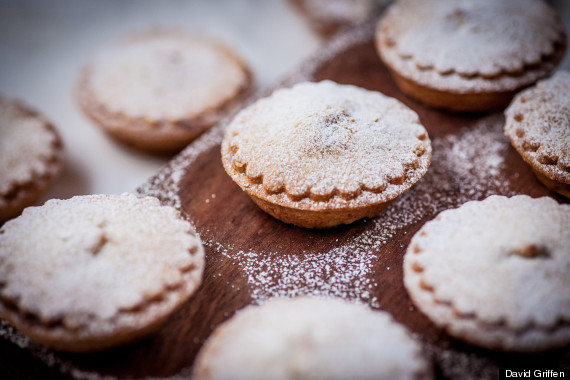 Mince Meat:
325g-cooking apples, peeled, cored and chopped 115g shredded suet
150g raisins
115g sultanas and currants
115g mixed candied peel
150g soft dark brown sugar
Zest and juice of 1 lemon and orange
30g nibbed almonds
2 tsp mixed spice
1 tsp cinnamon
Large pinch fresh grated nutmeg
0.5g ground ginger
0.5g salt
4 tbsp brandy
Pastry:
270g all-purpose flour
1.5g salt
140g butter
110g caster or powdered sugar 2 egg yolks
1 whole egg
Few drops vanilla essence
Mince Meat
Mix all the ingredients together, except the brandy, in a bowl and leave in a cool place for 12 hours to marinade.
Place the mixture in a baking dish, cover with tin foil and bake for 2.5 to 3 hours at 140°c / 225°f.
Leave to cool stirring from time to time and then stir in the brandy.
Spoon the cooled mixture into storage jars and cover with waxed discs and seal. This is then ready to use, however it's best to leave it to mature for one month.
Pastry
Sieve the flour and salt, put into a stand mixer and place on a low to medium speed, then add the butter mix till crumb like. Add the sugar then eggs and yolks, it will slowly come together, then refrigerate for 1 hour.
Roll the dough out between two sheets of parchment to a 0.5cm thickness, then let it rest for 10 minutes. Cut out 48 pieces with a round cutter, you need the tops to be medium and the bottoms to be large.
Make the mince pies in either small Yorkshire pudding moulds or tartlet cases. Lightly grease the moulds/cases then flour. Line with the pastry then add the mince pie mix. Place on the lid, crimp the edges and bake at 180°c /375°f for about 10-15 minutes, dust with icing sugar.
The Perfect Turkey Lunch (serves 10+ people)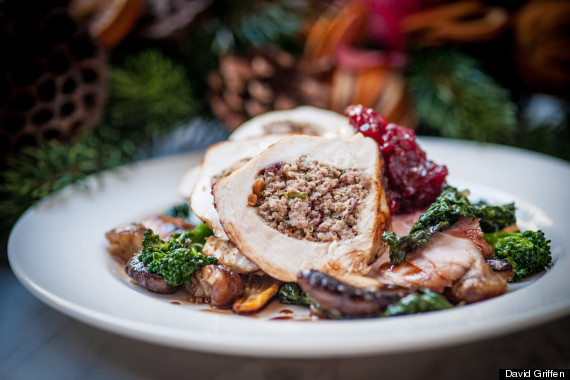 An 8kg Turkey (try to buy organic wherever possible) will serve10+ people and allow for some delicious Branston pickle sandwiches on Boxing Day.
Allow the bird to come to room temperature for 2 hours before cooking; it will cook more evenly at the same temperature.
Remove the wishbone and stuff the neck end with the stuffing folding the flap of skin over the hole.
Truss the turkey with a string, making sure the flap of skin is tied up. Extra stuffing can be made into stuffing balls.
1. Stuffing
1 kilo Sausage Meat
25g Breadcrumbs
25g Butter
120g Finely Diced Onions
4 Egg Yolks
2 Cloves Garlic - Finely Chopped
Sea salt
Fresh Thyme, Parsley, Sage
Place a pan onto medium heat, add the butter. Once it has just melted add the onions, garlic, thyme and a pinch of salt.
Cook on a low heat until it starts to soften, after approximately 10-14 minutes it starts to caramelise. Add the sage, take the pan off the heat and leave to cool. Add the sausage meat and all other remaining ingredients.
Fill the turkey neck end with the stuffing, and roll the remainder into approx. 4cm size balls with floured hands then chill in the fridge.
2. Chipolatas and Bacon Rolls
20 rashers of streaky bacon rolled up
20 Little chipolatas
Place these both onto an oiled tray ready to go under the grill or in the oven.
3. Bread Sauce
1litre Milk
60g Diced Onion
50g Butter
150ml Double Cream
250g Diced White Bread
2gloves Chopped Garlic
0.5g Cloves
0.5g Black Peppercorns
2 Bay Leafs
Fresh Thyme
Salt
Tie all the spices into a muslin bag, place into a pan with the milk, thyme and the bay leave. Bring to the simmer, leaving to infuse for twenty minutes. Pass through a fine sieve.
While the milk is infusing, melt the butter in a pan on a low heat, add the diced onion, chopped garlic, salt and 14 turns of milled black pepper.
Cook for 5-8 minutes until soft and clear, stir occasionally. Add the bread and slowly add the infused milk. Bring up to a slow simmer, stir regularly so it won't catch on the pan and burn.
Cook for 30-40 minutes, stirring occasionally - add the cream and more milk if it's too thick. Remove the spice bag at the end and add a little butter.
4. Cranberry Sauce
40g Orange Fine Zest
400ml Orange Juice from 6 Oranges
1 kilo Cranberries
0.5g Ground Ginger
0.5g Mixed Spice
0.5g Cinnamon Powder
2g Star Anise
2g Cinnamon Stick
0.5g Cloves
0.5g Black Peppercorns
1g All Spice Berries
6g Whole Peeled Ginger
400g Granulated Sugar
Combine all the ingredients into a pan and bring this to a slow simmer. Let it reduce by 2/3rds, so it gets thick like chutney (should take about 30-40 minutes).
Stir the mixture every ten minutes or so on a low heat. This can even be made a week before so the flavour improves. Leave the spice bag in so the taste gets more intense, remove before serving.
5. Vegetables for the Turkey
1 Kilo Brussel Sprouts (peeled and trimmed with a cross on the bottom to help cook more evenly)
250g Whole Peeled Chestnuts
25g Butter
50ml Vegetable Oil
150g Smoked Streaky Bacon Lardons
Add the sprouts in salted boiling water and cook for approximately 8 minutes. Place a frying pan onto a medium heat, add the oil, melt the butter, when it is golden brown add the bacon.
Cook for 4-5 minutes until golden brown, add the chestnuts and cook for a further 3 minutes.
Drain the sprouts and add to the bacon mix, toss for a couple of minutes and add some black pepper and salt to taste.
6. Roast Potatoes
3kg Peeled Desiree, King Edwards or Maris Piper Potatoes
100ml Vegetable Oil
100g Duck Fat
1⁄2 tbsp. Course sea salt
Peel and cut the potatoes into large 3 inch pieces, place them into a colander to wash all the starch off and give a good rinse.
Place them into a pan and cover them with clean cold water, add a spoonful of salt, bring to a simmer and cook for 8 minutes, then drain into a colander and shake the potatoes well to fluff up the edges.
Place a large baking tray with the oil and fat into the oven at 200C and let the oil get hot so that the potatoes can be carefully added (one by one so that the oil does not splash onto your hands or arms). Do not shake the roasting tray, as the spuds will stick to the tray otherwise.
Cook for approx. 1 hour until golden brown. Do not move the potatoes for the first 15 minutes so they crisp up and the cooking tray stays hot. Thereafter sprinkle in the course sea salt and turn them over every 20 minutes so they are evenly coloured.
7. Buttered Roast Carrots
1kg Peeled Organic Carrots - cut in to 2-3 inch length batons
50g Butter
100ml Vegetable Oil
12g Sprigs Thyme
2g Chopped Tarragon
2g Course Sea Salt Honey
1tbsp Honey
Juice and Fine Zest of 1 Lemon
Place a frying pan onto a medium heat, add the oil and once hot add the butter. Add the carrots, thyme, and salt and roast these for 10-12 minutes, stirring every now and again.
Add the honey and continue to cook for another 5 minutes until golden and soft. Add the lemon juice and zest and cook for 2 minutes followed by the tarragon at the end.
8. Roast Honey Parsnips
2kg Parsnips (peeled and trimmed, cut into 2-3 inch batons with the tough core removed)
250ml Vegetable Oil
25g Butter
12g Thyme prigs
40g Honey
2g Course sea salt
Place a frying pan onto a medium heat, add the oil and, once hot add the butter.
Add the parsnips, thyme, and salt and roast these on a medium heat for 12-14 minutes.
Add the honey and continue to cook for another 8 minutes until golden and soft.
9. Gravy
3 Carrots
2 Onions
2 Sticks Celery
12g Thyme Sprigs
1l White Chicken Stock
4 peeled Garlic Cloves
All the turkey giblets and Neck (chopped roughly)
Cut all the vegetables into 1 inch rough pieces. Add the giblets and vegetables to the turkey approximately 1.5 hours before the end of the cooking time, stir every 30 minutes.
Once the turkey is cooked, remove it from the tray and add the chicken stock. Place this onto a high heat or a gas flame and bring to a simmer. With a wooden spoon remove all the meat juices and sediments from the pan to improve the flavour.
Mix 5g soft butter and 5g flour together and whisk this into the sauce. Turn heat down to a simmer and cook for 2-3 minutes. Add a little salt and pepper to taste then pass through a fine sieve into a clean pan pressing all the vegetables really well to extract maximum flavour.