Millions of last-minute Christmas shoppers flocked to the high street today in one of the busiest retail weekends of the year. Some stores cut their prices in an attempt to boost sales on the final Saturday before Christmas. Marks and Spencer is having a one-day only 30% off clothing promotion, while Debenhams, Mothercare, Gap, Argos and BHS also cut prices.
Austin Reed is offering 25-60% off all womenswear and House of Fraser made a "gift of indulgence" with 50% off selected lines. Sally Eden, head of communications for the New West End Company, representing 600 retailers in Bond Street, Oxford Street and Regent Street, said: "It's very busy here. Over this week we've seen footfall steadily rising.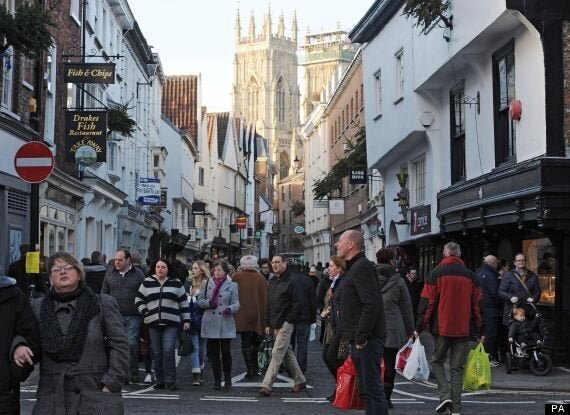 Shoppers out in York city centre on the last Saturday before Christmas
"There's a sense of urgency because Christmas is coming and this is the last weekend. It's the first time many people who have been working can get to the shops. There's also a sense they are looking to make their money go further. Historically, there are always promotions leading up to Christmas.
"This is the last weekend and I think shoppers want more for their money. The retailers are working hard to do that but they won't go into full sales until Boxing Day."
Retailers will consider this weekend a last chance to turn their profits around after the British Retail Consortium showed a 3.4% annual drop in footfall from September to November - the sharpest fall since August last year. Retail sales were up 0.3% in November, while in October they fell 0.9%, the latest official figures from the sector show. Experts said it means that unless a sharp rebound occurs in December, the fourth quarter will be relatively flat.
David Allinson, centre director at Manchester Arndale shopping centre, said customer footfall is comparable with last year but sales are up. "Not surprisingly, we are very busy. This Saturday and Sunday we are expecting 400,000 shoppers through the doors. We had a record football for this time last year and we are matching that again," he said.
"We have had queues to get into various stores today from 9am. Pandora, the specialist jewellers, have been very popular. Parka coats are flying out the doors and it seems to be the year of the tablet. Sales are strong in all categories but fashion and jewellery seem to be selling particularly well. Even our grotto is fully booked today."
Tim Walley, general manager at Birmingham's Bullring, said: "We're expecting one of our busiest Saturdays of the year as customers take advantage of the final weekend before Christmas. We're anticipating that 200,000 customers will visit the centre today with in excess of 100,000 visiting tomorrow."
Officials at Bristol's Cabot Circus shopping centre, now in its fifth year, reported increased sales and footfall. Centre director Stephanie Lacey said: "Visitor numbers and sales are both up compared to Christmas 2012, with some days showing footfall increases of more than 10%. It is a positive sign that we have turned a corner.
"We expect that around 100,000 shoppers will visit the centre today to pick up those last-minute presents and take advantage of early retailer sales."
Similar optimism is expressed on the western side of the Severn Bridge where thousands of shoppers hit the streets of Cardiff. St David's, the Welsh capital's sprawling shopping complex, is said to have had just over a million people visiting the centre every week of this month.
Centre director Steven Madeley said: "Black Friday and Mega Monday gained real momentum on the high street this year, and seemed to signal the start of the Christmas trading rush. Over 1.1 million customers visited us last week, spending around £2 million a day."
Toy retailer Hamleys had "strong" sales, especially of interactive toys such as the relaunched Furby and robotic puppy Teksta. "We are also looking forward to 2014 and the fun starts with a new range of Lego Friends that we are launching on Boxing Day," a spokesman for the firm said.
Jo Tallack, general manager at Highcross shopping centre in Leicester, said: "We are enjoying a successful Christmas period and are expecting in excess of 150,000 shoppers through our doors this weekend. Consumer electronics are set to top the gift list thanks to the launch of new consoles and a growing choice of tablets."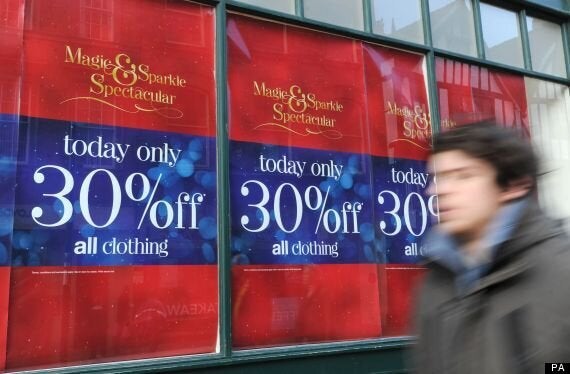 A shopper walks past a sale sign in the window of Marks and Spencer in York city centre
Nottingham shopping centres Broadmarsh and Victoria Centre anticipate a quarter of a million people over the weekend. Robert Goodman, general manager of Bluewater shopping centre in Kent, said it is experiencing a "surge in sales and footfall". It is also a bumper weekend for food retailers as households fill their fridges and freezers for the festive feasts.
In the seven days before Christmas Day, supermarket retailer Sainsbury's says it expects to sell 10 million pigs in blankets, 68 million Brussels sprouts, 12 million Christmas crackers and 2.7 million boxes of Christmas cards. And it said, judging by the amount of mincemeat sold, its customers could bake 19 million mince pies.
The retailer said record numbers of shoppers pre-ordered food and the most popular time to collect orders was between 10am and 1pm on Monday.
At the MetroCentre on Tyneside, marketing manager Karen Carr insisted: "There is lots of restored consumer confidence which we think is evident in the number of shoppers. "This year we have seen a very different picture with shoppers doing a lot of research online and then coming in for a much more planned shopping visit. One of the most popular items this year has been Christmas jumpers."