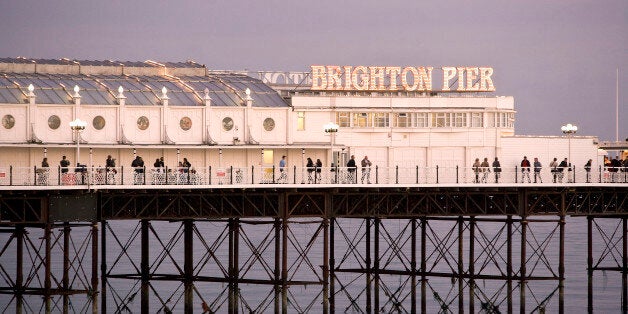 UPDATE: The search has been called off because of appalling weather.
Solent Coastguard stood down the search and rescue mission at about 9am following an exhaustive search of Brighton beach throughout the night and during first light this morning, the Maritime and Coastguard Agency (MCA) said.
A woman is feared to have been swept out to sea after a night out in Brighton.
Coastguards said a couple had gone into the sea "after a night on the town" and one of them had managed to escape.
Sussex Police called the Solent Maritime Rescue Co-ordination Centre at 2.24am to tell them that the woman had gone in to the water opposite the Digital night club, just west of Palace Pier, Brighton.
People attempted to reach her but rough seas with three-metre waves made this impossible, a Maritime and Coastguard Agency (MCA) spokeswoman said.
Coastguard rescue officers, lifeboat crews, police and a helicopter have been searching for the missing woman, she said.
The Coastguard helicopter from Lee-on-Solent was sent to the scene alongside the RNLI all-weather lifeboat based in Shoreham, West Sussex.
Specialist Coastguard Water Rescue Officers from Shoreham and Littlehampton, and the crew of the RNLI inshore lifeboat, based in Brighton, joined them at the scene to work as "spotters" to help the helicopter and lifeboat try to find the woman in the water.
The MCA spokeswoman said the search is continuing, with the RNLI lifeboat based at Shoreham working with Coastguard rescue officers, police, South East Coast Ambulance Service HART team and the crew of the Brighton RNLI inshore lifeboat.
Solent Coastguard watch manager Paul Marlow said: "We believe that a couple went in to the sea after a night out on the town.
"One managed to get back out of the rough sea but sadly the other was swept out to sea.
"Gale force wind, rough seas and darkness make it difficult to spot a person in the water who needs help and so our request is simple - please don't end your night out with a dip.
"Cold water and powerful seas mean that it's really not as much fun as you might think."
A Sussex Police spokesman said: "A search was conducted along the beach including an aerial search by helicopter
"At 4.40am no body or person had been recovered and that has not changed."