A British environment protester detained in Russia along with 29 other activists has been given permission to leave the country.
Greenpeace member Anthony Perrett, 32, of Newport, South Wales, was among the so-called Arctic 30 who were arrested amid claims of hooliganism.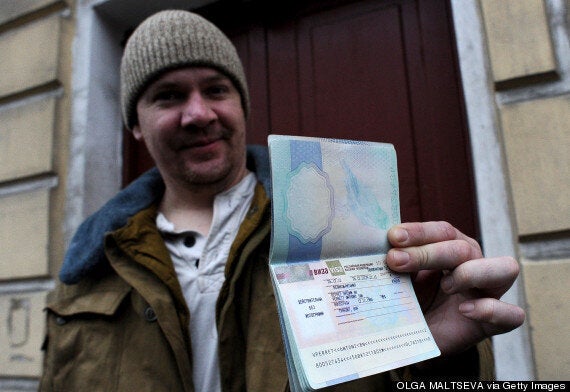 Anthony Perrett with his freshly-stamped passport prepares to leave Russia
The group were held in jail for two months following a protest about oil drilling.
Mr Perrett, who was the first to be released, spent Christmas Day in St Petersburg before being given the news that the Russian authorities had given him a visa and his passport - which now means he can travel home.
He said: "This was the final step. I'll be leaving for home in Wales as soon as possible now, extremely proud of what I did three months ago.
"We took peaceful action to defend a part of the world that is the heartbeat of our climate.
"The Arctic is a measure of our planet's health and I refuse to stay silent as the oil companies line up to profit from its destruction.
"Together we are saying to the oil companies that the Arctic is off-limits and that we must save this beautiful region for future generations."
Greenpeace said the non-Russian members of the Arctic 30 are expected to leave Russia over the coming days.
A spokesman added: "The 30 benefited from the amnesty without admitting any guilt. The last person to have his case dropped was Cristian D'Alessandro of Italy."
The group had been detained for protesting at an Arctic offshore oil rig owned by the Russian company Gazprom.
Popular in the Community