Eight out of 10 people believe foxhunting should remain illegal, an animal welfare charity has claimed on the biggest day in the hunting calendar.
Thousands of people are expected to attend around 250 traditional Boxing Day Meets across the country today, as supporters continue their push for a new vote on the ban.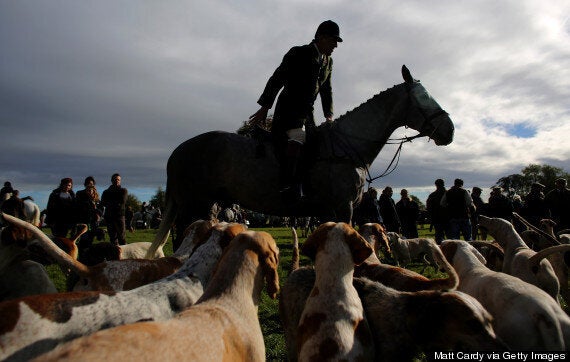 MPs and campaigners are urging the government to scrap the hunting ban
The poll, carried out by Ipsos MORI on behalf of the League Against Cruel Sports and the RSPCA, found 80% of the public want to keep the law, with support equally strong in both rural and urban areas.
It comes as supporters of foxhunting are pushing for a new vote on the ban, which had been promised by the coalition government following the 2010 general election.
But Joe Duckworth, chief executive of the League Against Cruel Sports, said a new vote would be "political suicide".
He said: "Hunting is a sickeningly cruel blood sport, which, like us, the majority of the British public do not want brought back.
"Voting for repeal would be political suicide. We need to move forward as a nation, not backwards on matters of animal welfare, which is why we recently launched our national 'No Joke' online and cinema campaign to remind people of the sheer horror and animal cruelty hiding behind the 'traditional spectacle'."
MPs and campaigners are pushing the government to scrap the ban on using more than two dogs to flush out foxes so they can be shot.
Farmers say attacks on lambs have increased, and argue that limited pest control measures permitted under the 2004 Hunting Act are not working.
Sir Nick Harvey, a former Liberal Democrat defence minister, and MP for North Devon, argued the law "cannot remain where it is" for much longer as it is unenforceable.
He told the Guardian: "We have passed a law which is an ass.
"It is a law that cannot be implemented. It could only be implemented with a ridiculous distortion of policing priorities.
It worries me that in very rural communities where the long arm of the law has difficulty in reaching at the best of times, young people see a well-known and quite controversial piece of law which can be and is broken with impunity.
"You wonder what message this sends to them about drink-driving and other laws."
The poll questioned 1,983 adults face-to-face in Great Britain between 1 and 7 November.
Related