Australian cook Anna Gare has shared a stunning trio of recipes from her new book Eat In - considering the dismal state of English weather, it's something we'll be doing for quite some time.
Don't let the fancy dish names scare you off - it's food that fares very well on these long winter nights.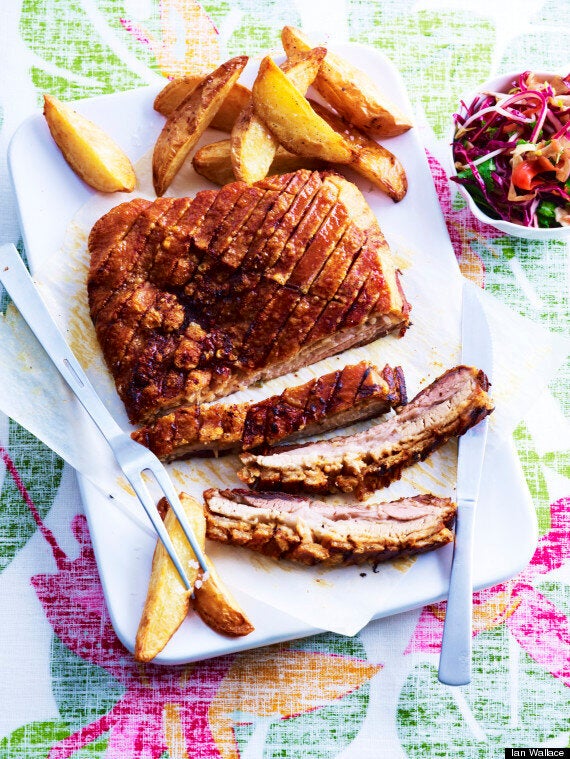 2.5–3 kg (5 lb 8 oz–6 lb 12 oz) piece of pork belly (a few bones are okay), skin on
3 tablespoons finely chopped
3 tablespoons fennel seeds
2 teaspoons sea salt, plus extra
4 carrots, halved lengthways
2 large brown onions, quartered 4–5 long rosemary sprigs
Preheat the oven to 170°C (325°F/Gas 3).
Score the pork belly skin using a Stanley knife (or get your butcher to do it for you).
Fill a large flameproof roasting tray or pan that will fit the pork with 1 cm (1⁄2 inch) of water and bring to the boil over a high heat. Put the pork, skin side down, in the tray and cook for 1 minute then remove. This is the secret to really crispy skin.
Put the garlic, chopped rosemary, fennel seeds and salt in a mortar and grind to a paste with a pestle.
Rub the paste over the pork flesh, but not the skin.
Spread the vegetables and rosemary sprigs around the base of a large roasting tray and put the pork, skin side up, on top. Rub some salt into the skin.
Roast for 3 hours, or until tender.
Increase the oven temperature to 250°C (500°F/Gas 9) and roast for 30 minutes, or until the skin crackles up. Check the pork regularly so the skin doesn't burn. If the crackling is not as crisp as you would like it, put the pork under a hot grill (broiler) on a mid-to-low shelf and do not take your eyes off it while it's under the grill!
Serve with crispy roasted potatoes and a delicious salad such as Asian slaw.
Pear and Rhubarb Crumble (serves 6)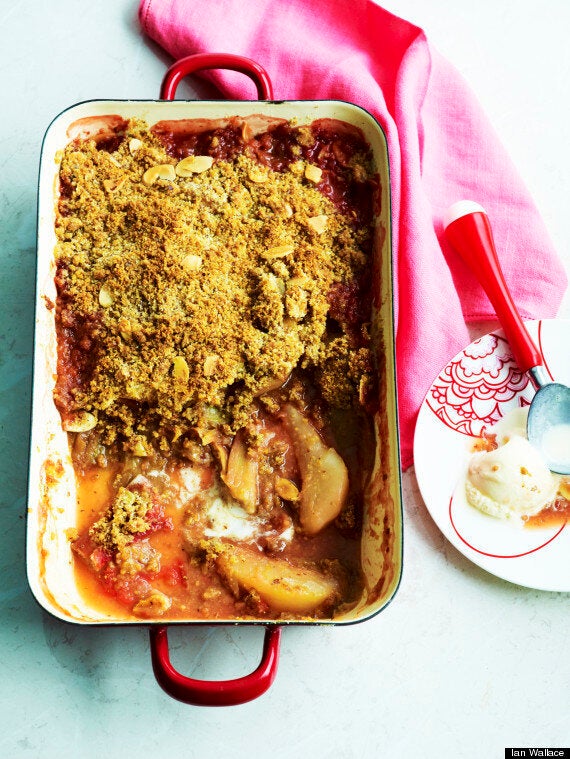 50 g (13⁄4 oz) unsalted butter 165 g (53⁄4 oz/3⁄4 cup) caster
600 g (1 lb 5 oz) trimmed rhubarb
(about 2 bunches), washed and cut into 3 cm (11⁄4 inch) pieces
6 pears, peeled, cored and cut into 6 wedges each
pinch of ground cinnamon 1⁄2 a vanilla bean, halved
lengthways, seeds scraped 185 ml (6 fl oz/3⁄4 cup) white wine
(or verjuice for a non-alcoholic version)
vanilla-bean ice cream, to serve
150 g (51⁄2 oz) cold unsalted butter, finely diced
110 g (33⁄4 oz/1⁄2 cup) caster (superfine) sugar 150 g (51⁄2 oz/1 cup) plain
100 g (31⁄2 oz/1 cup) almond meal
30 g (1 oz) flaked almonds
Heat the butter and sugar in a wide heavy-based saucepan over medium heat until melted and the mixture just starts to bubble together and caramelise.
Add the fruit, cinnamon and vanilla bean and seeds to the saucepan, stir to combine and cook over low heat for a few minutes.
Add the wine and cook for 5 minutes, or until the fruit is half cooked. Pour into a 30 x 20 cm (12 x 8 inch), 2.5 litre (87 fl oz/10 cup) capacity baking dish.
Rub the butter, sugar and flour together in a bowl with your fingertips until the mixture resembles a crumble consistency.
Stir in the almond meal and flaked almonds until combined.
To assemble and cook the crumble
Sprinkle the crumble over the fruit mixture.
Bake for 30 minutes, or until the crumble is golden on top.
Serve hot with a scoop of good-quality vanilla-bean ice cream.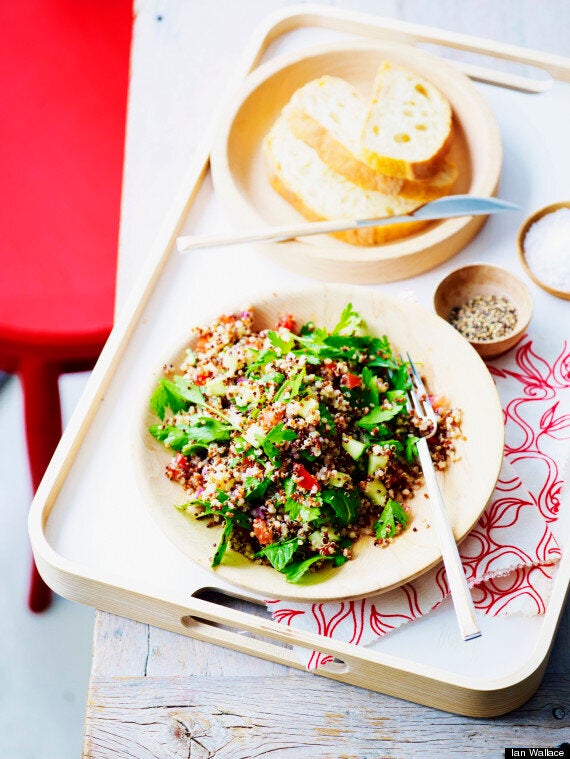 300 g (31⁄2 oz/11⁄2 cups) quinoa
(I use a combination of black, red and white)
750 ml (26 fl oz/3 cups) water sea salt
3 large firm ripe tomatoes,
quartered, seeded and finely
1⁄2 a large red onion, finely diced 1⁄2 a telegraph (long) cucumber,
1⁄2 cup roughly chopped mint leaves 1 cup roughly chopped flat-leaf
3 garlic cloves, finely chopped 125 ml (4 fl oz/1⁄2 cup) freshly
125 ml (4 fl oz/1⁄2 cup) extra virgin
sea salt and freshly ground
Wash the quinoa in a fine sieve, then strain and put in a medium saucepan with the water and a pinch of salt.
Bring to the boil over high heat, then reduce the heat to low–medium and cook for 10 minutes. Cover with a lid and cook for another 5 minutes on low heat.
Remove from the heat, keep covered and allow to cool.
Whisk all of the dressing ingredients together. Put the cooled quinoa into a bowl and fluff it up with a fork. Add the remaining ingredients and pour the dressing over the salad.
Anna Gare, Eat In, published by Murdoch Books. Buy Eat In here.