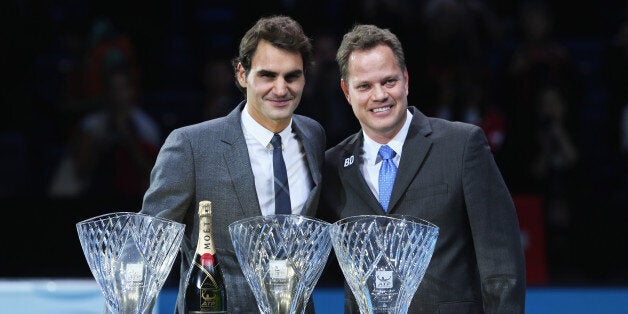 Roger Federer is the latest men's tennis player to enlist the aid of a former professional, as it was announced Stefan Edberg would coach him for 10 weeks in the new year.
Swede Edberg will coach Federer starting with the Australian Open, which begins on 13 January, in what is an exciting time for men's tennis.
"I am happy to announce that beginning in Melbourne, Stefan Edberg will join Severin Lüthi on my coaching team," Federer said on his Facebook page. "Severin, who has been part of my team for the last seven years, will do most of the weeks and Stefan has agreed to work with us for at least 10 weeks starting at the Australian Open in Melbourne. Stefan was my childhood hero, and I am really looking forward to spending time and learning from him."
With Andy Murray coached by former major winner Ivan Lendl, Rafael Nadal is the only member of tennis's superstar quartet not to be mentored by an ex pro. The Spaniard has remained loyal to his uncle, Toni Nadal.
One of the eminent players on the tour in the late 80s and early 90s, Edberg, now 47, also won two Australian Opens and two US Opens.
Federer, the most successful tennis player of all time with 17 majors, has not won a Slam since his SW19 success against Murray in 2012.
Hiring former players has had mixed results in the tennis world. While Murray's decision to appoint Lendl has resulted in two Grand Slam successes, Maria Sharapova's partnership with Jimmy Connors lasted one match.