UPDATE: Passengers were finally allowed off the ferry just before 9am.
A passenger suspected of starting a fire on board a ferry has been detained after sparking a major emergency rescue and forcing it to return to Newcastle.
Six people - two crew and four passengers - were winched off the North Sea ferry, suffering from smoke inhalation.
One passenger said fights had broken out after the fire started 30 miles from land on Saturday night at about 11pm.
Gert Jakobsen, a spokesman for ferry operator DFDS Seaways, said police are now in control of the King Seaways cruise ferry and speaking with passengers and crew about the incident.
A passenger suspected of starting the fire was detained on board by ship staff while it sailed back to the Tyneside port this morning, police said.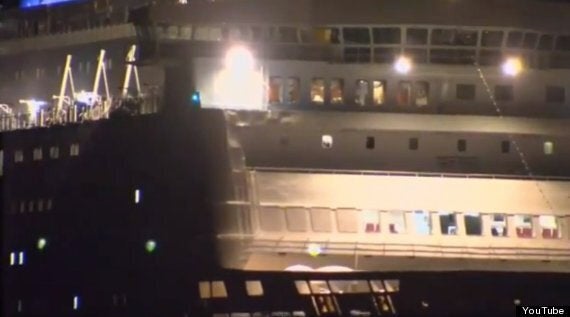 The ferry returned to port
Jakobsen said he hopes the 946 passengers who were on their way to Amsterdam will be able to leave the ship shortly.
"The ship has arrived back in Newcastle and police are now on board and in control of it," he said.
"They are investigating the cause of the fire and speaking with senior crew members as well as passengers who were close to the incident.
"For this reason the passengers are not allowed to leave the ship.
"We hope they will be able to leave very shortly, around 8am."
However, he added that the ferry would not be continuing its journey and instead will wait until its next scheduled departure to Amsterdam tomorrow morning.
"There was no panic where we were but then later on when we were inside sitting in the bar and cafe area some people started fighting - fights broke out, which really didn't help the situation", passenger Lynne Smith-Davis told Sky News.
She said this was probably unrelated to the fire.
The fire broke out in a passenger cabin around 10.45pm and was extinguished by 11pm.
RAF helicopters from Leconfield near Hull and Boulmer, Northumberland were scrambled to the vessel along with RNLI lifeboats from Bridlington and Filey.