The UK is braced for more storms with a wave of heavy rain and strong winds set to cause disruption as 2014 begins. Forecasters said the latest severe weather will push in from the Atlantic, crossing the UK from west to east, and it is feared there could be localised flooding in the south west and south east of England.
Flood warnings have been issued by the Environment Agency as already-sodden land, yet to recover from the Christmas storms, is expected to struggle to cope with further rainfall. Councils are preparing for the worst, with emergency accommodation lined up in case people are forced to leave their homes. The Met Office has issued a severe weather warning for rain on New Year's Day, affecting southern England and western Scotland.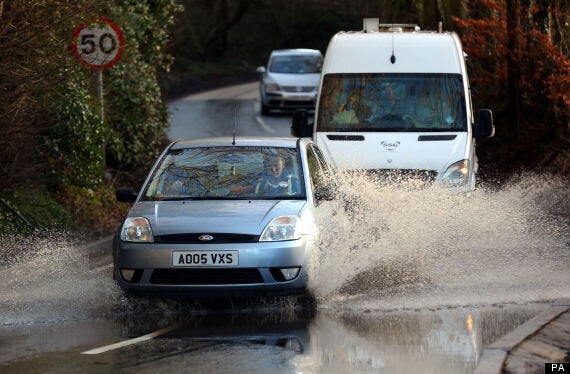 A car passes through a flooded road near Yalding, Kent
Met Office spokesman Dan Williams said: "There is a big band of rain that will bring persistent rain to most parts of the UK through the day on Wednesday. It will be a pretty wet and windy day. It won't be on a par with the winds we've seen in some of the recent storms, but exposed areas of the western coast and some of the south coast will see speeds of 50 to 60mph.
There could be a fair amount of rain in the south and south west of England, with 10-20mm falling fairly widely, and up to 40mm in coast areas." Scotland has already seen heavy rainfall today, with Threave in Kirkcudbrightshire experiencing 66mm (2.6 inches) of rain in the 20 hours up until 2pm, while Eskdalemuir in Dumfriesshire had 65mm (2.56 inches).
The Environment Agency said there was a continuing risk of flooding, particularly in the south west of England, as rivers respond to heavy rainfall. A spokesman said: "On new year's day, heavy rain is expected which could cause flooding to communities in the south east and south west of England. The Environment Agency is urging communities to prepare in advance by signing up for free flood warnings and to take action if they receive one. A flood warning indicates that flooding is expected."
The agency said it has teams on the ground "around the clock" operating pumping stations, issuing flood warnings and checking that flood banks, walls and barriers are working effectively. It said: "People travelling this week are also reminded to check the latest flood updates ahead of making journeys and should not drive through dangerous floodwater."
The spokesman added that there have been 1,300 properties flooded across England and Environment Agency flood defences have protected more than 80,000 properties from flooding. People seeking advice on what to do before, during and after flooding were told to visit the Environment Agency website or to call Floodline on 0845 9881188.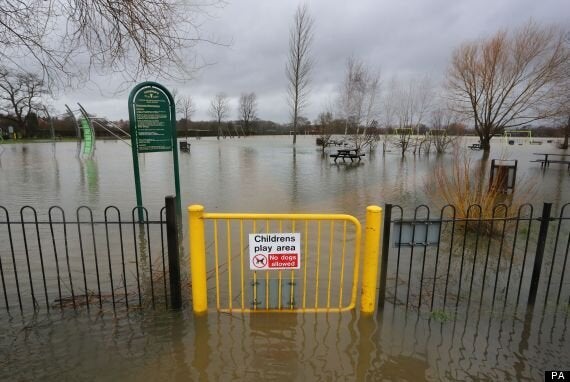 A children's play park remains covered by flood waters in Tonbridge, Kent
Mr Williams said: "The issue isn't the amount of rain falling, but the fact that the ground is pretty saturated as there has been so much rain in the past days and weeks." The Local Government Association (LGA) has urged people to look on council websites to keep updated with information.
Mike Jones, chairman of the LGA's environment and housing board, said: "This week's storms have reminded us just how unforgiving and formidable nature can be but councils have worked hard to try and minimise the impact on residents. Councils work all year round to have emergency plans in place to cope with bad weather and have moved swiftly to put them into place this week.
"Teams have been out in force right across the country this Christmas clearing the roads and checking in on vulnerable residents and are ready to do so again. With the bad weather set to return, local authorities up and down the country remain prepared to divert staff from their normal duties and have placed additional employees on standby to work with fire crews and other emergency services to get people help if they need it.
"Staff have been taking measures such as emptying gullies to alleviate the risk of road flooding. Plans have also been put in place to ensure that older and more vulnerable people are not put at risk and can still access the council help they rely upon."
Last week's storms caused power outages that affected thousands of people. Environment Secretary Owen Paterson has pressed energy companies to stop staff taking new year holidays as a second week of storms looks set to derail the festive period.
Speaking on BBC Breakfast, Mr Paterson said: "Quite clearly some of the power companies let their customers down badly. It seems obvious at this stage that they let too many of their staff go away for the Christmas holiday, they didn't have enough people manning the call centres and that wasn't acceptable."
He added: "We have had bad weather overnight and we are looking to more bad weather unfortunately on new year's day, new year's night. We made it very clear at Cobra yesterday - we do expect the power companies and we also expect those local councils that did not perform, that they have adequate staff to cater with what I am afraid may be more difficult times and more flooding."
He chaired another emergency meeting today to discuss possible further bad weather to make sure power companies and local authorities will be ready to respond quickly. Shadow environment secretary Maria Eagle criticised Mr Paterson for "pointing the finger" at energy workers. She said: "As the country faces more severe weather, households that went a week without power and suffered devastating flooding expect to see some action from ministers at long last, not attempts to pass the buck.
"Of course the energy companies must explain why it took so long to get power restored, but Owen Paterson has a nerve pointing the finger at staff being on holiday when he himself has not been seen for days. The Environment Secretary has his own questions to answer about his failure to prioritise flood defence investment and deliver the vital flood reinsurance scheme on time, leaving homes without affordable insurance until 2015 and, even then, excluding many properties at risk."
Popular in the Community