New Years Day celebrations were battered by appalling weather as 2014 got off to a soggy start.
London's traditional pageant saw rain-soaked cheerleaders parading through the streets of the capital, as high winds and heavy rain took hold.
Around the country, hardy souls braved the conditions to jump 30ft into the River Dove for the annual Mapleton bridge jump, and charity swims in the North Sea carried on despite cancellations in the South.
Forecasters said the wet and windy weather would spread north east-wards during the day.
Earlier, tens of thousands of people poured into the streets of London for the "swinging sixties" New Year's Day parade.
STORY CONTINUES BELOW:
The pageant, which has been organised annually since 1987, features more than 8,500 performers from across the world, including cheerleaders, acrobats and musicians.
The parade aimed to transport revellers 50 years into the past with a "groovy" mix of flare-clad dancers, The Beatles tribute bands and historic floats.
DJ and broadcaster Mike Read, who rode on one of the parade's floats, said: "It's surprising the event is better known around the world than it is here.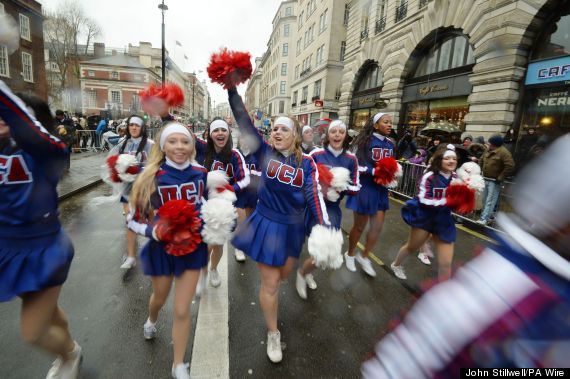 The Universal Cheerleaders Association takes part in the annual New Years Day Parade in London
"It's good that we're setting it in the English sixties," he added.
"After the Second World War and the austerity of the fifties, we became the world's focus for the right reasons; for
culture, media and sport."
The event followed a night of celebrations that saw millions of people across the UK welcome the start of 2014 with fireworks, music and late-night partying.
Hundreds of thousands of people are estimated to have lined the banks of the River Thames for the annual midnight fireworks while 80,000 descended on Edinburgh for the Hogmanay street party.
The Metropolitan Police said officers arrested 39 people for drunk and disorderly behaviour, 21 for assault, 16 for affray, six for drug related offences, six for public order offences and four others.
The force had 3,800 officers on duty for fireworks alone, while London Ambulance Service received 2,588 calls between midnight and 5am, almost four times the usual amount.
Chief Inspector Robyn Williams said: "Visitors were not put off by the threat of wind and rain and the viewing areas filled up quicker than ever before.
"Officers worked hard, alongside stewards, to keep people safe during the event and ensure that everyone who came into central London was able to make their way home at the end of the night.
"Crowds were good natured and there were no major issues reported to police."
Katy Millard, the assistant director of operations at London Ambulance Service, said: "It's the busiest night of the year for us and unfortunately not everyone was using us wisely."
The service treated 438 patients at more than a dozen treatment centres in central London, and sent 88 injured people to hospital.