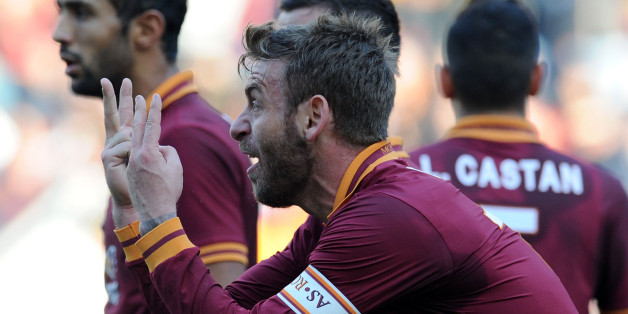 Giuseppe Bellini via Getty Images
Daniele de Rossi has joked he "would have committed suicide" if he had joined Manchester United last year.
The Roma icon was one of a number of central midfielders United desperately bid for at the tail-end of their calamitous summer transfer window.
De Rossi has won just two Coppa Italias during his 12 years in the Giallorossi first-team, but after 10 wins from their first 10 games they are second behind champions Juventus in the Serie A table.
"Thank goodness that I didn't move to Manchester, otherwise I would have committed suicide by now," Corriere dello Sport quoted the 30-year-old as saying.
It is believed De Rossi was referring to Roma's status as Scudetto contenders, rather than United's decline under David Moyes.
The Premier League holders have lost six matches already and dropped more points after 20 games than they did in the whole of last season.
De Rossi played six times against United over the course of the 2006-07 and 2007-08 seasons, and was on the winning side just once.
He scored Roma's only goal in their 7-1 Champions League quarter-final humiliation at Old Trafford in 2007 and missed a spotkick in the last eight at the same ground the following year.