Chef and restaurateur Luke Mangan makes the kind of fresh, fusion-inspired food that is great for sharing. In his latest book Salt Grill, think ricotta with burnt amaretti, gorgeous brioche, tuna with chimichurri and curried parsnip soup.
It's food that can be kind to your January diet (there is lots of fish and as the name suggests, a lot that can be grilled) or as rich as you like if, like us, you're saying no to January and all the detox it involves!
Here are three amazing recipes to choose from:
Pork Belly With Star Anise Cauliflower Puree And Green Mango (serves 4)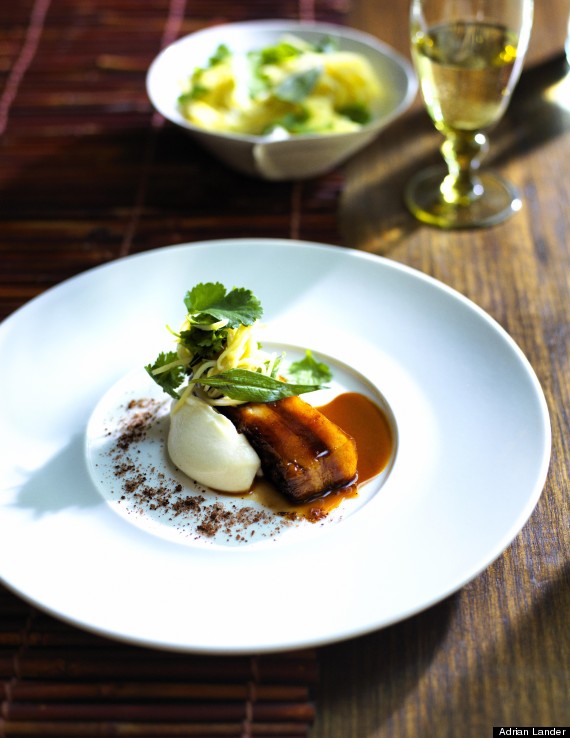 16 whole star anise
3.5 tablespoons pink salt
500 g (1 lb 2 oz) skinless pork belly 1.5 litres (52 fl oz/6 cups) Pork Stock
(see recipe on page 197)
2 tablespoons vegetable oil
20 coriander (cilantro) leaves
20 Vietnamese mint leaves Cauliflower Purée to serve
Green mango
100 g (3.5 oz) sugar
50 ml (1 and 3/4 fl oz) white wine vinegar
5 coriander (cilantro) roots, with half
the stem
10 g (1/4 oz) knob of fresh ginger,
peeled and sliced
5 Vietnamese mint stalks, with leaves
1 green mango
Toast the star anise in a dry frying pan for 20 seconds, then tip onto a small plate.
Reserve four of the star anise. Grind the remaining 12 star anise to a powder using a mortar and pestile or a spice grinder, then mix in the salt.
Rub three-quarters of the salt rub over the pork belly, reserving the remaining salt rub. Refrigerate the pork for 11⁄2 hours for the flavours to absorb.
Wash the pork and pat dry with paper towels. Place in a saucepan and cover with the stock.
Lightly bash the remaining star anise and add to the pan. Bring to a gentle simmer, then braise the pork for 11⁄2–2 hours. Set aside to cool.
Remove the pork from the braising liquid, reserving the liquid for later use. Cool the pork in the fridge, with a heavy weight on top. (This step can be done 24–48 hours ahead.)
For the green mango
Put the sugar, vinegar and 100 ml (31⁄2 fl oz) water in a saucepan and bring to the boil. Add the coriander roots, ginger and Vietnamese mint stalks. Remove from the heat and allow to infuse for 15 minutes.
Peel the mango using a mandoline or a sharp knife, then julienne long strips of the mango and place in a clean container. Pour the cooled infused liquid over the mango, then cover and marinate in the refrigerator for 24 hours.
Trim the pork neatly and cut into four even pieces.
Heat a small frying pan over medium–high heat.
Add the vegetable oil, and bring to the smoking stage.
Season the braised pork belly with the reserved salt rub mixture. Sear the pork pieces in the hot pan for 2 minutes on each side, or until golden brown.
Place the pork in a saucepan and pour the reserved braising liquid over. Cover and heat over medium–low heat until the pork is warm to hot.
For serving, strain the green mango, then gently toss in a bowl with the coriander and Vietnamese mint leaves.
Spoon the cauliflower purée onto four serving plates, lay a piece of pork alongside and spoon some braising liquid over. Add a mound of green mango salad and serve.
Tempura Prawns With Miso Mayo, Carrot And Daikon Salad (serves 4)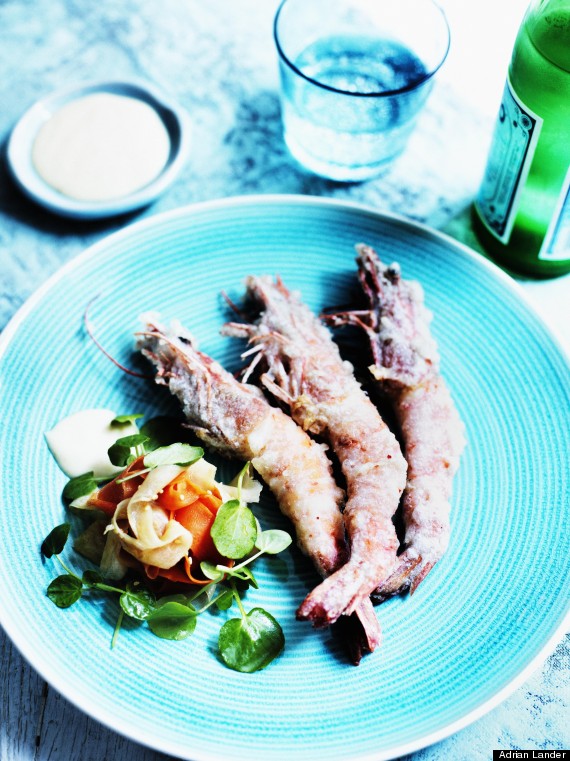 12 large raw prawns (shrimp)
1⁄2 quantity Miso Mayo (see recipe
on page 207)
baby watercress leaves, to garnish
Carrot and daikon salad
1/2 carrot
1/4 medium-sized daikon radish
30 g (1 oz) unsalted butter
2.5 tablespoons honey
1 tablespoon toasted sesame seeds
Tempura batter
vegetable oil, for deep-frying 150 g (51⁄2 oz) rice flour, plus extra
for dusting the prawns
150 g (5.5 oz) tapioca flour
2 ice cubes
juice of 1 lime
juice of 1 lemon
250 ml (9 fl oz/1 cup) soda water
Peel the prawns, leaving the heads and tails attached. Cut away the intestinal vein using a sharp knife, then insert a skewer lengthways through the middle of each prawn.
Peel the carrot and daikon to remove the outer skin. Peel the carrot and daikon into strips, until you reach the core. Discard the cores.
Heat the butter and honey in a frying pan until the butter froths. Add the vegetable strips and quickly cook over medium heat until softened.
Remove from the heat, season with sea salt and freshly ground black pepper and add the sesame seeds. Place in a bowl and cover with plastic wrap to keep warm.
For the tempura batter
Fill a deep-fryer or large heavy-based saucepan one-third full of vegetable oil and heat the oil to 170oC (325oF), or until a cube of bread dropped into the oil turns golden brown in 20 seconds.
Meanwhile, place the rice flour and tapioca flour in a bowl. Add the ice, lime juice, lemon juice and soda water and mix with a fork to form a batter — a few little lumps are fine as they will crisp up in the deep-fryer.
When the oil is ready, lightly flour the prawns in the rice flour, dusting off any excess. Lightly coat the prawns in the batter.
Very slowly add half the prawns to the deep-fryer, to avoid any hot oil splashes. Cook for 4–5 minutes, or until the batter is golden and the prawns are just cooked through.
Remove using a slotted spoon and briefly drain on paper towels.
Reheat the oil and cook the remaining prawns in the same way. Season the prawns and remove the skewers.
For serving, place a dollop of miso mayo on four serving plates. Pile a little carrot and daikon salad on the side of each plate and garnish with watercress leaves. Lay three prawns on each plate and serve.
Trout Rillette WIith Spiced Beeroot (serves 4-6)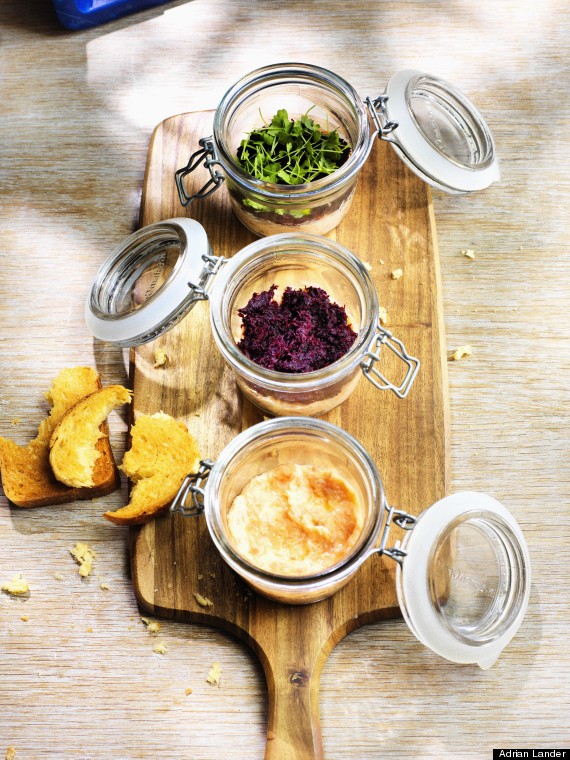 Baby celery cress or celery leaves, to garnish and warm brioche to serve
Spiced beetroot
1 tablespoon extra virgin olive oil
1⁄2 teaspoon chaat masala (see note) 1⁄2 teaspoon ground cumin
1⁄2 teaspoon ground coriander
125 g (41⁄2 oz) red beetroot (beets),
peeled, washed and finely grated
splash of cabernet sauvignon vinegar
or red wine vinegar
Trout rillette
300 g (101⁄2 oz) skinless, boneless raw trout
1 tablespoon Pernod
200 g (7 oz) skinless, boneless smoked
trout, diced
70 g (2.5 oz/2/3 cup) very finely
diced French shallots
1 tablespoon extra virgin olive oil 125 g (4.5 oz) butter, whipped using
electric beaters
1 tablespoon crème fraîche 1.5 tablespoons lemon juice
For the spiced beetroot
Add the olive oil and spices to a saucepan and roast over medium-low heat for 1 minute, or until fragrant, taking care that the spices don't burn.
Add the beetroot and sauté for 5-6 minutes, or until tender.
Drizzle with a little vinegar , season with sea salt and freshly ground black pepper, then remove from the heat and leave to cool. Cover and set aside until needed.
For the trout rillette
Place the raw trout on a tray and rub in the Pernod and some sea salt. Cover and marinate for 2 hours.
Steam the smoked trout in a steamer for 2–3 minutes, then remove from the steamer and leave to cool.
Place the shallot and olive oil in a saucepan and cook, without browning, over medium–low heat for 5 minutes. Remove to a bowl and leave to cool.
Add the remaining rillette ingredients to the sautéed shallot. Mix together well, then season to taste.
Divide the trout rillette among serving jars or dishes and place the spiced beetroot on top. Garnish with baby celery cress leaves and serve with warm brioche.
Haven't had enough of the culinary adventure yet? Find more recipes in Luke Mangan's new book, Salt Grill.