Owen Paterson was forced to deny staff cuts will impact on vital flood defences as a fresh battering of Britain by extreme winter weather sparked a funding row. The Environment Secretary insisted the Environment Agency was seeking to protect frontline services as it deals with a funding squeeze.
Unions said axing around 550 staff from the flood team would inevitably affect services after EA chief executive Paul Leinster admitted risk maintenance "will be (further) impacted". He told environmental policy magazine The ENDS Report that work on mapping, modelling and new developments in flood warning "will also have to be resized". And we're looking at a proportionate reduction in the number of people in flood risk management," he added.
SEE ALSO:
10 Amazing Pictures Of The Rough Seas Around Britain
As strong winds, high tides and a storm surge combined to inflict fresh flooding on parts of Britain, Mr Paterson chaired a meeting of the Government's emergency Cobra committee. Afterwards he defended the Government's spending on defences and said he had been assured by Mr Leinster that he had "every intention" of sparing frontline flood work.
"His intention is to protect front-line services as he makes his efficiencies," he said. "This Government is spending more than any previous government on flood defences - 165,000 properties will be protected by 2015."
People are being warned to remain vigilant, with eight severe flood warnings still in place - mostly across south west England and Gloucestershire - down from 20 overnight. The EA estimated that around 130 new properties had been flooded and the risk of more being inundated is expected to persist throughout the weekend.
More than 300 other flood warnings were also in force ahead of another expected very high tide this evening. The storms have already claimed at least two lives. The body of a 27-year-old man from Surrey was found on Porthleven Sands beach in Cornwall. He had been swept out to sea on New Year's Eve night, having gone for a paddle with friends at nearby Loe Bar.
In a second tragedy on Tuesday, a woman died after being swept out to sea at the popular beauty spot Croyde Bay in north Devon. The woman, who was believed to be on holiday with her family, was rescued from the sea and airlifted to hospital before being confirmed dead by doctors.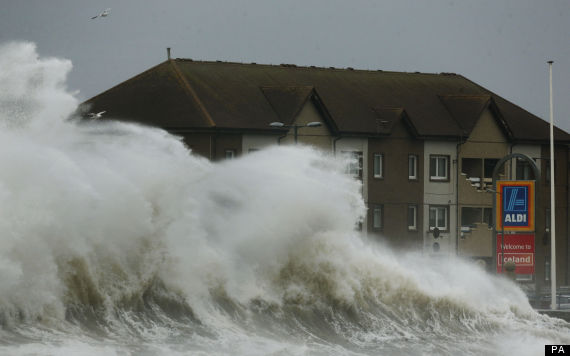 Waves brake at Ardrossan in Scotland as Britain experiences further bad weather
Elsewhere, in Dorset a search was carried out for a man who is believed to have fallen into the River Stour, near Iford Bridge in Christchurch. In Scotland heavy rain and gusts of up to 60mph could sweep across the country later, bringing further disruption after days of wet weather. High tides and a storm surge have increased the risk of flooding in the Firth of Clyde, according to the Scottish Environment Protection Agency (Sepa).
Unison national officer for the Environment Agency Matthew Lay said ministers were praising the work of staff in protecting householders while presiding over damaging cuts. "Staff in the agency have worked day and night to keep communities safe and prevent flood damage, and work tirelessly to support those devastated by the aftermath," he said. "The Government can't have it both ways, praising the sterling work of members in the agency but at the same time imposing further damaging cuts."
GMB national officer Justin Bowden said: "The public need to know that job losses on this scale will impact specifically directly on flood risk management, on flood defence operations teams managing flood defences and carrying out river maintenance to enable flows to be conveyed away, enhancing the river's ecology and supporting fish stocks.
"These teams also provide wider incident response containing river pollution, aerating watercourses to prevent fish deaths from low oxygen levels. So cutting flood risk funds will have a detrimental affect on the health of all rivers no matter what the interest." The Government came under fire from MPs in July for failing to devote sufficient resources to protecting homes and businesses from severe weather.
Chancellor George Osborne hailed in his spending review what he called a "major commitment'' of around £370 million a year up to to 2015 to enhancing protection. But in a scathing assessment, the Commons environment, food and rural affairs committee said that lagged significantly behind what was required to meet the rising threat.
Environment Agency estimates suggest that by 2020, investment needs to hit £550 million to keep pace with climate and population changes, well short of the latest commitments.
The Coastguard, Plymouth lifeboat and a search and rescue helicopter from RNAS Culdrose are searching for a missing 18-year-old man last seen yesterday lunchtime. "The search is currently ongoing for a missing person from Newton Ferrers, Devon," a spokesman for HM Coastguard said. "They were last seen heading out to take photos of the weather yesterday lunchtime.
"Although missing person inquiries are coordinated by the police, HM Coastguard assist by coordinating search and rescue along the coastline and out to sea. Because the village is situated on the River Yealm estuary, the Coastguard rescue teams from Yealm and Plymouth were sent to search the coastline whilst the RNLI lifeboats from Plymouth searched the sea. The Royal Navy helicopter from Culdrose is also on scene, searching the area around Newton Ferrers."
Meanwhile, police in Dorset investigating a report of a man falling into the swollen River Stour in Christchurch have ended their inquiries after no one was reported missing in the area. A three-hour search of the river took place in Christchurch on New Year's Day after a man and a woman were seen arguing on Iford Bridge. Police wanted to speak to a witness who saw the pair arguing. But a spokesman said inquiries concluded after Dorset Police received no reports of a missing man.
Police named the missing teenager as 18-year-old Harry Martin and issued a picture of him. Devon and Cornwall Police said he left his home in Membland, Newton Ferrers at around midday yesterday and is thought to have been going out to take photographs. Mr Martin was last seen walking in the direction of the coastal path near to his home.
Police, Coastguard and the Plymouth Lifeboat are conducting extensive searches around the coast and inland in the area. The police helicopter and RNAS Culdrose helicopter are also involved in the search. "His disappearance is described as out of character and police are extremely concerned for his welfare," a force spokesman said. "Anyone who has seen Harry or knows of his whereabouts is urged to contact police immediately."
Mr Martin is described as 5ft 11ins tall, of slim build with short dark hair, a light beard and blue eyes. He is thought to be wearing pink-coloured skinny jeans and a grey hooded jumper.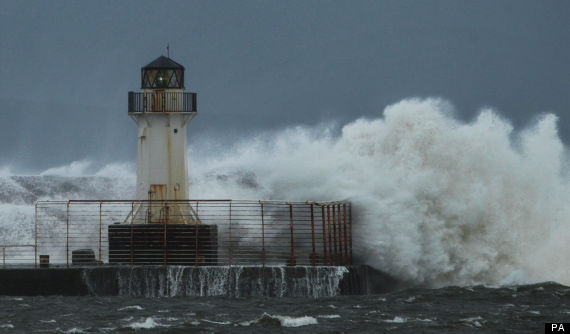 Waves brake over a lighthouse in Ardrossan, Scotland
Friends of the Earth climate campaigner Guy Shrubsole said: "On the same day that the Environment Agency chief executive said that it's inevitable that Defra's cuts will impact on their ability to deal with flooding, Owen Paterson's bizarre claim that these frontline services will be protected will ring hollow for all those affected by the current flooding.
"What's more, the Environment Agency says investments in flood defences must increase to keep pace with climate change - yet the Coalition has overseen a real-terms cut in spending on them. Every £1 invested in protecting us from flooding saves £8 in damages - cutting flood defence spending is a false economy and David Cameron now needs to intervene."
A geography student told of spectacular and "scary" scenes in Aberystwyth, Dyfed, as coastal homes were evacuated. Millie Farmer, 19, a second-year undergraduate at Aberystwyth University said the town's main beach had been "destroyed" and residents evacuated from seafront properties. She said she had watched six-foot waves crash on to the shore from the third floor of the university library which is built on a hill above the town.
"I didn't exactly expect weather like this when I chose to come Aberystwyth but it's certainly an interesting place to be a geography student," said Miss Farmer, who comes from Shepreth, Cambridgeshire. "I've never seen anything like it before. It was a spectacular view from the library. There were six-foot waves crashing on to the beach. It was scary - and quite exciting. It must be awful for people whose businesses and homes have been damaged. I just hope no-one's been hurt.
"The promenade has been closed. North Beach has been completely destroyed. The slabs on the promenade have been uprooted. All the university halls of residence down there have been closed. Everyone has been moved up the hill and rescue centres have been opened. There is flotsam and jetsam everywhere. One of my friend's cars was buried in twigs up to its wheels. I wouldn't quite say it was a like a war zone. But it's quite a sight."
She added: "The weirdest thing is that the pier has been open all day. That was strange."