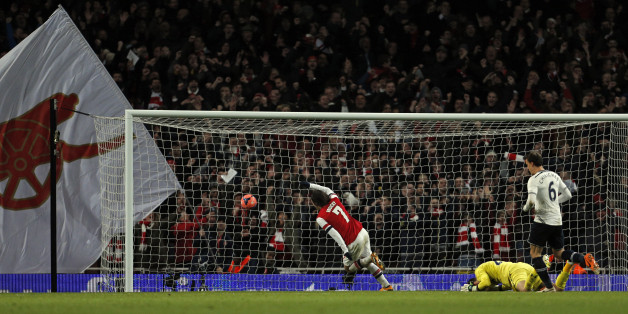 ADRIAN DENNIS via Getty Images
The fans finally accepted Tim Sherwood. "Tim Sherwood is a Gooner," hollered 55,000 Arsenal supporters who enjoyed a second home win against Tottenham this season, as Sherwood was given a dose of reality in his sixth game in charge against the side he once supported. His gung-ho Tottenham were out-gunned by Arsenal in a one-sided FA Cup third round tie which will inevitably raise questions about his suitability as head coach.
Four-four-two might have triumphed over Southampton, Stoke and the worst reigning champions since Blackburn Rovers, but it was quasi-suicidal against the Premier League leaders, who showed Tottenham mercy. Even the most naïve of coaches should realise how detrimental that approach can be at such a fortress.
Triumphs over Tottenham have galvanised Arsenal in recent years and Arsène Wenger lauded the 1-0 defeat of Tottenham five months ago as a "turning point" in their season. "Everybody outside was a bit surprised that we could win this game," Wenger opined, "because we had not bought, because Tottenham had bought lots of players, because people expected us to just lie down and lose the game." Arsenal bought, eventually, but even without the £42.4 million Mesut Özil in the starting line-up they still outclassed their neighbours.
Arsenal 2-0 Tottenham: Tim Sherwood Needs To Change Quickly
Quicker, slicker and hungrier, despite the £100m+ Tottenham spent in the summer, the chasm between them and their adversaries has undeniably widened. They were, admittedly, a depleted side at the Emirates Stadium, but it is too convenient an excuse to cite injuries when Arsenal were bereft of some of their most influential performers.
Nabil Bentaleb, who looked so accomplished on his professional debut at Southampton last month, was handed his first start in what was another 4-0-6 homage to Ossie Ardiles and his Famous Five in 1994-95. That was the last time Tottenham finished above Arsenal.
Facing the 10th permanent Tottenham manager since he arrived in England in 1996, Wenger preferred Theo Walcott ahead of Lukas Podolski at the tip of Arsenal's attacking arrow. Traditionally the most entertaining fixture in English football's top flight, 153 goals have been scored during the 41 games Wenger has managed Arsenal against their north London rivals. Three of the four nil-nils came in Wenger's first three seasons at Highbury.
Evening kick-offs enrich derbies, in particular. The League Cup semi-finals in 2007 and 2008 were edgier encounters between Arsenal and Spurs and the Emirates, often a soulless stadium, made a din in the first north London FA Cup meeting for nearly 13 years.
Facing the first side who are superior than them, Sherwood's Tottenham were so patently vulnerable, even against a side missing their best striker and best player. Bentaleb was partnered by Mousa Dembélé, whereas Capoue would at least have held the fort, and they were regularly bypassed by Jack Wilshere and Serge Gnabry, licensed to roam forward thanks to Mikel Arteta.
Walcott was denied twice by Hugo Lloris inside the first half-an-hour. The first was a speculative and testing drive, but the second was gilt-edged, as Danny Rose didn't step up quickly enough and was relieved to see Walcott shoot feebly at Lloris, when he had an unmarked Santi Cazorla square of him. Gnabry did spot the Spaniard five minutes later though, and he demonstrated to Walcott why he should have assisted him with a drilled finish into Lloris's bottom left-hand corner for a 31st minute lead.
For all the purpose Sherwood signalled with his line-up, Spurs forced just one save from Łukasz Fabiański in the first 45, as Christian Eriksen wasted an opening at 0-0 with a tame effort in a dispiriting half of football for the Lilywhites. Ambivalently for Tottenham fans, Emmanuel Adebayor showed the most eager alacrity, yet Sherwood persisted and made no change at the pause. It would be to their cost.
The toothless Roberto Soldado highlighted the need for a change when he swiftly fired two unthreatening efforts off target. Signing a £25m striker who is still struggling to adapt to English football could, in time, trump Darren Bent in Daniel Levy's pantheon of bad business.
One glaring weakness at Tottenham is left-back, and Rose highlighted that again in the most spectacularly calamitous manner when he got too clever and was pick-pocketed by Tomáš Rosický on 62 minutes. The Czech bore down on goal, drew Lloris, and delightfully dinked the ball over him to double Arsenal's lead and leave the full-back as red as a rose.
Sherwood belatedly and predictably withdrew Soldado for Nacer Chadli for a half-hour Arsenal carnival. Tottenham offered just one more shot on target while their opponents failed to rack up a bigger winning margin. Theo Walcott did twist the knife when he signalled the 2-0 scoreline as he was carried past an incandescent away section on a stretcher.
"He comes from Borehamwood, he ain't no f*****g good," chirped Gooners, as they heralded the latest Tottenham boss and then made reference to his boyhood Arsenal allegiance. If you cut through him, he bleeds red.