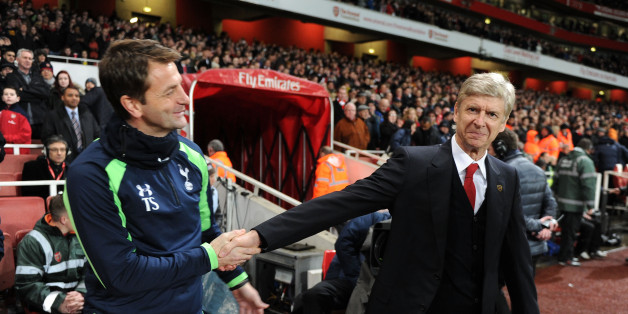 David Price via Getty Images
Although defeat to a resurgent Arsenal side is no disgrace, the manner of Tottenham's surrender at the Emirates Stadium, six games into the Tim Sherwood era, will have concerned supporters who have seen them slip further away from their rivals' slipstream.
Despite the £100 million Spurs spent in the summer, the galling and harsh reality is they have not been this far away from Arsenal since Juande Ramos' disastrous year in charge. Sherwood could soon become a part of the problem if he persists with such a naive and suicidal approach.
He favoured four-four-two again, after succeeding with it at Old Trafford, and Arsenal exposed it effortlessly. That, however, appeared to be lost on Sherwood, when he was asked whether such adventurousness led to Tottenham being outnumbered in midfield.
"No. No I don't think we were," he replied. "If they outnumbered us in the middle of the park we outnumbered them out wide. You can't have it all your own way. I think we were fine. We didn't lose the game because we were outnumbered in the middle of the pitch."
Pressed on the instant formation change he made after Tomáš Rosický doubled Arsenal's advantage, Sherwood explained it was enforced.
Arsenal 2-0 Tottenham: Tim Sherwood's FA Cup Reality Check
"We changed it because Soldado was injured and had to come off. A lot is made of systems, four-four-tow, four-three-three, whatever you want to call it, it's about passing the ball to your own team and keeping hold of it. Because whenever you lose the ball in transition you are always going to be out of shape, otherwise you're going to be a rigid, boring team. So it's about funnelling back in and shuffling across. I don't think they overran us in the middle of the park."
Tottenham's 10 absentees through injury predictably contributed to their elimination from the FA Cup, as Sherwood made one change to the team which won at Manchester United on Wednesday.
Despite his positive intentions with the starting XI, Tottenham registered just two shots on target in the whole match.
"Our performance was better in the second half, I thought we kept possession better without opening Arsenal up too many times," Sherwood opined. "As a whole, I don't think we disgraced ourselves, I think we belong on the same field and in the same company as the likes of Arsenal, and we've just got to take this out of our mind now and get on with the league programme which starts next week."
"It's been six games in 17 days with the smallest squad in the league at the moment, because of the amount of injuries that we've had," Sherwood added. "They showed great character and I'm proud of them.
"We were fatigued. A little bit of sharpness was missing but it could have gone either way in the second half. I thought we were in the ascendant, and then they go break away and score a second, and then the game's over, really."
Arguably Arsenal's best performance since they beat Cardiff in November, Arsène Wenger heralded a "well controlled" win, but talk inevitably turned to German Serge Gnabry, only 18, who shone on only his eighth appearance of the season.
"He had some good games, maybe not at home, but he played well at Swansea and Crystal Palace and today he showed his quality," Wenger admitted. "He had a very good game.
"He's a very young boy and has the quality. He's very bright and has a very good football brain. I'm a strong believer in Serge Gnabry because I integrated him last year at the beginning of the season, but let's not make superstars with one game. The top level is consistency but the ingredients are there. He has to show he can turn up with these kinds of performances every game."
Theo Walcott's "2-0" gesture in front of apoplectic Tottenham fans, who hurled missiles at him, was dismissed as "maybe a bit of banter" by Sherwood, while Wenger suggested it "what he did was not offensive... It doesn't even look aggressive, he's smiling" and said he should not be charged by the Football Association.
"The doctor said to me the coins had been raining over his head and they had to protect him, so maybe that's why he did that."
Wenger said Walcott came off with a knee problem, but does not know "whether it was a stretched ligament or a kick". Nicklas Bendtner is out for a month.