From those first haunting twangs of 'Hollow Talk', courtesy of Danish band Choir of Young Believers, we were back in familiar Swedish and Danish waters of 'The Bridge'.
And so it proved as, within minutes, a cargo vessel had gone rogue and, to the consternation of the Coastguard, parked itself - guess where - right bang in the middle of the majestic Oresund viaduct. That'll be needing two national police forces working together, then.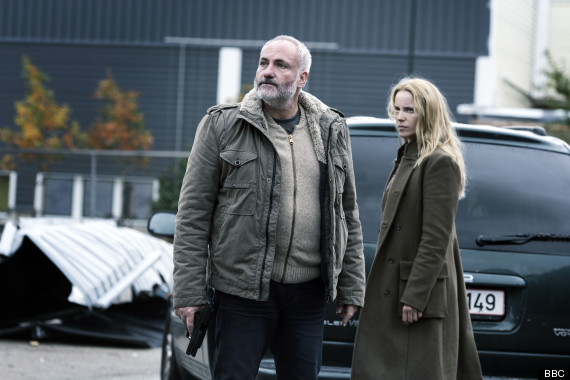 Martin and Saga reunited for another gruesome, and increasingly wide-reaching investigation
Cue the return of our two favourites, Swede Saga Noren and Dane Martin Rohde, in similar but crucially distinctive vein from the first series, with Martin (Kim Bodnia) haunted by the loss of his son during his last case. Therapy wasn't working, his marriage was hanging on by a string, and even a visit to his son's assailant in jail didn't bring any answers.
No wonder Martin was relieved to be back on duty with Saga, still driving the same car, wearing the same leather trousers, tossing her blonde hair and shrugging in the face of past trauma. "I only think about what I want to think about," she explained.
Which, this time around, proved to be the question of who was behind a series of attacks, with all initial pointers to a bunch of antagonists seemingly inspired by watching Ylvis in action. What this particular dressed up fox had to say was "You bunch of nasty corporate Westerners, we're out to get you." Via poisoned apples, rib-eye steak, you name it - a diversity of motive and modus operandi crossing all strands of Swedish-Danish society, and pretty similar to the red herrings of the first series, I seem to recall.
No wonder Saga hasn't got time for Martin's angst. Mind you, she does seem to be softening. She's having a good shot at laughing at other people's jokes, with disastrous but hilarious results. And she may not know exactly what her new live-in boyfriend does for a living - "I'm really not interested" - but at least she's got some books out from the library on how to have a relationship. Who said romance was dead?
The Bridge continues next Saturday at 9pm, BBC4.