Ancient books in a historic library in the Lebanese city of Tripoli have been torched by Islamist, after a pamphlet purportedly insulting religion was found inside one of the books.
Security sources say that up to 78,000 books, many irreplaceable ancient Muslim and Christian texts and manuscripts, are now unsalvageable, according to Agence France Press.
The Al-Saeh library in the Serali neighborhood was set a-blaze after a local gang to objection to a sheet apparently insulting to the Prophet Mohammed, found hidden in the pages of one of the library books.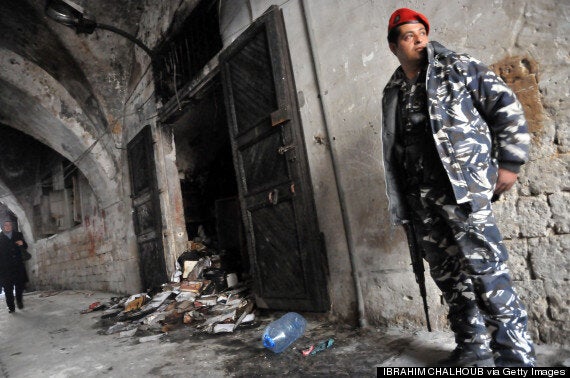 A Lebanese soldier stands guard in north Lebanon's city of Tripoli, outside the torched decades-old library
The library's curator, Greek Orthodox priest Ibrahim Sarrouj, received threats from unidentified people who accused him of writing the article, according the Jordan News Agency.
A protest had originally been planned to target the library but was called off after Sarrouj's pleas to Muslim leaders.
Lebanese Prime Minister Najib Mikati condemned the arson attack. "We denounce the burning of the library and reject any harm being done to Tripoli and its people, as it has been, and will remain, the city of the world and of intellectuals," Mikati said.
Lebanese blogger Elie Fares, who runs the website A Separate State Of Mind, blogged on Saturday night: "The country is burning, let's not worry about a library. A lot of people might say that. But the library in question was a true national treasure, containing 78000 books, many of which exist in very few copies and many of which are, ironically, books about Islam.
"We just lost 78,000 books. We have lost many innocent lives as well over the past few days. And for the sake of what?
"I'm not Muslim but I'm more Muslim than the lunatics who torched that library and so are most of the people of Tripoli that many Lebanese love to dismiss so easily."
Lebanese police have launched an investigation into the incident.
Tripoli's population is around 5% Christian, but the vast majority are Sunni Muslim and the small city is the country's "capital" of Sunni Islam, some of the most religious conservative neighborhoods of any city in Lebanon.
Related