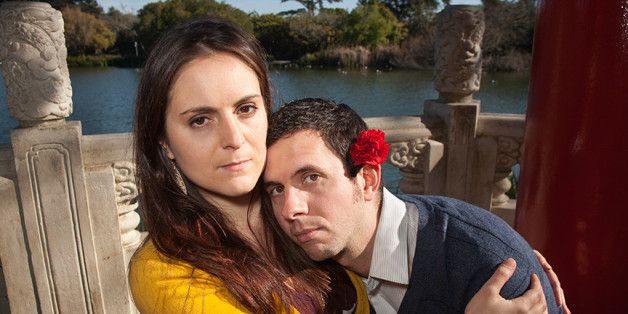 Malia Moss
You may open your own doors, change your own plugs and take out your own bins, but weddings bring out deeply rooted gender stereotypes that most of us aren't even aware of.
Case in point: all those cheesy engagement photos that show an ecstatic-looking bride and a slightly reluctant groom.
Photographer Malia Moss collaborated with her friends Marian and Elliot who wanted to do spoof photographs to shine a light on how ridiculous engagement photos have become.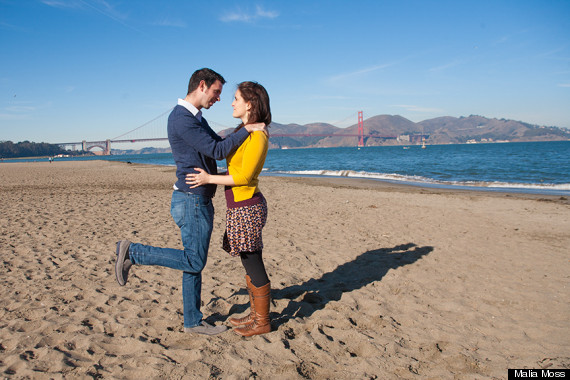 The couple had actually been working on a Google doc of poses and how to spoof them soon after they started dating.
HuffPost UK Lifestyle contacted Malia, and she wrote in an email: "While Marian and I were trying to find her a good wedding photographer we looked at hundreds of indistinguishably formulaic wedding and engagement photos and I mentioned my former frustration with having to take these types of photos (I worked as a portrait photographer about five years ago).
"Marian then mentioned her and Elliot's Google doc. They weren't planning on doing engagement photos, but I offered to do them as a gift."
Malia's favourites include the picture of them throwing leaves. "They had noticed quite a few engagement photos of people playfully throwing leaves on a country estate or a park in autumn," she writes, "and wanted to have a set of photos where they threw leaves in unexpected places like on the beach or in a super market parking lot. Those ended up being some of the best photos from the shoot."
Take a look:
Read the original article here in Offbeat Bride.

SEE ALSO:

The Best Way To React When All Your Friends Are Getting Married

Seriously Cringey Engagement Photos Put Us Off Marriage For Life
FOLLOW HUFFPOST UK LIFESTYLE ON TWITTER | LIKE OUR PAGE ON FACEBOOK