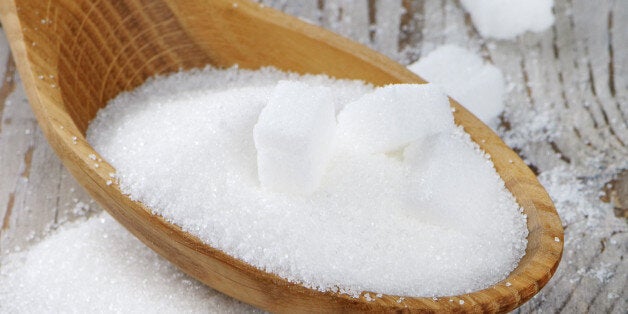 A group of health experts are campaigning to reduce the amount of sugar added to food and soft drinks as part of an effort to reverse the UK's obesity and diabetes crisis.
Action on Sugar - modelled on the successful Consensus Action on Salt and Health (Cash) - aims to help the public avoid products "full of hidden sugars" and encourage manufacturers to reduce the ingredient over time.
It says children are a particularly vulnerable group who are targeted by marketers of calorie-dense snacks and sugar-sweetened soft drinks.
Story continues below the slideshow:
10 Ways To Kick Your Sugar Habit
Like Cash, Action on Sugar will set targets for the food industry to add less sugar to products over time so that consumers do not notice the difference in taste.
It claims that the food industry would easily achieve a 20% to 30% reduction in the amount of sugar added to products, which it says would result in a reduction of approximately 100kcal per day or more in those who are particularly prone to obesity.
It says the reduction could reverse or halt the obesity epidemic and would also have a significant impact in reducing chronic disease and claims the programme "is practical, will work and will cost very little".
The group listed flavoured water, sports drinks, yoghurts, ketchup, ready meals and even bread as just a few everyday foods that contain large amounts of sugar.
The chairman of Action on Sugar, Graham MacGregor, who is professor of cardiovascular medicine at the Wolfson Institute of Preventive Medicine and set up Cash in 1996, said: "We must now tackle the obesity epidemic both in the UK and worldwide.
"The present Government and Department of Health Responsibility Deal has been shown to have had no effect on calorie intake and we must start a coherent and structured plan to slowly reduce the amount of calories people consume by slowly taking out added sugar from foods and soft drinks.
"This is a simple plan which gives a level playing field to the food industry, and must be adopted by the Department of Health to reduce the completely unnecessary and very large amounts of sugar the food and soft drink industry is currently adding to our foods."
Dr Aseem Malhotra, cardiologist and science director of Action on Sugar, said: "Added sugar has no nutritional value whatsoever and causes no feeling of satiety. Aside from being a major cause of obesity, there is increasing evidence that added sugar increases the risk of developing type 2 diabetes, metabolic syndrome and fatty liver.
"We must particularly protect children from this public health hazard and the food industry needs to immediately reduce the amount of sugar that they are adding, particularly to children's foods, and stop targeting children with massive advertising for high-calorie snacks and soft drinks."
Advisers to the group include Professor Robert Lustig of the paediatric endocrinology department at the University Of California, Assistant Professor Yoni Freedhoff from the University of Ottawa and professor of clinical epidemiology Simon Capewell from Liverpool University.
Royal College of Physicians registrar Dr Andrew Goddard said: "We welcome this concerted and collaborative action to tackle the damage to health caused by consuming too much sugar. It is widely acknowledged that sugar is a major factor in both obesity and diabetes, and with many foods, everyday foods such as bread and breakfast cereals, containing high levels of added sugar, it can be difficult for consumers to make healthier choices.
"We strongly support Action on Sugar's campaign for clearer nutritional labelling of food and drink, and welcome their call for evidence-based government action to improve the public's health by reducing the amount of sugar added to food and drink by manufacturers."
Diabetes UK chief executive Barbara Young said: "We fully support any efforts to raise awareness that many foods contain more sugar than people might realise and to call on the food industry to reduce added sugar in our food and drink. This could make a real difference in helping tackle the obesity epidemic that is fuelling rates of type 2 diabetes and other chronic conditions.
"But it is important to be clear that we want to reduce sugar consumption because having too much can easily lead to weight gain, as is true with foods high in fat. So reducing the amount of sugar in our diets is not all that we need to do to reduce our risk of type 2 diabetes. The evidence that sugar has a specific further role in causing type 2 diabetes, other than by increasing our weight, is not clear. We look forward to the conclusions of the Scientific Advisory Committee on Nutrition, which is due to report this year."
A Department of Health spokeswoman said: "Helping people eat fewer calories, including sugar, is a key part of the Responsibility Deal and our efforts to reduce obesity. There are 38 businesses signed up to reduce calories, but we want to go further still, and are discussing this with the food industry.
"As part of the Responsibility Deal calorie reduction pledge, Coca Cola has reduced calories in some of its soft drinks brands by at least 30%, Mars has reduced its single chocolate portions to no more than 250 calories and Tesco has reduced the number of calories sold in its own brand soft drinks by over one billion."