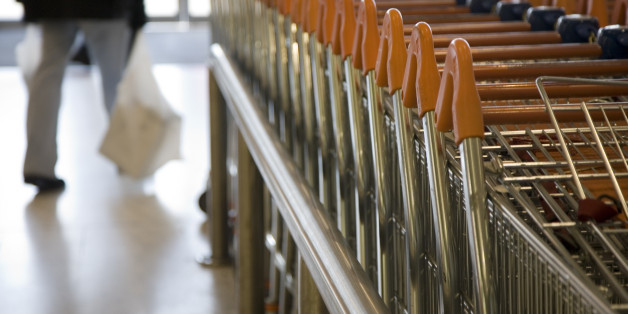 Image taken by Mayte Torres via Getty Images
Tesco, Morrisons and Marks & Spencer have suffered sharp declines in sales after a "very challenging" Christmas for the supermarket sector.
Industry leader Tesco reported like-for-like sales fell 2.4% in the six weeks to January 4, while Morrisons suffered a 5.6% fall that caused the supermarket chain to warn its profits will fall short of City expectations.
The supermarket said the Christmas trading had been "very challenging", with Morrisons chief executive Dalton Philips saying: "In a very tough market our sales performance over Christmas was disappointing."
Morrisons shares plummeted 7% after revealing its Christmas sales update which one analyst, Shore Capital Stockbroker's Clive Black, described as "quite awful".
This came as Tesco shares fell 2% after its Christmas trading update. However, the retailer said it still took £1 billion in sales in the five days before Christmas, including its biggest trading day on record.
The supermarket giant said it was still on track to meet City profit forecasts of between £3.1 billion and £3.4 billion for the year to April.
Tesco chief executive Philip Clarke said that with household incomes growing slower than inflation, families feel they have less to spend than they did last year and in previous years.
He added: "While families still treat themselves and parents always want to give their children a good Christmas, budgets remained constrained and optimism around the economy and house prices led to slightly more borrowing on credit cards."
Meanwhile, Marks & Spencer suffered a 2.1% slump in the like-for-like sales in its homewares and clothing division, its tenth successive fall.
The supermarket chain's 0.5% lift in sales for the eight weeks to Christmas Eve failed to save it from an overall slip in performance for general merchandise.
Chief executive Marc Bolland welcomed the improved Christmas performance with sales up in a "highly promotional market".
"However, an exceptionally unseasonal October, which saw GM sales down strongly, has resulted in a quarterly performance below our expectations," he added.
M&S said: "This has been a challenging quarter for the general merchandise market, with unseasonal conditions and higher than ever levels of discounting.
"Against this backdrop, we held our full price trading stance for much of the quarter, but as the level of promotional activity in the marketplace intensified in the run-up to Christmas, we responded with a number of promotions."