"Weak" and "inadequate" management led to the "gratuitous sport" of mistreatment of elderly dementia sufferers at a nursing home, a judge said on Friday. Residents at Hillcroft nursing home in Slyne-with-Hest, Lancaster, were mocked, bullied and tormented because they would have no memory of the abuse, with one man having his foot stamped on deliberately and another nearly tipped out of his wheelchair.
The vulnerable victims were also pelted with bean bags and balls at their heads "for entertainment". In November, Carol Ann Moore, 54, Katie Cairns, 27, and Gemma Pearson, 28, were found guilty by a jury at Preston Crown Court of ill-treatment or neglect of a person who lacks capacity, under the Mental Capacity Act, after a four week trial.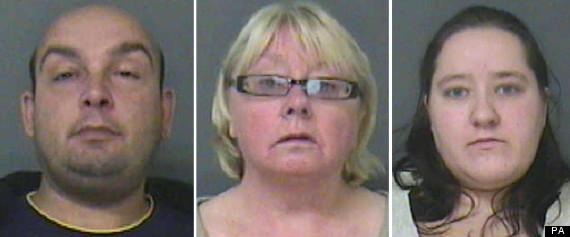 Darren Smith, Carol Ann Moore and Katie Cairns tormented elderly dementia sufferers
Moore, the care team leader from Lancaster, was found guilty of one count in which she struck a resident on the unit for residents with "challenging behaviour". The court heard she walked up to the male victim and slapped him after a complaint was made from the man's wife about a lack of activities at the home. Cairns, from Morecambe, was convicted of three charges including stamping on a man's foot, throwing bean bags at another male and mocking another.
Pearson, of Carnforth, was also convicted of attempting to tip another resident out of his wheelchair. Darren Smith, 35, from Lancaster, admitted ahead of the trial eight counts of ill-treatment in which he threw bean bags or ball at eight residents. All the offences spanned from May 2010 to September 2011 and related to seven men and one woman, all aged in their 70s or 80s, with the eldest aged 85.
Sentencing them, Judge Michael Byrne said: "Much evidence in the trial revealed that there was, at the relevant times, a lax regime with weak and inadequate management on the unit which allowed the kind of conduct to carry on undetected and without proper and adequate control."
He said the offences committed were "an indictment" on Hillcroft management. "A lack of proper management allowed a culture to develop where conduct of this sort was allowed to carry on," adding: "Some of the offences were gratuitous sport at the expense of of vulnerable victims. Each of these defendants broke the trust placed in them."
Moore, of Ripon Avenue, was jailed for four months; Cairns, of Riverview Court, was jailed for five months; and Smith, of Howgill Avenue, was imprisoned for eight months. Pearson, of Hill Street, was given a 12-month community order with supervision and told to carry out 40 hours of unpaid work. She was told that she would have gone to jail if she had succeeded in tipping the patient out of the wheelchair.
A receptionist and a cleaner both reported to management that Moore had struck a resident, among other concerns about staff behaviour in September 2011. The defendants were suspended but then reinstated weeks later. They were all given warnings, moved from the unit and demoted, apart from Cairns.
Smith constantly described one colleague as a "grass" and was "obstructive and rude" when he was sent on a retraining course. Management at the home in Slyne-with-Hest ruled there was insufficent evidence for a wider investigation and failed to pass on the complaints to social services. When Social Services finally did visit the home, management told staff not to mention the earlier suspensions.
In December 2011 and January and March 2012, the Care Quality Commission (CQC) received anonymous emails about the home. In May 2012, Lancashire County Council's Adult Services Social Care department made police aware of a complaint of ill-treatment and a multi-agency inquiry began.
The defendants were arrested in October 2012 and told police they were not responsible for any abuse. They blamed office politics, cliques in work and in-fighting between staff for the claims of abuse and denied all the charges. Following the convictions, the families of the victims said they thought there had been failings by the owners and management of Hillcroft, Lancashire County Council Adult Services, NHS Lancashire and the CQC.
They said that families, in particular those with relatives in challenging behaviour units, should be able to contribute to periodic reviews of standards. Relatives of the victims spoke of their heartbreak and anger in victim impact statements read to the court. One son of a victim chose to enter the witness box to give his statement in person.
Michael Rowlinson said his family's decision to place his father, Norman, a retired chartered surveyor, into care was the "worst day of our lives". He said that decision was not taken lightly because his father, married for 57 years, had Alzheimer's and was unable to give his opinion. He said: "We had feelings of guilt for not being able to look after him.
"Our feelings of guilt only worsened when we found out that Dad had been subjected to humiliation and ill-treatment by those who were trusted to care for him. We feel angry this could have been allowed to happen to Dad and sorry that Mum had to learn about it." He said evidence heard at the trial had "saddened us greatly".
"The experience has broken down our trust," he continued. "We will always wish that we would have been able to look after Dad at home."
He asked for the sentences to reflect the crimes committed against "vulnerable people who could not stand up for themselves".
Mr Rowlinson said a clear signal had to be sent by the courts that such behaviour could not be tolerated. He asked: "What sort of human being treats another with such disrespect?" He added that he thought it was clear that management at Hillcroft had covered up the incidents and that they and the owners had failed to ensure the safety of the residents.
Mr Rowlinson said he did not believe the Care and Quality Commission (CQC) had held Hillcroft to account. He said he was still awaiting formal apologies from the defendants and Hillcroft's management and directors. Judge Byrne said three common themes emerged from the statements given by families.
He said: "In each and every case the victim's family trusted the home to look after their relative. Secondly, many of the families felt a sense of guilt of having to give up the care of one of their family to be cared for by strangers. And thirdly, the anger and resentment at the trust being betrayed."
TOP STORIES TODAY
The defendants all worked the day shift on the Coniston Unit at the home, which housed residents diagnosed with dementia and displaying "challenging behaviour", the court heard. Opening the case, Kathryn Johnson, prosecuting, told the court the four defendants ill-treated residents in "varying ways".
"They mocked them, bullied them and on occasions deliberately assaulted them," she said. Miss Johnson said bean bags should have been used as part of recreational therapy but they were thrown so hard and fast that residents were unable to catch them. This caused frustration and anger in the residents, whereas the defendants would laugh," she said.
Smith and Moore would say "they were doing it for their entertainment as they were bored" and if residents objected they "would be subjected to it all the more". Evidence was heard that on one occasion Smith was discovered in bed with a resident and another male member of staff.
Pearson was seen to tip a resident out of his wheelchair when he failed to stand up, causing him to stumble. The court heard that Pearson also took "great delight" in going behind residents and blowing in their ears. Detective Chief Inspector Andy Hulme, of Lancashire Constabulary, said: "Darren Smith, Katie Cairns, Gemma Pearson and Carol Moore showed complete disregard for the well-being of the people they had been entrusted to care for.
"Further to that, their ill-treatment was directed at some of the most vulnerable members of our community - these people couldn't speak out or defend themselves. Their behaviour was utterly contemptible and I can only hope they will now reflect on their actions and see just how cowardly their conduct was. I would once again like to take this opportunity to commend those members of staff who displayed great courage and decency in speaking out against this despicable behaviour.
"This couldn't have been an easy thing for them to do, but what I must emphasise is the families' gratitude towards them for coming forward. I would like to reassure the public that Lancashire Constabulary will rigorously investigate all such matters and will not tolerate behaviour of this kind.
"The outcome of this investigation will hopefully encourage people to report all incidents of abuse to the police and other appropriate agencies, in the knowledge that such reports will always be treated seriously and with the utmost sensitivity. I would also like to praise the families of the victims. They trusted these people to care for their relatives and treat them with courtesy and respect. To learn that they failed in their professional duty to do so must have been extremely distressing, yet they have conducted themselves with great dignity throughout.
"Having listened to the families, I know that they are still struggling to come to terms with the terrible acts inflicted upon their loved ones. I can only try to understand what an incredibly difficult period this has been for those affected, but I sincerely hope that these sentences provide an element of closure for all of the families concerned.
"The safety and well-being of all residents being cared for by the Hillcroft Group was of paramount importance and has always been a priority. Lancashire Constabulary continues to work closely with Lancashire County Council, CQC (Care Quality Commission) and NHS North Lancashire and is confident that all appropriate safeguards are in place.
"A multi-agency learning review has also been commissioned to ensure that any lessons learnt will be fully explored and all recommendations will be addressed accordingly. The review, which has been running parallel to the investigation and judicial proceedings, aims to ensure better protection for vulnerable adults in residential care. I don't believe that the behaviour shown by Smith, Cairns, Pearson and Moore is a true reflection of the majority of staff at Hillcroft. and I am satisfied that the care home in Slyne-with-Hest, is now a completely different environment, with the quality of care afforded to all residents, being carefully managed and monitored." The nursing home in Lancaster where the abuse took place
Joanne Cunliffe, Crown Advocate for CPS North West Complex Casework Unit, said: "Darren Smith, Katie Cairns, Carol Moore and Gemma Pearson have today been sentenced for the appalling offences they committed against elderly and vulnerable victims they were supposed to be caring for. The CPS takes all instances of abuse against older people extremely seriously, and we have been determined to bring these defendants to justice for their crimes.
"We are committed to prosecuting crimes against older people and protecting the vulnerable, and, where there is evidence of abuse or ill-treatment, the perpetrators of that abuse can expect to be brought before the courts and prosecuted robustly. I would once again like to thank the witnesses who came forward and supported the prosecution case and I would also like to pay tribute to the victims' families. Although no sentence can compensate for the hurt and distress caused by the actions of these defendants, I hope that today's sentencing offers them some sense of closure following what has been an extremely distressing time for them."
County councillor Tony Martin, Cabinet member for adult and community services in Lancashire, said: "We welcome these sentences, which send a strong message to everyone involved in caring for vulnerable people that abuse is a crime and will not be tolerated. We are grateful for the courage shown by those staff who brought the abuse to light so that justice could be done. This has been a very difficult process for them, and of course for residents and their families.
"We are fully committed to ensuring the safety and well-being of older people across the county, and, following the investigation into events at Hillcroft, we have worked closely with our partners in the police and NHS to strengthen measures to better protect vulnerable adults in the future. We are sorry there was a delay in sharing the allegations with the police, and since April 2013 all safeguarding alerts we receive are now passed to a multi-agency safeguarding hub, where they are dealt with by social workers, health workers and police officers working alongside each other.
"County council staff also meet regularly with colleagues from health services and the Care Quality Commission to share any concerns about care providers and agree any action that needs be taken to help keep people safe."